It's become a truism in the queer community that coming out of the closet isn't a singular event. And yet, the very expression "coming out" conjures up images of individuals in their teens or early twenties sitting nervously with their friends and family members and tentatively telling their truth, then hopefully being embraced, spreading their fairy wings, and entering the warm glow of openness and acceptance.
But, as Siegmund Fuchs' new play, In the Closet, demonstrates, coming out of—and going back into—the closet is an act that occurs repeatedly during one's life.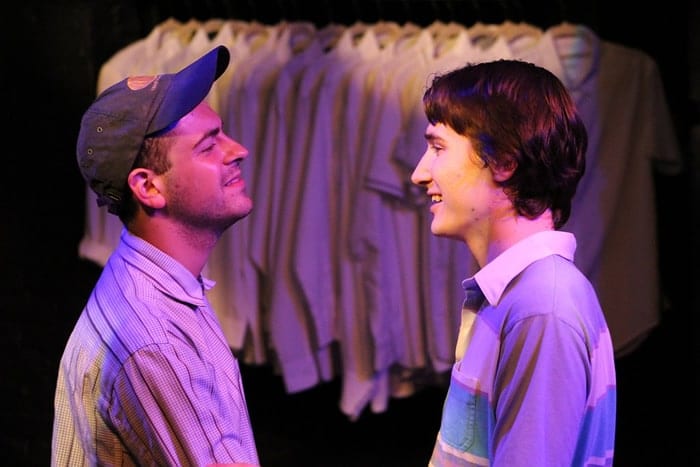 In the Closet is receiving its joint world premiere production at the DC Arts Center courtesy of Rainbow Theatre Project and Cleveland's Convergence-Continuum. It first received a workshop production at Fells Point Corner Theatre as part of the 2016 Baltimore Playwright's Festival, where it won The Carol Weinberg Award for Best Play. Fuchs, a Cleveland native who currently works as a trial attorney for the Justice Department here in DC, wrote his first play 20 years ago, but In the Closet is his first new work in more than a decade.
Upon entering the theatre, the audience encounters Greg Stevens' clever set design—it's a classic kitchen with the added detail of hanging all-white clothing, but everything has the appearance of being hand-drawn in black ink on white cardboard, like a comic strip waiting to be colored in. Into this black-and-white space enters Man #1 (the charmingly cantankerous Tim Caggiano), a gay man in his late 60s, walking with a cane and attempting to write what sounds like bad poetry.
In due time, he is joined by Man #2 (a dryly bitchy Christopher Janson), a gay man in his 40s who's just been released from the emergency room following an emotional implosion involving a piece of toast, and Man #3 (magnetic newcomer Zachary Dittami), a gay man in his late 20s brimming with charm and enthusiasm despite his most gay men would do—bickering and making brunch.
Their real reason for coming together, and not for the first time, is to welcome Man #1 (a convincingly freaked-out Patrick Joy), an 18-year-old who has just had his first sexual encounter with another man, into the fabulous fold. They're waiting for him to wake up, panic, and join them in the closet—an acknowledged metaphorical space. Men #1–3 know Man #4 is coming because in this place out of time, all four men are versions of the same man, John, at different periods of his life.
——–

In the Closet

closes September 15, 2018
Details and tickets
——–
Most pop culture depictions of the closet are bleak, toxic, and claustrophobic—Sam Sax, in his poem entitled "Instructions on How to Build a Closet," calls it the "storage unit in your belly you keep all that self-hatred inside." But Fuchs goes in the opposite direction: yes, it's a place filled with the worst versions of John—following a rape trial, after a loneliness-induced panic attack, as one's husband is dying of cancer—but, as Man #2 notes, it's also a "warm, lovely place that's safe and feels like home." True courage, Man #1 pontificates, is leaving that comfort behind and facing life's challenges authentically.
Director H. Lee Gable has a lot of fun letting his actors play around in the sandbox Fuchs created, using it to externalize the contrast between resilient youth and the wisdom that comes with age, and the resentment we can sometimes feel toward younger versions of ourselves. James Morrison's excellent lighting design and Cresent Haynes' nuanced sound design help to convincing transform the small DCAC black box into a wide variety of locales across decades.
[adsanity_rotating align="alignnone" time="10″ group_id="1455″ /]
Fuchs writes into the script some fun opportunities to hang a lantern on his conceit—instances of repetition, shared consciousness, etc. My only critique in this regard is that the big reveal comes a bit late in the game, robbing it of some of its impact, and from then on, Fuchs spends perhaps too much time reminding the audience of the rules of the world he's created, often in ways that can impede rather than forward the plot. The play drags a bit in the second act, as we return again and again to these well-trodden signifiers.
These brief moments aside, In the Closet allows four talented actors to shine in their versatility, offering touching and hilarious moments of self-reflection and witticism. Fuchs encourages the audience to ask themselves questions that are relevant to anyone, regardless of where they fall on the Kinsey Scale: What would you tell your younger self if you had the chance? What can your younger self return to you that you've lost in the passing of time? And, perhaps most importantly, how can you forgive and make peace with all versions of yourself before it's too late?
---
In the Closet by Siegmund Fuchs. Directed by H. Lee Gable. Featuring Tim Caggiano, Christopher Janson, Zachary Dittami, and Patrick Joy. Set and costume design: Greg Stevens. Lighting design: James Morrison. Sound design: Cresent Haynes. Fight choreographer: Logan Beveridge. Production/stage manager: Deborah Gur. Assistant stage manager: Hannah Herold. Production assistant: Steve Kraemer. Produced by Rainbow Theatre Project. Reviewed by John Bavoso.