Actress Natascia Diaz's bold performance breathes transformative life into Fosca—one of musical theater's most remarkable creations—in Signature Theatre's resplendent revival of Stephen Sondheim's Passion.
Sondheim's bizarre love triangle set in 19th-century Italy has puzzled and polarized audiences since its 1994 Broadway debut because of its difficult-to-accept plot, epistolary form and chamber opera nature. Above all, it's the character of Fosca that has the potential to put people off. Her piercing screams, erratic trajectory, relentless misery, and single-minded bent to consume what she desires can make her seem a monster.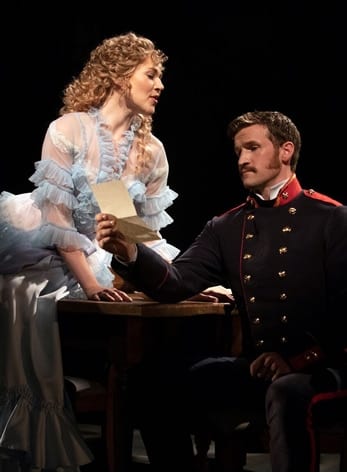 But not so in the loving care of Diaz, under the direction of Signature Theatre's Associate Artistic Director Matthew Gardiner. Diaz's deeply felt, sympathetic performance lulls the audience as much as she does Giorgio (Claybourne Elder), the good-hearted young soldier she adores.
This Passion, with its brilliantly effective staging, superb vocal performances and Diaz's tremendous portrayal, reaches in, assuages any misgivings, and connects with viewers while leaving the mysteries of love—or passion, in its various forms—intact.
Written by James Lapine, a Sondheim collaborator since the 1980s (Sunday in the Park with George, Into the Woods) the story is based on an obscure 1869 Italian novel and "Passione d'amore," its 1981 film adaptation. It is steeped in the romantic melodrama of Verdi and the gothic horror of Daphne du Maurier, coming across as a nightmarish ravishment from which one awakes born anew.
Passion is essentially a vivisection of love in its most ardent forms. The musical opens with a physical tableau of idyllic love, expressed by beautiful nude bodies entwined with one another. Giorgio and his married mistress, Clara (Steffanie Leigh) revel in each other's embrace and sing about love's discovery in "Happiness," one of Passion's crucial musical motifs. "I thought I knew what love was … I thought it was no more than a name for yearning… I thought it was what kindness became… I'm learning… Endless happiness…"
Love, pure and soaring. From there Giorgio realizes love as pity when he is assigned to a remote provincial outpost and encounters Fosca, the ailing and emotionally volatile cousin of his commanding officer, a woman who will challenge and ultimately remake the young man's understanding of love with the unconditional force of a tornado.
Fosca's love/passion is Clara's opposite, uncompromising and destructive. We witness Giorgio slide, not entirely convincingly, from the luminous but practical Clara to the oppressive Fosca, who pursues him with a severe compulsiveness because "loving you is not a choice… And not much reason to rejoice… But it gives me purpose… Gives me voice to say to the world… This is why I live… You are why I live."
Love as madness—total surrender. As she sings "For now I'm seeing love… Like none I've ever known… A love as pure as breath, as permanent as death… Implacable as stone… A love I may regret… But one I can't forget."
But it appeals to Giorgio—no, "cracks him open," as Sondheim once said, for as he later extols "What's love unless it's unconditional? … Love without reason, love without mercy… Love without pride or shame… Love unconcerned with being returned… No wisdom, no judgment, no caution, no blame."
——–

Passion

closes September 23, 2018
Details and tickets
——–
Fosca unfastens Giorgio, exposing his truer self, but many people forget that by the end of the show, he does the same for her. On her deathbed, in the sunshine of his affection, she who was resigned to dry up and crumble away into oblivion now yearns to live. "I don't want to leave," she says. "Everywhere I look, things are different… Your love will live in me."
[adsanity_rotating align="alignnone" time="10″ group_id="1455″ /]
Of course, it's the music that is supreme. Orchestrated by Jonathan Tunick, Sondheim's musical signature is present in the rising and falling counterpoints, the echoing motifs, the evocative melodies that wax and wane like candles in the dark.
Played by a full orchestra under the musical direction of Jon Kalbfleisch, the score largely expresses a musical contest between the two women in Giorgio's mind—Clara with her happy love and Fosca with her promise of a deeper, darker rapture.
A Signature favorite playing against type, Diaz dominates Passion with a mesmerizing performance. Her achievement has been to interpret Fosca's obsessive derangement into a heartbreaking pieta that compels compassion. Made up like a cadaver, costumed in funereal dress, she exudes wretchedness. Fosca's declarations of love could be repulsive in another's delivery, but Diaz highlights her kindness and agony with a disarming and urgent forthrightness.
She is balanced very finely by Elder and Leigh, both as actors and musical performers. Elder, who excelled as the lead in Signature's phenomenal Sunday in the Park with George four years ago, is perfectly cast as Giorgio, who must have the looks and presence of a leading man but also exhibit the sensibilities of the sensitive young officer in order to travel across the character's narrative arc. Leigh sings beautifully and is the bearer of designer Robert Perdziola's most beauteous costumes.
The rest of the cast ably performs the duties of a Greek chorus, with standout mentions going to Will Gartshore as the whiskered Colonel Ricci and Gregory Maheu in a delicious turn as the charming rogue Ludovic, who does some dirty work in a flashback.
No, of course Passion is not "just another love story," as Giorgio and Clara innocently sing at the show's open. It's a Sondheim work after all, with all the intelligence, complexity and exceptionally elegant agility with dialogue and music one would expect from the maestro.
Amazingly, all that said, I wouldn't even consider Passion to be in his top five strongest works. Fosca says about Giorgio—"I don't know how I let you so far inside my mind." I could say the same for this excellent production.
————————-
Passion. Music and lyrics by Stephen Sondheim. Book by James Lapine. Orchestrations by Jonathan Tunick. Music direction by Jon Kalbfleisch. Directed by Matthew Gardiner.
Featuring Natascia Diaz, Claybourne Elder, Will Gartshore, Rayanne Gonzales, Steffanie Leigh, Gregory Maheu, Ian McEuen, Christopher Mueller, Katie Mariko Murray, Lawrence Redmond, Bobby Smith, Harrison Smith, Eleanor Todd and John Leslie Wolf. Scenic design by Lee Savage. Costume design by Robert Perdziola. Lighting design by Colin K. Bills. Sound design by Ryan Hickey. Wig design by Anne Nesmith. Stage manager: Kerry Epstein. Produced by Signature Theatre. Reviewed by Roy Maurer.