Sometimes it is just easiest to say it up front as clearly as possible: I loved The Ice Child—an old-school-esque "once upon a time" fairy tale about very real-world, right now issues that treats its tiny audience like intelligent, independent beings capable of great empathy. And imagination.
Four fairy folk (Claire Burton, Jordan Clark Hasley, MK Sagastume, and John Sygar) are frolicking in the woods when they notice they have an audience, mostly of children, and decide to tell a story from long ago, when the winter was viciously cold and the weather all wonky. During that winter, a young couple  (Sygar and Burton), recently wed, conceives and gives birth to their first child, a boy they call Johnny (Sagastume). But an old Granny (Hasley), who visits them, warns them that fair folk steal babes.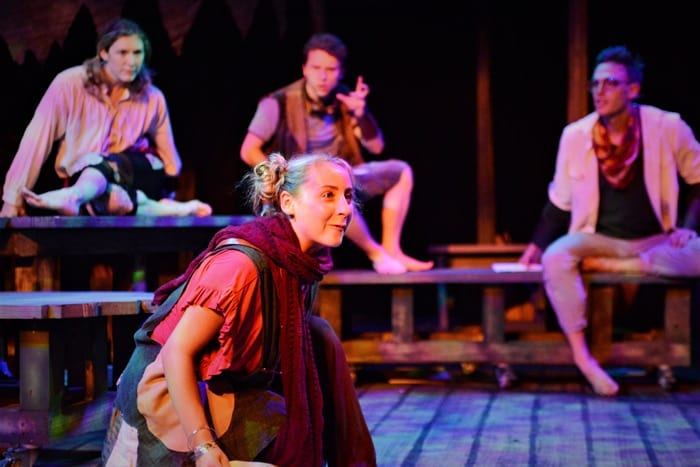 "Say what you will about people," one fairy says. "They're lovely when they're little." Hence, their propensity to steal wee ones, who are always smiling, laughing, and waving.
That night, as the Granny sleeps, a bitter wind blows open the windows and in sneak the fairies, one of whom is accidentally left in Johnny's place to be raised as if he is Johnny. But, fairies don't speak the human language, hate to be told what to do, and can't understand love. For the fairy-turned-Johnny, life will no longer be a joy as he struggles to communicate with his new Mommy and Daddy and follow rituals, like school, that betray his natural instinct to do as he pleases and play, play, play.
——–

The Ice Child

closes September 2, 2018
Details and tickets
——–
The Ice Child is a modern fable about acceptance and understanding. Compassion. Finding a place in a world that may not feel built for you. With little more than themselves and a wonderfully creative and nuanced script, the ensemble produces magic, turning the age-old fairy tale into a lesson on differently-abled people, specifically those who are autistic, for Johnny has many of its hallmarks. Mike Kenny, a British playwright who specialized in children's theatre, has imbued the show, which could veer toward sad, with warm humor and wonder, and so much honesty. As the fairies themselves note, there is no grand "happily ever after" ending—wherein Johnny is miraculously healed or the real Johnny magically returned—but he does find a happy, and long, life. And that is enough.
[adsanity_rotating align="alignnone" time="10″ group_id="1455″ /]
The show is still brimming with charm. Each fairy plays a role in the story, and they all jump in an out of their characters, using smooth, authentic transitions that continue to propel the story within a story forward. Their fairy selves are silly, whimsical, beings given to fancy-free leaps and jumps and twirls. Sagastume, as Johnny, is the real standout, as it is no easy feat to grumble, angrily, through a role that demands a compassionate viewing. Yet, she does it, easily. Hasley is the main narrator, as well as the Granny, and is a naturally funny story teller—fairy or not—while Sygar and Burton are earnest and sincere as parents struggling to relate to a child that cannot love them in a way they recognize.
It is a short and sweet show, clocking in at just over 45 minutes, with a quick pace and sprinkled with subtle, lighting, projection, and sound touches. The pared down presentation, likely a choice by director Megan Thrift, and focus on the actors and their use of physicality allows the overall message to draw in the children, who won't walk away dazzled by big, glitzy set pieces or uber-fancy effects. They'll be dazzled, instead, by the power of theatre to convey the beauty of the human spirit.
The Ice Child is the type of children's theatre, the type of new fairy-tale (and of which the world needs more), that makes me feel that life, the world, humanity—will all be okay in the end.
———————
The Ice Child . Directed by Megan Thrift. Written by Mike Kenny. Featuring Claire Burton, Jordan Clark Halsey, MK Sagastume, and John Sygar. Production: Matthew J. Keenan, Set Design; G. Ryan Smith, Lighting Design; Kiana Vincenty, Costume Design; Cindy Landrum Jacobs, Set Dressing and Properties Design; Patrick Lord, Projection Design; Dan Deiter, Sound Design. Stage Managed by Thomas Nagata. Reviewed by Kelly McCorkendale.