This is not actor Ian Merrill Peakes' first time playing Macbeth on the Folger stage. Ten years ago, he and Kate Eastwood Norris played Mr. and Mrs. Macbeth, and now return to their roles under the direction of Robert Richmond. But this time, it is a family affair. Peakes will be joined by his wife Karen as Lady Macduff and their son Owen as Fleance.
And this is not quite the same Macbeth by William Shakespeare. This is William Davenant's Restoration-era adaptation, featuring singing witches, music for the Folger Consort, and additional scenes for the female roles.
To learn more about Restoration Shakespeare from the scholars working on the production, you can visit the Folger's website here.
Sarah spoke with both Robert Richmond (in an earlier post) and Peakes about the challenges, triumphs, and superstitions of working with Restoration Macbeth.
Ian, you have played this role before at the Folger, right?
I: Yes. But it's a completely different play. I mean, it's not – it's the story of Macbeth, but it's truncated in some ways and expounded on in other ways, and Macbeth's journey is completely different.  So, I feel like I'm playing a different character. What I'm having a hard time with right now, is trying to remove the journey of Shakespeare's Macbeth from my head, so I can do the journey of Davenant's Macbeth. It is similar, but it's different and it's hard to shake the other one because I just did a performance of Shakespeare's Macbeth [at Chicago Shakespeare Theatre in May of this year] and then quickly started this one.
Oh, wow!  You just did a Macbeth in Chicago right before this?
I: Yeah, and it wasn't a remount of the one we did ten years ago at the Folger, but it was the same directors: Teller and Aaron Posner. So, we took a lot of the same attacks on it.  Of course, it was completely different because I was the only actor who remained from the original production, and it was 10 years before, and it was a bigger space, and we had ten more actors than we did when we did it before. So, it was very different, but it was a similar journey for the Macbeth.  I mean, it was a 10-year-different journey because I'm older and hopefully wiser.
Yes! So, that was my big question for you. Maybe you can answer it then in light of the Chicago production versus the Folger one. What is it like coming back to DC to the role of Macbeth with 10 more years of life under your belt?
I: It's like doing anything ten years later, right? You have ten years of life experience. I didn't have a child ten years ago, and now, he's in this production, playing Fleance. Everything that has happened in the last ten years is going to inform my performance now. I think you'll find that in your forties, life is not messing around on a lot of levels and you have to play "grown-up" a lot. And so, the perspective and the filter with which you see things, is vastly different. So, immediately just stepping on to the stage, I'm a completely different Macbeth than I was ten years prior.
Sure. Are there any moments that meant something really different?
I: Yeah. All of Macbeth's realizations – which aren't really in Davenant's play – but all of the stuff in Shakespeare's Macbeth, like his realization of "tomorrow and tomorrow" and the Yellow Leaf speech. He comes to realize that he's made some big mistakes in Act 5 that are a lot more resonant as you get older. Realizing that your life is fading, going away. I don't want to sound melancholy and depressing, but you know, as you get older you see the end line a little bit closer. It's all those things that life gives you – a perspective change. No matter who you are, or what ten-year difference we are talking about, there is a shift.  If there isn't, you're doing it wrong. So, coming back to a role ten years later is always exciting because it is inherently going to be vastly different.
Robert and I talked a lot about the differences between Shakespeare's Macbeth and then Davenant's Restoration Macbeth. What are some of the major differences in the role?
I: I would have said, really early on, that he was less complex.  I don't know if that is true because I don't know this guy yet, but he is a little more concrete in his decision-making. He doesn't need to be swayed as hard by his wife. He doesn't question the choices he's made quite as intensely as Shakespeare's Macbeth. I don't feel like he wallows in the sadness as much because he doesn't reflect as much. It feels like he's a little more black and white with his decision-making. Earlier on, I thought that was complexity, but I don't think it is. I think it's just a type of personality that Davenant is imposing on this character.
There is a great speech that nobody ever thinks about when they talk about Macbeth that I call the Yellow Leaf speech. It comes just a little bit before "Tomorrow and Tomorrow." Macbeth's guards are coming in and saying, "there are forces coming," and everything's going to hell. And he says, "everybody out!" And he's alone for a minute. In Shakespeare's version, he talks about how he's gotten old, and at this point in life, he should have friends and loyalty and all these wonderful things. And he looks around his empty chamber, and he's like, "I have none of it. And it sucks."  And then he's like, "you know, screw it. I'm going to go fight anyway." But it's that kind of reverie, that moment of pause, where he's like, "what have I done?" He doesn't come to fully understand that until "Tomorrow and Tomorrow," but he's having these moments of doubt, which Davenant's Macbeth doesn't really have. And in a way, there's something honorable about that, right? He's made this choice, and he's going to live with it.
Also, I think Macbeth is sort of the antihero in Shakespeare's Macbeth. In Davenant's, I feel like it's just cut and dried: he's the bad guy and Macduff is the hero. The Macduff's are much more fleshed out, and they are much more heroic in Davenant's. Lady Macduff has four scenes, and in Shakespeare's she only has the one. So, she becomes an actual voice of reason. So Lady Macduff becomes quite a big part, and Lady Macbeth I think is a little bit more of the driving force towards the evil. She is very evil. Like I said, everything is placed a little neater into categories.
How do you prepare for a role like this?
I: I prepare for every role a little bit differently, but I always try to start the same way: get the words out of the way as soon as possible, learn them without making too many choices, and then, get in to rehearsal and listen to my fellow actors. I don't know how I'm going to prepare on a daily basis for this one.  I think probably by sitting with the words because Shakespeare's words are so in my head. I feel like with any good play you can put yourself at the starting line, know your given circumstances, and allow the play to happen to you and take the ride. And if you really leave yourself open to the ride, you don't have to spend a lot of time during the day preparing for what that ride is, you just have to take it. It is always more interesting. If I prepare too much and plot out everything I'm going to do, and then things happen to me, and I go, "well I know how to respond to this," it's just not in the moment. It's not fresh. So, I don't like to think too much about it before. Other than what I have to do to – stretch and warm up my voice and whatever that might be – then I can just get there and take the ride.
Robert talked about how the Restoration style has a little bit more of an outside-in approach to the acting. Is that something you're working with? Is it helpful to you or not helpful to you?
Well, it's never helped for me to do the outside-in. Then, the extreme opposite of that is inside-out, and that becomes method acting – becoming somebody else. I'm not a fan of that either, but I'd much rather not be told where to stand and then figure out how I get there later on. So, finding the middle road somewhere. And that's where Robert and I will inherently start with a play – we don't start fully from the inside or fully from the outside. Yes, we have to set blocking, but we also want to figure out why we are doing these things at the same time.
So, yes, during the Restoration, the actors only got their lines, and a line or two of what the other actor was going to say. So, they would be standing around waiting and they'd hear their cue, and then they would come to life. So, they were truthfully outside-in, like literally not even being in character and looking at the audience. Hearing their cue, like "oh, now it's my turn to talk." And so, there are no relationships, right? You're just playing your role. So, we're trying to honor the Restoration period, and we have the scholars in the room, and we are all sort of discovering it together, which is fun. I definitely find outside-in to be a very hard thing to be comfortable in.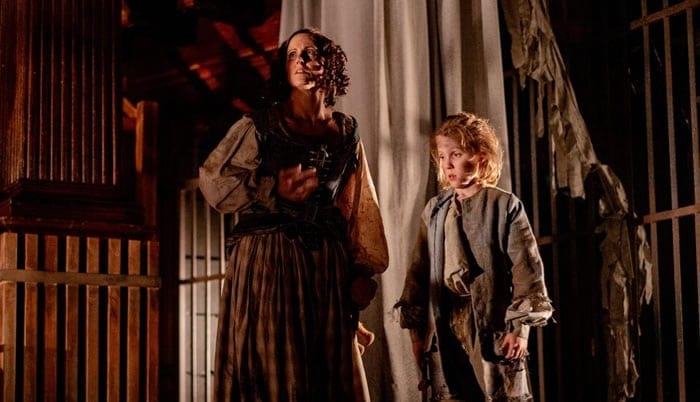 You mentioned your son is in the show, and I've heard your wife is also.  How is that?
I: It's great. We're all sort of bustling about getting ready to go to work in the morning.  It's Owen's first professional show and he's having a great time.
How old is Owen?
I: He's ten going on 43. He's watching and meeting the cast and hanging out. He's sort of like the team mascot at this point. Everyone loves him. And I think he really likes being backstage. He's done that a lot with us already, but he's never been in a show. He's got a few really nice scenes, and it's a really good first experience for him.
Are you and Karen able to be in a lot of shows together like this?
I: We used to be in a lot more shows together before we had a child. Now, with a child, one of us needs to be a parent. For the first several years, we really tried to create our schedules so that only one of us would be in a show, or one would be in rehearsal and one in performance – which is impossible to do perfectly – but now, we can do more shows together and Owen can come with us! So, we've done a bunch of shows together over the last couple years, and it's been really great because Karen is really good at what she does.
[adsanity_rotating align="alignnone" time="10″ group_id="1455″ /]
That's great!  What are you most excited about for this production?
I: Sort of selfishly, I'm excited about being on stage with my son for the first time and sharing the stage with my wife. Having the whole family presenting Macbeth, which is probably the most important show that I've ever done. I have the best relationship with it. I've done it the most, and even though this is a different version, it's fun to say, "the Peakes family presents Macbeth like never seen before!" Quite literally. So, I think that is the most exciting part.  I always love working at the Folger – being on that stage with those audiences.
Are you superstitious about doing Macbeth?
I: No. No not at all.  When we did this in 2008, Teller came out, and he just said Macbeth's name over and over again.  And he and Penn do this handshake before every show in Vegas. They say, "Have a good show, Mr. Macbeth," "Have a good show, Mr. Macbeth," and they whistle, and then they go do the show. Because they are completely irreverent, right? I've never been a big superstitious guy. But yeah, it certainly threw it all out the window in 2008. So, I think I've retained that.
Is there anything else you want audiences to know?
I: I really hope people are willing to come with an open mind and check out a different version of Macbeth. If you are a Macbeth nerd, like I kind of am, a lot of the lines start the same or end the same, so there is a lot of Shakespeare in here. So, you'll hear the work that you're familiar with, and then, suddenly, there are different words. It's a little jarring. It's a little exciting. It's a little titillating. I really think that's a part of the fun.
And then there are some whole new scenes. I have a scene with Lady Macbeth in Act II. In most productions, they don't meet in Act II at all. So, to have a scene where they actually confront each other about the situation they are in is really fun.