Last year, I spoke with Naomi Robin (as she was leaving her longtime gig as Casting Director at Theater J) about her time there and about her career more broadly. I also asked her about the perspective of the Casting Director and what tips she might have for auditioning actors. That part of the conversation follows:
What are the biggest mistakes that actors make when auditioning?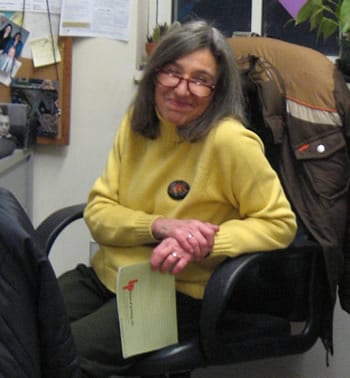 Naomi Robin: There are a number of them, but one enormous mistake is not to know that the auditors are assessing you from the first second, from the moment you appear. So people will walk in [lowers her head] kind of down like that, or, or, OR — the worst mistake I think an actor can make — [Interrupts herself.]
We tried, we tried very hard at Theater J, to be warm and respectful and welcoming and considerate of actors, and people have said that we were, and people have complimented me on that: being a positive force. But sometimes you can't help getting behind. You've invited a lot of people; you can't help getting behind.
Well the worst mistake an actor can make is becoming so angry in the waiting room that, first of all, they make that clear to the person who's taking names, which of course we'd hear about: "This is a person with an attitude." Then they come into the room still angry. And that's so clear.
You know, if you feel that way, if you can't control your feelings, scrap the audition. We're very sorry that we've kept you waiting, but it doesn't help us to see an actor with all that attitude. We're going to think, "That's what it's going to be like: something goes wrong at rehearsal, and that's what they're going to be like in the rehearsal room."
Just a quick side thing: In New York, when I auditioned for musicals, very often, say, on Broadway or Off-Broadway, they'd line up ten women, and you'd come on and give the accompanist the music, and sing your eight bars, and you can watch the others, and I would often see women who would make mistakes on their own and would look at the accompanist as if the accompanist were dirt and the accompanist was screwing them up, and how do you think that looks to the people out front? The accompanist, of course, is a professional, and is there to help you, and, you know — it's crazy.
Would you recommend that a director request from the person auditioning a prepared monologue or a cold reading from the script?
Well, the choice that you haven't mentioned is a prepared reading from the script. There, you learn the most, because it's the material that's going to be mounted, and if the actor hasn't prepared it (if you've gotten them the script in advance), that tells you something right there. But I think probably even a cold reading from the script usually tells you something useful.
Also, you can always tell when an actor is not comfortable with a cold reading, and I don't automatically cross people off for that. In a way, cold reading is a trick. And some people have that trick and some people don't. And it's wonderful if you have the trick, but it absolutely doesn't mean that you're not going to be magnificent in performance if you don't have that trick.
So, in that case, a monologue carefully selected — and a monologue tells you a lot, too, starting with the choice of material: You can get a twenty year-old coming in with Anfisa, the old lady from one of Chekhov's plays. I want to see a mind at work, including in the choice of material, in the knowledge of the self: What do I — Naomi — have to offer this production that is mine, that I can totally own?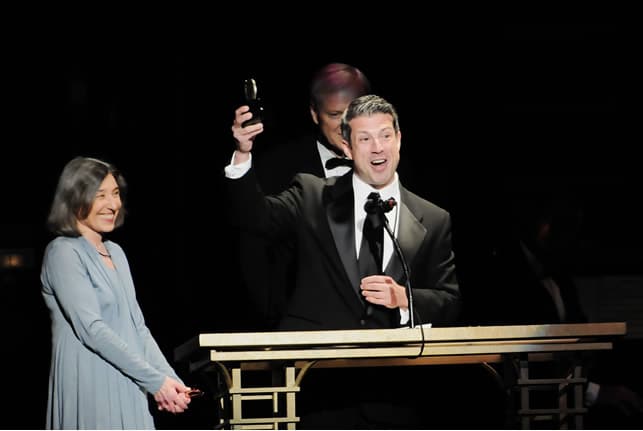 Do you often see actors audition well who then disappoint, or actors audition badly who then pleasantly surprise? 
Yes, and, more often, the latter. Generally speaking, if a person truly auditions well, and, again, I mean not just the cold reading trick, that's not what I mean by auditioning well, but auditions well in the sense that they bring themselves to it and make choices — right or wrong — they make strong choices, and especially right choices, you know, choices that are character-appropriate, and even a little surprising; where you can say, "You know, as a matter of fact, the character would do that, and I never thought of that."
So when people truly audition well, they very rarely disappoint in the production. But there are a number of actors who just don't audition well, and I know, because I've seen them work. I've been in the audition so many times, bringing someone in who I saw being wonderful in several shows, and, in the audition room, people would say, "Why did you suggest this person?" And I'm left in the position of saying, "Because I saw him do a wonderful job in XYZ shows, and I know he has that card, and either the coffee was on the wrong side today, or he's a person who doesn't audition well, but, that's why."
Can you talk about the situations when actors are called-back repeatedly before a decision is made?
Well, Equity has a rule about it. I think after the third callback, you have to start paying them, if you call them back thereafter. At Theater J, we tried not to make people crazy in that way. My experience is, we usually saw what we needed the first time, and the callback was to be sure, because sometimes, again, it's some version of a trick, and then the director asks them for something a little different and you see it fall apart. Not that often, but it happens.
Or sometimes you want to see an actor with other actors. But generally speaking, not more than one [callback.] We certainly went to two and three, but three was very rare for us; more than three, maybe once in thirteen years. But generally, just an audition and a callback. And sometimes it's so good, and we know the person's work, that the first audition is an offer.
If a director comes in with an idea of a dream cast, do you advise against pre-casting without an audition?
No, no, I don't. I love what I do, what I have done, but, if the director has a dream cast, I say, "Great, have a good time." The only time that I can think of that I might do that is if it's a director that may not know the pool well as human beings, in terms of the people that we're talking about, and they come in with a dream cast that includes someone that I know has given a very hard time in the rehearsal room, or that I know will be shopping right up until the first rehearsal for a better-paying job.
And I guess I have done that, I have said to a director, "You know, I know that her work is terrific, and you like her. But I can tell you that, if she gets a better offer, she's gonna be outta here. And then, the way we cast so far ahead in Washington, who will still be available? So, it's your show; just think about that."
Is there a lot of sharing of intelligence among theaters?
There is, and I think it's a wonderful thing. I think that this is such a collegial market, and so many of us are friends with so many people, and it just makes sense: If your theater hasn't worked with someone, and we know that he has worked at Studio five or six or seven times, it just makes sense to say, "How was your experience with this person? Is he as good in the rehearsal room as he clearly is on stage?"
Have you ever had such a bad experience that you have blackballed an actor?
You know, I have, but, mostly, the theater hasn't. I have a long memory for kindnesses and slights, unfortunately. I wish the latter wasn't true. One man left us in such an awful way — I won't mention any names — but his name had been posted in advertising for the show. He got a better…what he thought was a better offer. Not only did he not call us personally, he had his agent call us after the advertising was out, with his name and his picture, and say, 'He won't do the show,' and then the agent wouldn't accept calls from us for several weeks. I just thought it was so shabby.
But the people at Theater J tended to feel everybody's got to make a living, everybody's got career goals, and all that kind of thing. And I understand when somebody comes, and there's plenty of time to recast, and says, "Ya know, I've got to pay the rent, and X, Y…" — you know, of course. But there's a way and there's a way.
What about how to dress for an audition? If you're auditioning to play a lumberjack, should you avoid wearing heels?
I would suggest that, yes.
But you don't want to overdo it, in terms of dressing like the character?
Absolutely, absolutely. Any kind of neutral clothing is just fine. If you can suggest, as you say, without overdoing, something about the character that rings a bell, that's great — suggest it. And, aside from wearing a dress to be a lumberjack, it's just offensive when somebody comes in looking just plain sloppy. I mean, it's a professional situation; comb hair, you know? Nothing extreme.
Then there's the problem of actors who look nothing like their headshot.
No relation, yeah. Again, for me, it's not a big concern, because I know the people. I don't have a single headshot in my home. I don't need them. I need my little Rolodex card with your email address.
But it's such an unfortunate way to market yourself. Do you remember Sandy Stern at all? She was a freelance casting director in town, who died much too young. Sandy was from New York, decidedly from New York, and we were on a casting panel once together, and, afterward, people were told they could give us their headshots. People came pouring up, and I was standing next to Sandy, and one woman handed Sandy her shot. Sandy looked at it, and looked at the woman, and said, "Elizabeth, was this taken at your bat mitzvah?" Elizabeth was, like, sixty years old. It's just not a good way to market yourself. You're not going to be called in for the right things, and you'll be called in for the wrong things. So, again, it's not a problem for me, it's a problem for the actor.
No headshots? You must have an amazing memory.
Not bragging: yeah, I do. You know, one day, I'll wake up, and I'll say, "Who am I?" and it will all be gone, but, I do. Not always the full name, but the face, the first name, and what I've seen them do. Yeah, I'm blessed with a good memory. I mean, theatre must run in my blood instead of blood. So that's been lucky.
Do you like those resumé pictures that include several different shots?
No, I don't. Because, usually, they're four different faces that look almost identical, except they've changed their hat and put on a mustache. Once in a long while, you'll see a composite where you think: Really! But it's very rare. Very rare.
How many monologues would you suggest an actor have easily at hand, in case someone is asked, "Give me something else?"
Well, certainly two contrasting, and, certainly, one of those should be classical. But, if you can have four or five in your pocket, it helps, because sometimes you can see that there's a gift there, but [the monologue] is so off-base for what you're looking for and you might say, "Help me out here. Can you show me something that shows your comic skill, or shows you a little more vulnerable?" And if you have something that you can pop out, it's great. So if you can have four or five, I think it's great, but, certainly, two contrasting, one of which should be classical, I think.
Even with all the tremendous amount of theatre happening in this town, do you nevertheless know of actors or directors who haven't really gotten the chance to show what they can do?
Yes, and sometimes you can see why. I'll sometimes see someone that is very gifted — I can't speak to directors as much, but, for actors — sometimes I'll see someone who's very gifted, and I know in my bones that some directors may not see that person as promising. Also, there may be people who have gotten their card too fast, or gotten their card in error.
For example, there are two men I can think of who are talented and nice and flexible but, in their age group, they are not as good as other men you can hire for Equity minimum, and they're Equity, so they rarely get hired, because they can't work non-Equity, and they're not going to get it against very highly regarded actors in that age group. So either they should have trained some more before they got their card, or maybe they were never meant to be Equity actors.
But I can tell you a good story in that regard: there was a woman who I think is a very gifted actress who auditioned for us and got close, I mean, ten times, maybe eight times — a lot of times. She wrote to me the last time that happened and said, "Don't call me in anymore, because I can't stand it. It means so much to me, and I feel that I do so well, and you look at me as if I'm doing so well, and I don't get cast." And I said, "Please, let me call you in, because it's just happened that way, but I swear, you will get cast." And, next time she auditioned, she got the job. And she got a second job with us. So there are good stories, too. I totally understood [her attitude.] But, I thought, it will be terrible if she won't come in anymore.
If there are people who go Equity too soon, are there also people who stay non-union too long?
Well, it depends. There's an actress I'm thinking of who gets better every show she does. She works all the time, and she's still non-union. I am guessing that she's elected that because she wants to keep working and she's worried that it won't happen if she gets her card. And that's between her and her bank book.
If someone asked your advice about where to locate, would you recommend DC over NYC and LA?
I would. LA, I don't know very much about. I've been there a couple times, and I didn't like it, and I know very little about it. But, in New York, I was very lucky, but so many people I knew called themselves actors and mostly waited on tables. Do you know the story of when Rick [Foucheux] was up there? He worked, he was even in a hit show, but people said to him, "You've done that role and that role and that role and that role in DC. What are you doing here?"
This is a place that, if you are excellent, you can work, and raise a family if you choose, and buy a house, and have some azaleas. New York is wonderful. My ex-husband is a theatre director, a very gifted director. He wouldn't leave New York for any money. And he was brought up in Wisconsin. I was brought up in New York, and I think it's a terrific place, but not if you want to work as an actor, and stretch yourself, and work with excellent people again and again so that you have this shared vocabulary. That's such a beautiful thing about Washington: these people come together and they have that artistic capital for years. (And you know all about that because of WSC.)
It's a very special thing.