Was Shakespeare's The Comedy of Errors lacking for want of a Broadway-style splashy opening number? Probably not, but director Alan Paul has tinkered with the comedy by adding a handful of contemporary musical numbers to the mix.
The songs break up the frenetic, nonsensical nature of the play, which like more than one of the Bard's works involves a shipwreck and the mistaken identity of twins. Said shipwreck caused two twin sons (somewhat inexplicably both named Antipholus) to be separated from each other. Each has a twin servant, both also with the same name of Dromio (just run with it). The disaster also separated father and son, husband and wife, and unbeknownst to all, they've all ended up on the Greek island of Ephesus, with some not even knowing of the others' existence. Wacky complications, naturally, are soon to come.
——–

The Comedy of Errors

closes November 4, 2018
Details and tickets
——–
The Comedy of Errors is Shakespeare's shortest play, so it does leave some room for tinkering (this production clocks in at a breezy 100 minutes, with the songs and without an intermission). And of course, the use of music in Shakespearean plays is hardly unprecedented (and entire musicals have been adapted from the writer's work as well). Whether it works here tends to vary song by song.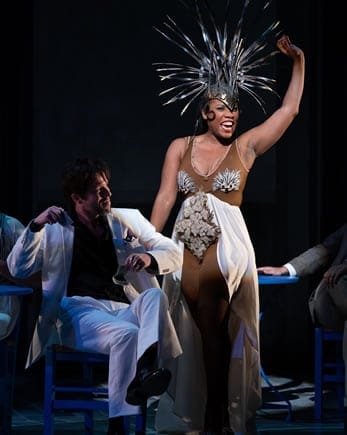 During that aforementioned opening splash, the play feels like it's working pretty hard to feel relevant to today, with mentions of transitioning and Zoloft practically in the same breath. But the songs can also provide diverting asides for the silly shenanigans, such as a sultry striptease from an alluring Eleasha Gamble (the song's an extended metaphor that compares the courtesan, amusingly, to a porcupine, also the name of the nightclub). A number about the town's hard-working, industrious police force may be inconsequential, but it proves to be one of the show's most uproarious moments, with a chorus of cops (Matt Bauman, John Cardenas, and Justin G. Nelson) gleefully tapping their way through the tune. A kooky exorcism number (probably the first time I've typed that phrase), late in the play and revolving around Sarah Marshall's Dr. Pitch, feels strained, though.
The performers in The Comedy of Error do a fabulous job with the show's slapstick demands, and James Noone's clever and versatile set proves a helpful tool for the hijinks. Noone's whimsically designed fish market sets the stage for one uproarious scene that features a still-alive squid pulsing on a diner's plate. Tom Story, in a throwaway role as the town's goldsmith Angelo, can make even walking through the door of a house an hilarious undertaking.
[adsanity_rotating align="aligncenter" time="10″ group_id="1455″ /]
Veanne Cox is a droll delight as Adriana, the put-upon wife of one of the Antipholuses. Carson Elrod and Carter Gill prove a great team as the pair of servant twins (an extended comedic monologue from Elrod, marveling on the sheer size of the woman his doppelganger has taken up with, is expertly delivered but feels out of touch for today's sensibilities). While this version of The Comedy of Errors is not without the occasional misstep, it still adds up to a fun farce.
---
The Comedy of Errors by William Shakespeare. Directed by Alan Paul. Scenic design by James Noone. Music Direction by Victor Simonson. Costume Design by Gabriel Berry. Composer and Lyricist Michael Dansicker. Choreography by Karma Camp. With Gregory Wooddell, Christian Conn, Carson Elrod, Carter Gill, Ted van Griethuysen, Nancy Robinette, Veanne Cox, Folami Williams, Tom Story, J. Bernard Calloway, Eleasha Gamble, Sarah Marshall, Matt Zambrano, Matt Bauman, John Cardenas, and Justin G. Nelson. Reviewed by Missy Frederick.