–  How does a company, becoming known for staging the classics, navigate what may be the trickiest of all comedies, Venus in Fur? And what is the connection between David Ives' play and Macbeth? We spoke with 4615 Theatre Company's Artistic Director Jordan Friend. –
Describe the play, for those who've never seen it.
Jordan Friend: Venus in Fur is a play about sexuality, power, creativity and the strange relationship between all three. It's a 90 minute, reality-bending tango of blistering wit, set to the strangest audition imaginable. The title comes from a scandalous 19th century Austrian novella, considered to be the origin of S & M. In this version, an ambitious modern playwright, Thomas, has created an adaptation of the eponymous work, which he is also directing. Only problem is he can't find the right lead actress…until, on a particularly stormy night, a frazzled woman bursts into the studio and demands a chance. She also happens to have the character's name, Vanda, and a bag full of costumes and props. With no one else there, Thomas reluctantly agrees to read with her himself. What happens from then on I wouldn't dare spoil, other than to say that the lines between fiction and reality begin to blur, and we begin to wonder just who holds the power at any given moment…oh, and that storm outside gets quite intense.
A play about the power dominance between women and men, between director and actress sounds like a drama for our times. But Ives has written it as a comedy.  In what way is it funny?
With Ives, you're always going to have his extraordinary wit and gift for language. What's particularly brilliant here is the way he mixes broad humor with more subversive laughs.  He mines a lot of laughs early on from Vanda's antics and Thomas's flustered discomfort with this stranger. But once they start reading together, and the story starts twisting and turning, the humor evolves. Are we laughing at Thomas's play, or how they are reading it? Are we laughing at Vanda because we think she's absurd, or because we have a hunch she might be anything but? The play fools you over and over about what's actually happening, and you laugh because you've had the rug completely pulled out from under you. I know there are plenty of moments for me where I don't know whether to cackle or gasp…often the answer is both.
While I don't think Ives specified the age of his characters, I know you were interested in how the power dynamics in the play would change when the director, Thomas, is roughly the same age as the actor, Vanda. What are you finding?
So much of the fun in this play is the way you (and they) lose track of when they are or aren't playing the 19th century characters from the novella. By keeping Thomas close to Vanda's age, we buy them as a couple in the show-within-the-show, which means we also being to wonder if there's something there in the "real world" section as well. As the two of them duke it out for the upper hand, the sense of chemistry between them creates a wonderful dissonance.
Tell us about the two actors: Scott Abernethy and Anna DiGiovanni.  She especially may be new to a lot of people.
Remember we are a theatre founded by young artists; many were still in school when we founded our company.  We want to shine a light on new emerging artists, artists who bring fresh talent and exciting perspectives to the Washington scene.
Anna DiGiovanni went to school in California and came to Washington to attend Shakespeare Theatre's classical acting training program. In fact, she's just finished and received her MFA. She's a brilliant young actress already finding good work in the area. But she's playing someone whom one may think initially is bumbling.  Anna lends such magnetism to Vanna, but she also has a clown side, and she is deeply playful.
Scott Abernethy, like Anna, hails from the west coast originally but came to Washington and almost immediately made a name for himself. Scott has quite a theatrical presence. In his role with us, he has to be able to oscillate between being a good writer but not a good actor, and the challenge is to present the onion of the whole character as the layers get peeled away.   It's great having someone as smart and savvy as well as comically light-footed.
I think there's an unpredictability and recklessness in their actions because of where they are in life.
 " … unpredictability and recklessness"?
Scott and Anna, while wonderfully unpredictable, are certainly not reckless actors! On the contrary, they're deeply professional and also communicative with one another, which is vital for a play like this. Rather they bring out a wonderful recklessness in the characters. Anna and Scott are both actors in full command of their talents, without being fixed in their ways. They have absolutely volcanic chemistry together, and are constantly surprising and responding to one another. This play pushes both characters to their absolute limits, so it's brilliant to have two actors who are truly willing to go out on a limb, while always staying true to the story.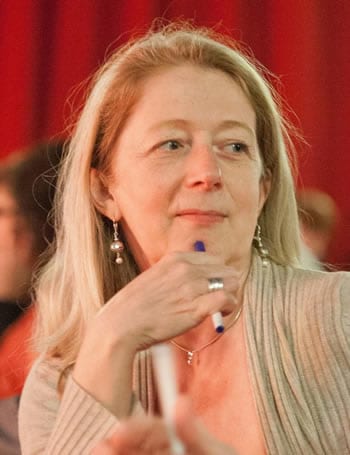 Looking in on Stevie Zimmerman's rehearsals, what has surprised you?
One of the many things that Stevie is brilliant at is finding exactly how a piece needs to be rehearsed to tell the right story. She can conjure incredibly precise blocking when she needs to, but she quickly pinpointed that this is a play that benefits from…well, play. She has two deeply creative actors, and has encouraged them to constantly try new ideas. Every time I drop in there are twenty new moments! With two actors, a tiny performance space and minimal props/scenery, it's so vital to keep things active and fresh, so I can honestly say that no two performances will be exactly the same!
You are becoming known for handling big scenes in unique ways within your intimate space. This play gets very erotic and audiences sit up close.  How is that being handled?
Oh, we're making it even harder for ourselves, because we're performing this one in the rehearsal studio next to our black box, which is half the size. It's brilliant fun, because we're using a space exactly like where the play is set, so it's fully environmental. It'll be just 25 seats a show, just feet from the action, so a true "fly on the wall" experience.
As for how we manage it, it's a big collaboration between the cast and creative team, including our designers and our intimacy consultant, Emily Sucher. We have to work with the understanding that, with audience just feet from the action, everything is amplified. So, in a lot of ways, it's like shooting a film, where every little detail is picked up, from the costume design to the movement.
——–

Venus in Fur
from 4615 Theatre Company
October 26 – November 17, 2018
Details and tickets
——–
You also have to build trust with an audience. The play is already so brilliant at easing you into its mad world, and we follow a similar trajectory with how we put our production together. The power of sitting so close is not that you feel self-conscious, but rather voyeuristic. The whole thing is a seduction, so if we were to overdrive things, we lose that. The hyper-intimacy of the audience forces us to suggest and tease even more than you normally would with this show, and frankly, it makes it even more seductive at times.
The same principles apply as when we're dealing with something like the Witches in Macbeth. We understand that they need to shock the audience, and feel heightened from everything else, so it's as much about where to set the rest of world as what we do with them. We know there are parts of Venus in Fur that need to turn up the heat in the room quite a bit, so where Stevie and the team pitch everything else is the key to making it all work.
It's an interesting time to be doing David Ives' play.  How is this responding to the swirl of conversations about women and male attitudes and the power dynamic.
We picked the show eight months ago.  But there were a lot of reasons that went into it. It fit our mission. It's about storytelling but storytelling as an interrogation. Also, to have a play about someone who has adapted something from the nineteenth century trying to shed new light on it but also applying his own conscience to it, that's central casting for us in terms of material.
It's also about the thematic connections, starting with our Macbeth which we used as a core show [this season], a play which deals with hubris and fate and relationship with the supernatural. You will remember in Venus in Fur, the supernatural wanders at the periphery of the play.   And the notions of gods and humans is quite central to it as is cosmic seasons and all that.
And yes, of course we are conscious of the play's topicality. Thinking about what is going on right now is unavoidable.
Anything more you want to tell us?
I'll just say that, if you haven't seen the play before, you're in for something that will have you giggling with delight while you watch it, and then stewing over what just happened for a long while after. And if you have seen the play, you'll get a whole new hyper-intimate experience with it, including two revelatory performances.