In this play, Anon (Eiren Stevenson) and his mother Nemasani (Toni Rae Salmi) flee their war-desecrated county to go to a land that they have heard is just and prosperous. But when they get there, the evil King throws them in separate cages, and vows to send them back to their certain deaths.
Hah hah! Only kidding. That would be a ridiculous story, a bad cartoon, and no one would believe it. Instead, in Naomi Iizuka's 90-minute meditation on the immigrant's loneliness and displacement, mother and son are separated when their boat capsizes, and Anon lands on U.S. shores, near death. He is in fact on land owned by a wealthy Senator (Aron Spellane), who (it seems) adopts him. Nemasani, meanwhile, ends up in a sweatshop, sewing a shroud for the son she believes dead, and humiliated by the relentless lust of the sweatshop's straw boss, Mr. Mackus (Peter Mikhail).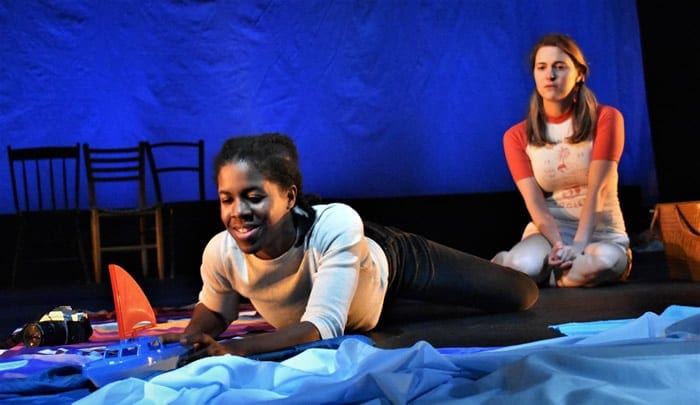 Iizuka's story, loosely based on The Odyssey, is an attempt at magical realism which is not realistic but never quite finds its magic. Consider: Anon is at the beach with the Senator's uber-obnoxious daughter (Madelyn Farris), who is trying to put the moves on him, when a goddess (Noa Gelb) appears — and immediately gets into a spat with the daughter.

Goddess: You know? you're like really pale.
Daughter: Yeah? Well, you're like really rude.
Goddess: Yeah, but you're really pale. How does a person get to be so pale? You're like Wonder bread. You're like mayonnaise.
Daughter: I am not like mayonnaise. Cow.
Goddess: Hag.
Daughter: Witch.
At that point, the goddess pulls the daughter's hair. I don't know about you, but I like my goddesses a little more majestic than that.
Anon and goddess escape, and thereafter Anon goes on a series of adventures, which include ghosts, human trafficking, and a butcher who turns corpus delecti into corpus delicious. This scene, which features Spellane as a combination of Hannibal Lechter and Sweeney Todd (he even washes his meals down with a nice Chianti), is a little difficult to credit; while the lot of the undocumented immigrant is hard and dangerous, he is unlikely to become somebody's breakfast. The scene does feature a marvelous performance by Kara Turner as a large, angry bird, but the resolution she gives the scene makes the whole thing seem to have come from another play — one crafted, perhaps, by Edgar Allan Poe.
There are other scenes which work much better. In one of the play's many striking coincidences, Turner, as the Senator's decidedly first-world wife, visits the sweatshop where Nemasani (renamed "Penny" by her overseer — a possible reference to Penelope, the wife of Odysseus) works. Learning that Nemasani is stitching a shroud for her son, the Senator's wife blithely advises Penny to try yoga to get past her grief as the Senator frantically leads her out.
And then some scenes work beautifully until they don't. I'm thinking of one in which the covered bodies of victims of a human trafficking scheme tell us who they were and what they had hoped to do in this country…but then say "I'm dead" over and over again, in case we hadn't understood that development.
The performances range from adequate to very good (Turner, and Shaquille Stewart as Pascal, a jovial companion Anon meets in the train tunnels beneath the city), and the scenes move crisply enough. Iizuka by and large succeeds in capturing the young immigrant's loneliness and yearning for home ("To leave your home and arrive in this snowy foreign land—what must that be like? What did they leave behind, and what were their lives like in this new place?" she said in an interview with American Theatre Magazine's Dominic P. Papatola. "I wanted very much to see those characters on stage, to see their experiences represented.") and she is assisted in this by a moving essay by director Jon Jon Johnson, who in the program describes his own experiences moving back to America from overseas as a child.
——–

Anon(ymous)

closes October 27, 2018
Details and tickets
——–
But there are shortcomings to the production which prevent it from being what it could be. Johnson has elected a soft (unscripted) opening, in which characters mull uneasily around Eric McMorris' laundry-strewed set as the BBC broadcasts details about the awful conflagration which surrounds them. All this occurs before the customary warning against cell phones, etc., which means that some audience members, not swift on the uptake, will natter on, to the distraction of the remaining audience members and the disadvantage of the show.
[adsanity_rotating align="aligncenter" time="10″ group_id="1455″ /]
Some basics are missing. When our butcher opens the Chianti, it is evident that the bottle is empty. Anon is horrified by a ritual scar on Pascal's face, but Stewart's face is unmarked. I realize that Theatre Prometheus works with a small budget, but it is not expensive to fill an empty wine bottle with grape juice, and Molotov — another small-budget company — created a spectacularly disfigured face for a play about…well, a play about a guy with a spectacularly disfigured face. A small budget is not a good reason for ignoring details.
Niusha Nawab's sound design is detailed and creative, but at times it tends to overwhelm the actors, leaving crucial dialogue lost to the rattle of guns.
Similarly, the fight choreography, wisely uncredited, is unconvincing. And it needs to be superbly executed because Iizuka makes it so hard to believe, as when the child Anon whomps the enormous Pascal, or when Anon and Mackus suddenly acquire swords for a final duel. The execution of these fights must be so dramatic that they distract us from their inherent unlikeliness. But these fights are slow and dull.
The final problem is deciding whether the play is about the immigrant's longing for home, or simply Anon's resolution to reunite with his mother. I believe Iizuka intends one but accomplishes the other; Johnson's effort to tie them together with an unscripted final scene is, like much else in the play, unconvincing.
To be entirely fair, Iizuka developed this play for a children's theater, where the requirements, and conventions, are different. But the company brings it to us as theater for grown-ups, and given the issues it addresses and the present context in which it addresses them, that's probably the right approach. As a play for adults, Anon(ymous) — both the play and the production — works on some levels, but not on all.
---
Anon(ymous) by Naomi Iizuka, directed by Jon Jon Johnson . Featuring Eirin Stevenson, Noa Gelb, Peter Mikhail, Aron Spellane, Kara Turner, Toni Rae Salmi, Madelyn Farris, Cindy Wang, Tamekia Jackson, and Shaquille Stewart. Costume design: Robin Weiner . Sound design: Niusha Nawab . Lighting design: Ian Claar, assisted by Maddy McKeague . Set and technical design: Eric McMorris . Genevieve Domermann, assisted by Eliza Mott, is the stage manager . Produced by Theatre Prometheus . Reviewed by Tim Treanor.
Note:  Director Jon Jon Johnson is a writer for DC Theatre Scene.  That fact did not effect this review.