Darkness,  corpses, catacombs, and cats: welcome to the world of Edgar Allan Poe. His stories embody the spirit of Halloween, which is why it's fitting that We Happy Few is performing his poetry and prose now.
While We Happy Few's A Midnight Dreary is an entertaining riot, it also keeps true to the eerie air of quintessential Poe. Sure, the company emphasizes goofy elements of his stories, but not without the kind of creepiness that induces knots in the stomach.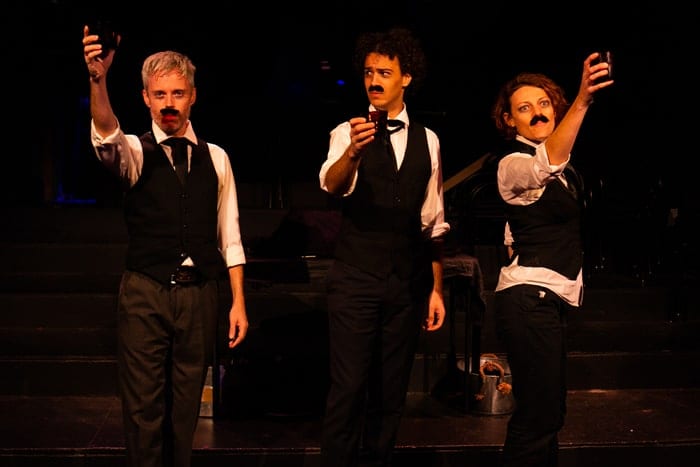 Three actors dressed as Edgar Allan Poe (Kerry McGee, Jon Reynolds, and Alex Turner) perform three tales as audience members stand in the middle of the Capitol Hill Arts Workshop's black box and participate in the show. I brought a companion who usually despises audience participation, but the actors' energetic spirit was so infectious that even he enjoyed partaking in the performance. With cobwebs, skeletons, and severed mannequin heads placed around the room, it's something akin to those haunted tours people can take around the DMV.
——–

A Midnight Dreary

closes November 10, 2018
Details and tickets
——–
It's worth mentioning that the three Poes hand out fruity cocktails during A Midnight Dreary (mine was so tasty that I drank another when they offered refills). They encourage viewers to enjoy themselves, to celebrate the writer's twisted imagination.
[adsanity_rotating align="aligncenter" time="10″ group_id="1455″ /]
I was afraid combining Edgar Allan Poe with jokes would result in half-baked comedy that disrupts the darkness of his stories, but We Happy Few treats the tales well. McGee, Reynolds, and Turner poke fun at the lighter facets of "The Masque of the Red Death," "The Cask of Amontillado," and "The Tell-Tale Heart." They mock party culture during Prince Prospero's masquerade ball. They dig into Fortunato's people-pleasing friendliness. And Reynolds, who plays The Tell-Tale Heart's narrator, humorously taps into the character's narcissism.
The company impressed me with their transitions from giddy to dreary. In one moment the audience was laughing at McGee's "sweet old man" voice during "The Tell-Tale Heart," and in another, the vibe turned tense as McGee, eyes wide and brows furrowed, showed the old man's fear.
We Happy Few's use of sound added to the Poeness of it all. The actors took turns circling their fingers along the rims of wine glasses, creating crystalline wailing that intensified frightful points of the show. And then there was the beating of the drum, which made perfect heartbeats for "The Tell-Tale Heart."
A Midnight Dreary is a great way to revel in the spookiness (and yes, even humor) of an Edgar Allan Poe story.
---
A Midnight Dreary Adapted from the works of Edgar Allan Poe. Directed by Bridget Grace Sheaff. Featuring Kerry McGee, Jon Reynolds, and Alex Turner. Devised by Raven Bonniwell, Kerry McGee, Kiernan McGowan, Jon Reynolds, and Bridget Grace Sheaff. Stage manager: Sam Reilly. Lighting design: Dan Smeriglio. Costume supervisor: Paige O'Malley. Production manager, designer, producer: Kerry McGee and Jon Reynolds. Dramaturg: Keith Hock. Artistic director of theatrical experiences: Kerry McGee. Executive artistic director: Raven Bonniwell. Presented by We Happy Few. Reviewed by Emily Priborkin.