You're a fifteen-year-old boy named Will, and your eighteen-year-old brother has been shot. Shawn was your friend, your protector, and your teacher ever since your father was killed, and now he's dead. You're riding down the elevator with your brother's gun in your waistband in order to kill the man you're sure is responsible for your brother's death. Because those are the Rules.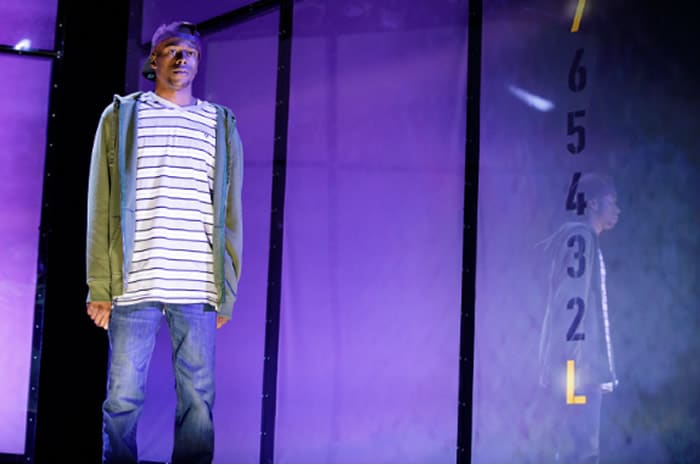 "The Rules are:
(1) No crying
(2) No snitching
(3) Get revenge.
"'The Rules weren't meant to be broken. They were meant for the broken to follow,' says Will.
Based on Jason Reynolds' award-winning novel of the same title (popular among young readers as well as adults), Long Way Down focuses on Will (Justin Weaks) and a choice he's about to make that will affect the course of his life.
This dark scenario stings with the fact that there are young people in this world that endure such distress—Reynolds himself went through a similar situation when, at nineteen, his best friend was murdered. "When that happens," he told Saturday's matinee audience, "you meet a part of yourself you have never met before."
Martine Kei Green-Rogers' adaption, like the novel, humanizes all teens like Will. He flirts with girls, keeps his side of the room messy, and enjoys creating anagrams. Anagrams like: "alive = a veil" and "scare = cares". He's got a mother who loves him and a good sense of humor. The writing lets the audience to get to know Will (which makes his the choice he needs to make even more heartbreaking).
——–

Long Way Down

closes November 4, 2018
Details and tickets
——–
The entire play takes place during Will's elevator ride from his apartment on the 8th floor to the lobby. Others join him on the way down. They, too, know The Rules, and they bring Will knowledge of the terrible consequentiality of the path that he is contemplating. Weaks portrays all of them vividly and convincingly, establishing such separation among them that it seems the stage is full of actors—though it is just Weaks. When he portrayed Will's childhood friend, Dani, I could easily picture her through the way he cocked his head and leaned and twisted his body. Simple movements painting a vivid image of the teenage Dani.\
[adsanity_rotating align="aligncenter" time="10″ group_id="1455″ /]
The novel is written in verse, and Weaks brings forth this aspect of Long Way Down by speaking in the style of a spoken word poet.
"Don't nobody
believe nothing
these days
Which is why I haven't
told nobody the story
I'm about to tell you
and truth is,
you probably ain't
gon' believe it either …"
The team behind Long Way Down adapted Reynold's book with care. From the thoughtful sound design by Nick Hernandez, who chose songs for different characters based on vibrations, to the imaginative set by Tony Cisek, who managed to make the inside of an elevator fantastical and haunting through projections and an inventive design, the technical work was superb. In the production I saw, there was a thick silence when the elevator finally reached the lobby and the doors opened. The stage went dark; someone gasped. A powerful moment of quiet, followed by booming applause.
Long Way Down is a play that I wish everyone could see—to feel the fear and confusion of young people who go through such trapped and traumatic circumstances. The show has a short run in DC through November 4th, so I urge Washingtonians to see this gripping piece of theatre. The tight production and Will's story deserve to be widely shared.
---
Long Way Down Based on the book by Jason Reynolds. Adapted for the stage by Martine Kei Green-Rogers. Directed by Timothy Douglas. Featuring Justin Weaks. Scenic designer: Tony Cisek. Lighting designer: William K. D'Eugenio. Costume designer: Danielle Preston. Projection designer: Michael Redman. Composer/sound designer: Nick Hernandez. Properties artisan: Timothy Jones. Stage manager: Martita Lee Slayden. Produced by The John F. Kennedy Center for the Performing Arts. Reviewed by Emily Priborkin.