East of Eden is an American classic, a huge and sprawling novel, stretching from the Civil War to World War I and from California to Connecticut. John Steinbeck — who won the Pulitzer and Nobel prizes — considered it his best work. "I think everything else I have written has been, in a sense, practice for this," he once said, and NextStop Theatre's producing artistic director Evan Hoffmann, among others, is equally enthusiastic.
Steinbeck's novel, incisively pared down in Frank Galati's adaptation, is now on stage in Herndon, VA. Does it work? To a large degree it does, and to the extent that it doesn't, the fault is less with Galati and the production than it is with the Great Man himself.
The story begins when young Adam Trask (John Sygar) buys land from Samuel Hamilton (Reginald Richard) so that he can build a home for his beloved and very pregnant wife Cathy (Annie Ottati). The love doesn't flow both ways, though. After delivering twins, Cathy shoots Adam and takes off for parts unknown. Once Adam recovers — physically, if not in spirit — he takes charge of his two sons, now named Aron and Cal. Life goes on.
Years later, Adam (played as a mature man by Zach Brewster-Geisz) finds out what happened to Cathy (now played by Kari Ginsburg). She's become the madame of a brothel specializing in sadism. Adam and Cathy — who now calls herself Kate — confront each other and as they do so, their younger selves — Sygar and Ottati — emerge from the shadows to glower at each other. Similarly, Lorenzo Aten Falconi and William Price play Aron and Cal as young men; as they grow up Sygar and Ottati take on those roles, but the younger actors are frequently there in the background, haunting their older selves. Hoffmann stages it perfectly, and the effect is electrifying.
——–

East of Eden

closes November 18, 2018
Details and tickets
——–
Hoffmann is aided by a strong supporting cast. Eva Jaber and Nina Marti are excellent trading off the role of Abra Bacon, Aron's childhood sweetheart. Their shared energy and physicality is almost uncanny. Just as noteworth, Reginald Richard plays both Samuel Hamilton and his son and foil Will Hamilton with great range.  Samuel is a man of great deference and wisdom; Steinbeck patterned him on his own maternal grandfather, who had the same name. Will, on the other hand, is Samuel's opposite: modern and pragmatic, slick but straightforward, and a mentor to Cal.
The play, however, is far from perfect. By setting up Adam and Cathy as avatars of good and evil, Steinbeck makes Cathy a caricature of a villain. Despite Ginsburg's strong effort, Cathy's sociopathy is difficult to see as believably human instead of just an allegorical necessity. And, after her most intriguing cruelty, her plotline is disappointingly dropped in favor of Cal's angst.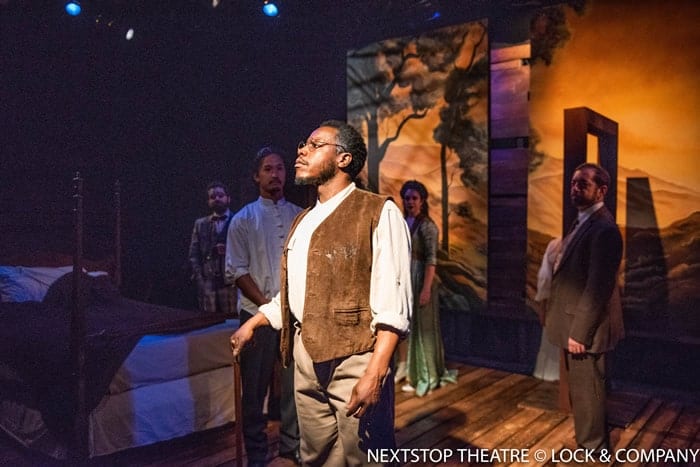 Problems grow in the second act. While early on Sygar shines as Cal, bringing a mountain of youthful energy and insecurity, he eventually dissolves in an overwrought guilt trip. Brewster-Geisz's charmingly precious Adam, too, is reduced to a husk. In the novel, the narration helps us to reach the climax, but, without a first person narrator's access into Cal's mind, this version makes for less than dazzling theatre.
This is not to say that the story's problems are due to Galati's adaptation. The story's didacticism, and its sacrifice of artistic value and character development to moral uplift, was repeatedly mentioned in the critical reception for the book, which was not good. You may have noticed the parallels between this story and the story of Cain and Abel; in the book, the parallels are more obvious, and more forced. Reading the novel you get a sense that Steinbeck had something he wanted to get off his chest. The play reduces that sense only partially.
[adsanity_rotating align="aligncenter" time="10″ group_id="1455″ /]
The ending is saved in large part by Lee (Jacob Yeh), the Trasks' Chinese servant and the secret protagonist of this stage adaptation. Lee is with the Trasks for as long as we are, from the twins' birth all the way to the finale. He is the unacknowledged third parent of the twins and a vital stand-in for the audience, alternatively giving Cal unconditional love or a sharp reality check just as the audience is dying to.
Hoffmann and Yeh also explore race through Lee, whether he's carefully codeswitching to fly under people's radars or standing up to a thoughtless nurse who wants to get in between him and his family. Moments when Lee leans more stereotypical are played by Yeh with a perfect degree of self-aware humor, keeping Steinbeck and Galati's character multidimensional.
It's flawed, but East of Eden is a significant story, and Hoffmann's intelligent and evocative staging is exciting and compelling. The past is always with us — we are, after all, the product of our experiences — and here Steinbeck and Hoffmann have conspired to find a way to bring it to life again.
---
East of Eden. Adapted by Frank Galati from the novel by John Steinbeck. Directed by Evan Hoffmann. Performed by John Sygar, Reginald Richard, Annie Ottati, Jacob Yeh, Kari Ginsburg, Alana Sharp, Zach Bewster-Geisz, Nahm Darr, William Price, Lorenzo Aten Falconi, Eva Jaber, and Nina Marti. Scenic design by Evan Hoffmann. Properties and assistant directed by Hollyann Bucci. Costume design by Moyneda Kulemeka. Lighting design by Brittany Shemuga. Wig design by Jaclyn Young. Stage managed by Sarah Usary. Assistant stage managed by Laura Moody. Combat choreography by Casey Kaleba. Intimacy direction by Meghan Behm. Produced by NextStop Theatre Company. Reviewed by Marshall Bradshaw.