Olney Theatre Center's successful Annie-inspired pajama drive last year resulted in more than 800 pairs of new pajamas for the Rockville, Md.-based Comfort Cases which, in turn, went to children in the foster car system. The drive is back on, this time focused on its production of Elf the Musical.
"It's been important since I got here three years ago that when we do our winter musical, and part of the season is about celebration and giving, that we want to use some of the attention we are able to garner for those shows to do something good," says Joshua Ford, Olney Theatre's director of marketing and communications. "In the past, we have done food drives.  Working with Comfort Cases worked out so well that when it came time to do our show this year, it was a natural to go back with them."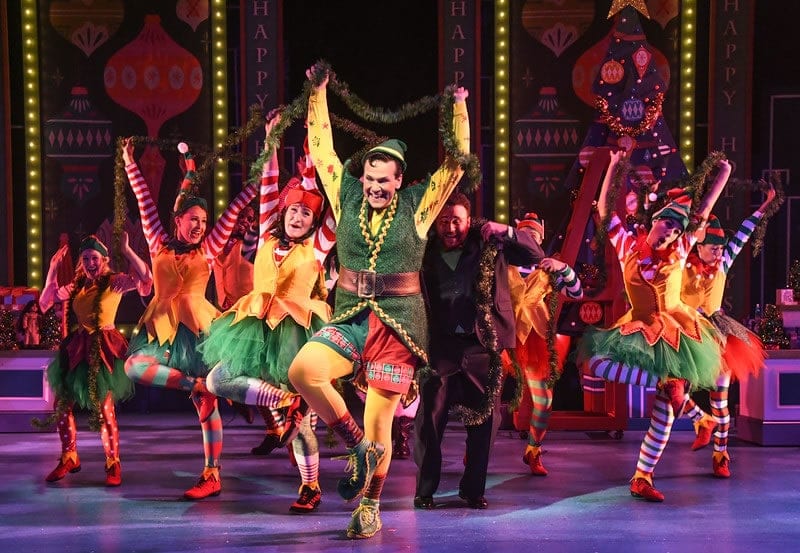 Olney is asking all patrons coming to see its holiday production Elf the Musical, which runs through January 6, to bring new, unused pajamas which will be packed into new duffle bags and backpacks by Comfort Cases for children entering the foster care system. They also accept shipped pajamas (instructions are below).
"The partnership started last year with Annie. We were doing a show set in an orphanage and we wanted to work with what is the modern-day equivalent to that, and that's the foster care system," Ford says. "We heard of this group on TV's Ellen and it turned out they were right here in Rockville."
What's more, when they first reached out, one of the founders of the organization had already bought tickets to Annie, so the match felt like kismet.
"We really felt it was meant to be right from the start and we were so glad we could do something," Ford says. "Last year, it was incredibly successful and people really got into it. I know a lot of people who never heard of Comfort Cases before even started volunteering for them."
Comfort Cases provides backpacks and duffle bags filled with essentials and a few necessity comforts (such as pajamas) to those entering the foster care system. Also usually included are toiletries, stuffed animals for younger kids, and a journal or book for older kids.
Rob Scheer, founder of Comfort Cases, was in the foster care system himself and remembers moving his stuff from house to house in a garbage bag, which is why his nonprofit provides new backpacks and duffel bags. In the five years since its founding, Comfort Cases has distributed 40,000 Comfort Cases in 28 states and Washington D.C.
Pajamas of all sizes are needed—from newborn to adult XXL—and the larger sizes are especially in need as people tend to think young when shopping for foster kids, but the demand is great for all size categories.
"People go shopping for pajamas and fall in love with the tiny baby ones and they are adorable, but they are need of pajamas from infants up to those 18 years old," Ford says. "They also ask that the pajamas not be seasonally-specific, so no Christmas pajamas as the kids are going to wear these year-round."
"It's really important that when these kids get their comfort bags that these are new and unopened and not just hand-me-downs, so they know it's theirs," Ford says. "Kids often move around to different foster homes so this is something of theirs to take with them wherever they go."
HOW TO PARTICIPATE:
SIZES:  The Olney drive is in particular need of larger sizes for teens, up to 3XL. When choosing pajamas, avoid hurtful messages such as "Daddy's Little Princess" and holiday themes.
Shop online, shipped to Olney:
(some sites offering cool styles and free shipping)
Amazon  Leverett  Walmart
Ship to:
Olney Theatre Center, Attn: Comfort Cases
2001 Olney-Sandy Spring Rd
Olney, MD 20832
Pajamas can also be dropped off at Olney Theatre Center, Wednesday – Sunday, noon – 6:00 pm in the blue bins located in the lobby.
"A lot of the budgets for theaters depend on a successful winter musical and we sell a lot of tickets," Ford says. "But it's also important to be good community citizens and harness the energy of our audiences who are so generous to our theater, to those less fortunate as well. We are looking to hopefully provide plenty of pajamas."