This holiday season, leave snowy Dickensian London behind and, instead, swim in the warm, musical waters at Toby's Dinner Theatre. You'll still get in a holiday mood, particularly if you're fond of all things mermaidia.
Based on the Disney film "The Little Mermaid" and its subsequent Broadway incarnation, this pared-down version has been designed by Disney to accommodate theaters with smaller space constraints.
You still get a lot packed into the show- most of the songs from the film are there, augmented with new musical numbers by Alan Menken and lyrics by Howard Ashman and Glenn Slater. Just don't expect the wham-bam of a big Broadway show.
——–

The Little Mermaid

closes January 13, 2019
Details and tickets
——–
That's by no means the fault of the folks at Toby's: if anything, the fine direction by Mark Minnik manages to gloss over the show's inherent defects, which are mainly in the book. Choreography (also by Minnick) is as fine as can be expected, given the clumsy fishtails the mermaids are forced to dance in.
Despite the loveliness of Ariel (Abby Middleton and her equally lovely voice) and her Mersisters (Elizabeth Rayca, Maggie Dransfield, Rachel Kemp, MaryKate Brouillet, Coby Kay Callahan, and Louisa Tringali) no one really looks much like a mermaid. As originally designed for Broadway by Tatiana Noginova and rebuilt for regional theaters by A.T. Jones and Sons, the enormous tails are there, along with 'ocean' waves of layers of  skirting to hide the actors' legs. It does not work in the extreme, and makes it nearly impossible for an audience to imagine the actors as graceful mermaids. Even more puzzling, Flounder the fish has no tail at all, just a yellow jumpsuit and fuzzy wig.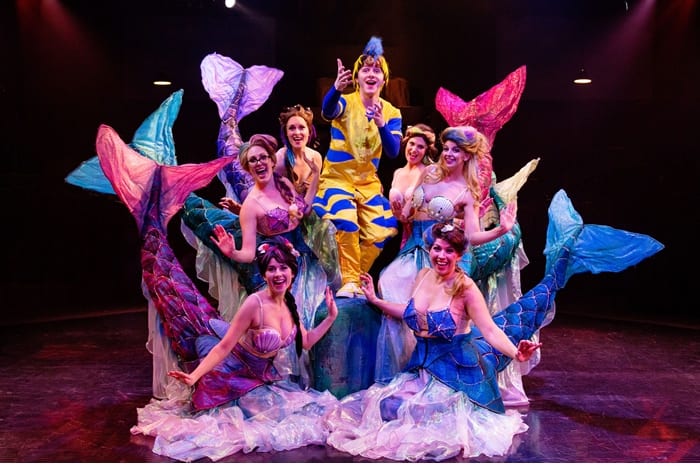 There are the usual Disney sidekicks, interchangeable so far as one can tell: worrysome Sebastian the Crab, played with gusto by DeCarlo Raspberry, best-friend fish Flounder (Jacob Hale); and wrong-about-everything Pilot the seabird, Jeffrey Shankle, heroically doing his best to make us laugh despite some lame lines.
Yet with all that, you'll still have a fine time for Toby's knows how to put on a show. Visually, a few rabbits are pulled out of a hat: a fine masted ship appears with but a few ropes and a prow, a shipwreck is effectively mimed with just silken blue and white fans, and a delightful little rowboat glides across the stage: Scenic/Lighting Designer David A Hopkins proves once again that with some small set pieces and good lighting, he can make almost anything come to life.
[adsanity_rotating align="aligncenter" time="10″ group_id="1455″ /]
And there are more than a few fine scenes: Ariel is not only a dead ringer for the original animated mermaid, but has a superb singing voice and good comedy timing; Prince Eric likewise is  suitably handsome and their duets are a joy for the ears.
'Under The Sea' is the big number in the show, and director Minnick pulls out all the stops for this iconic song: brightly colored fish, smaller fish puppets, dancing coral reefs and even lighted jellyfish vie for your attention- and watch for the lionfish at the end, it's just marvelous.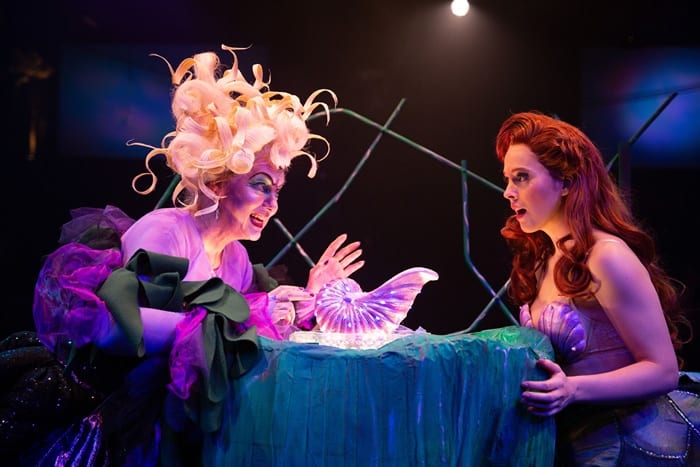 In a smaller scene, David Bosly-Reynolds as Chef Louis nearly steals the show with his song 'Les Poissons"; cavorting in the kitchen while gutting fish with a variety of knives and cleavers, he lifts up the whole of the second act singlehandedly. Lynn Sharp Spears as Ursula, the evil witch/octopus combination, has a grand time simply being wicked, and Russell Sunday as King Triton is imposing as the king of the seas.
As Flotsom and Jetsom, the electric eels on rollerblades, Taylor Witt and Joey Ellinghaus have an oily good time as Ursula's henchman- by far the audience's (and this reviewer's) favorite, to judge by the uptick in applause at curtain call.
It's not a perfect musical, but the singing, which is really the heart of the show anyway, is perfection, with a live seven piece band. And the buffet, as always, is equally excellent (three cheers for the fish and shrimp!) and Toby's as always warm welcome keeps the chill outside. So come in out of the cold and dive in: the water's fine.
——————————-
The Little Mermaid . Book by Doug Wright . Music by Alan Menken . Lyrics by Howard Ashman & Glenn Slater based on the Hans Christian Andersen story and Disney film  Director/Choreography: Mark Minnick . Cast: Ariel: Abby Middleton, Prince Eric: Justin Calhoun, Pilot/ Chef Louis: David Bosley-Reynolds, Grimsby: David James, Flounder: Jacob Hale, Scuttle:  Jeffrey Shankle . Music Director/Orchestrations …… Ross Scott Rawlings . Scenic/Lighting Designer ….. David A. Hopkins . Sound.Designer …. Mark Smedley . Production Stage Manager ….Kate Wackerle . Technical Director …… Emily Thompson . Set Construction …. David A. Hopkins, John Pantazis, Russell Sunday, Emily Thompson . Costume Designer A.T. Jones & Sons . Wig Designer …..Jayson Kueberth . Properties & Set Dressings Coordinator ….. Amy Kaplan . Stage Manager ……. Kate Wackerle . Produced by Toby's Dinner Theatre . Reviewed by Jill Kyle-Keith.