Round House Theatre is providing a rare opportunity to catch one of August Wilson's most mystical productions, Gem of the Ocean. It is magical, theatrical, and historical all rolled into one. Director Timothy Douglas is the perfect medium to lead the cast on this legendary journey.  Over the years I have watched his amazing ability to "channel the ancestors" and that's exactly what he does here.
There are ancestors galore in this first of Wilson's "Ten play Pittsburgh Cycle" each covering a decade. Situated in Pittsburg in 1904, Gem was written long after Wilson had completed his others. As such, it serves as a kind of prequel in establishing the characters that appear in his work.  For example, it's the only production where we see and hear the mysteriously ancient Aunt Ester, a representation of history referred to throughout the cycle—even her name is a formulation of the word "Ancestor."  Gem of the Ocean is packed with such nuggets of symbolism – it can't be a coincidence that the numerical address for the house 1839 Wylie is the date of the Amistad slave revolt.
In Gem, Wilson's characters grapple with the hardship of newly found freedom, he sets up moralistic arguments of right and wrong, analyzes the importance of honor, and has them question what they're willing to die for.  Spirituality and symbolism abound in Wilson's plays and this one is the mother lode.  It's like entering the first level of the National Museum of African American History and Culture – the only way through to the rest of the floors is through the first level to face the reality of slavery and that's the passage for Gem of the Ocean.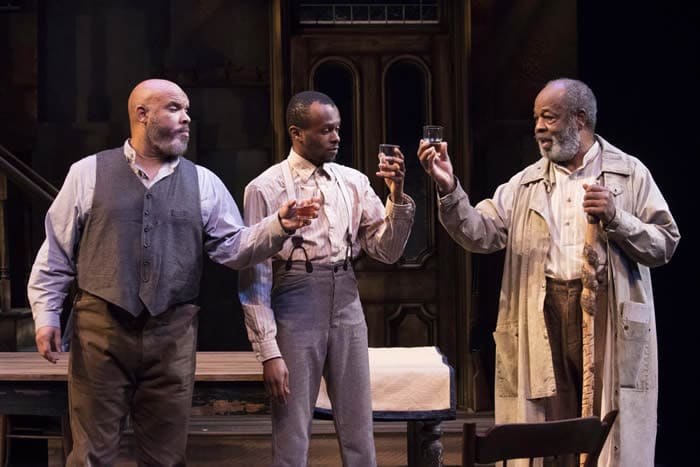 A young man named Citizen Barlow pounds on the door anxious and determined to see Aunt Ester to absolve him for something terrible that resulted from his misdeed.  While anyone else would see a wayward youth, a vagabond in training, Ester Tyler fondly sees elements of her own long-dead "June Bug" son and offers him safety and nourishment.  The impact of his actions resulting in a man's death stirs up the rest of the community where the characters are all barely working through their own stark existences.  The mill is the equivalent of a life-affirming factory that provides the basic livelihood for the community, and when it is torched and goes up in flames, there will be Hell to pay and the hunt is on.
——–

Gem of the Ocean

closes December 30, 2018 
Details and tickets
——–
The outstanding cast guiding us in this passage is led by Stephanie Berry as a quietly resolute Aunt Ester. Berry eases into the character and is unassuming in her opening sections but as the dramatic tensions heighten so does her resolve.   Get her riled up and watch her move with steely determination with each step in her exit across the long planks.   Her melodious voice is the guiding force as she shepherds Citizen Barlow (Justin Weaks) through the legendary Middle Passage to the City of Bones.
[adsanity_rotating align="aligncenter" time="10″ group_id="1455″ /]
The cast gives their all in this beautiful rendition.  KenYatta Rodgers is rock steady as the zealot law official Caesar who already has a reputation for killing a young man for stealing a loaf of bread. His sister Black Mary, played with resilience by Stori Ayers, is the perfect foil for Aunt Ester, constantly heeding the elder woman's instructions and doing her bidding like a dutiful apprentice, until she's provoked to take a stand in a scene that Ayers hits beautifully. Alfred Wilson as Solly Two Kings, is a solid senior force of nature, as he describes his own horrors of living through slavery and resolve to go back south to tend to his sister. Wilson makes it clear that emancipation did not mean that society was suddenly accommodating to the former bondsmen.  Quite the contrary, the newly freed were so destitute and discarded that they had to work through what the term "freedom" even meant in their new downtrodden reality. August Wilson cuts through any rose-colored fairy tale imaginings of new freedom with the lash of reality.
At the hub of this incredibly strong ensemble hovering around Aunt Ester is Justin Weaks as Citizen Barlow, directly named as an undeniable statement, a moniker that is not taken lightly by the disenfranchised characters. Weaks brings a translucent innocence to his rendition that anchors his soul-wrenching confessions to Aunt Ester.  His adamant intention that she "cleanse his soul" results from his horrendous guilt for being responsible for the theft that was blamed on another man, who intentionally died rather than be thought of as a thief.  Citizen simply could not fathom why an innocent man would intentionally choose death to clear his name, and the emotional devastation comes from the depths of his soul.  Weaks portrays the anguish through his moaning voice, tearful expressions and his character's determination to do Anything necessary to clear the hole in his soul, including take passage to the City of Bones. Michael Glenn and Jefferson A. Russell round out the stellar cast.
The set is covered with wood including planks that lead out to both side exits and the enormous back wall that reaches high into the ceiling.  The extremely long staircase on stage left showcases the physical artistry and stamina for Weaks when Citizen sneaks down cautiously after entering the house from upstairs, climbs up to his room once he's been taken in, and bounces down when he finally has an assigned task.
The huge backstage wall thrusts the action forward, is a barrier from the dangerous world outside, and takes on mystical qualities of its own in the journey with terrific lighting by Andrew R. Cissna.  Sound design (and original music) by Justin Ellington consists of haunting melodies and mellow lone wind instrumentals ranges from calming, somber, to terrifying along the journey.
No one interweaves the spiritual and cultural legacy of life like August Wilson.  His appreciation for cast-offs and discarded lost souls on the margin seeking redemption and purpose is legendary.  Yes, the production is long and some sections list along like a ship needing to anchor, but the production is first rate and the artistic designers are visionary, so hold on and bask in the wonders of Wilson for a remarkable experience of a lifetime.
---
Gem of the Ocean by August Wilson . Director: Timothy Douglas .  Cast: Stori Ayers, Stephanie Berry, Michael Glenn, KenYatta Rogers,  Jefferson A. Russell, Justin Weaks, Alfred Wilson . Assistant Director— Nirvania Quesada . Scenic Designer –  Tony Cisek . Lighting Designer – Andrew R. Cissna . Costume Designer— Kara Harmon . Music Director—  Darius Smith . Sound Designer and Original Music— Justin Ellington . Fight Choreographer— Casey Kaleba . Craft Artisans—Re Teague & Erik Teague . Props Master— Kasey Hendricks . Wig Designer—J. Jared Janas . Original Score, "Journey to the City of Bones" composed by Vincent Olivieri . Resident Stage Manager— Che Wernsman . Assistant Stage Manager—Samantha Wilhelm . Produced by Round House Theatre . Reviewed by Debbie Minter Jackson.