There's something magical about Madeline  – the child who can handle every obstacle, can rectify any situation, and is adored by legions.  Creative Cauldron brings one of the beloved stories to life with the perfectly holiday themed Madeline's Christmas.
What's known in this umpteenth tale of the legendary Madeline is her celebrated "esprit de corps" in getting everything to work out just right.  And that's just what happens here when all of the girls in the Parisian boarding school and the school's director, a nun, (Shaina Virginia Kuhn with beautiful vocals) catch terrible colds, so debilitating that they're too wiped out to travel home – but it's Christmas!  Madeline is, of course, spared from the ill effects, tends to them, heads out for provisions and meets a carpet salesman, who shares his secrets to rid their colds and on top of that sells her what happens to be magic carpets, twelve of them, of course.  Once the girls heal from chanting Abracadabra, poof, they're ready for the time of their lives, traveling to their respective homes, flying high in the sky on their carpets.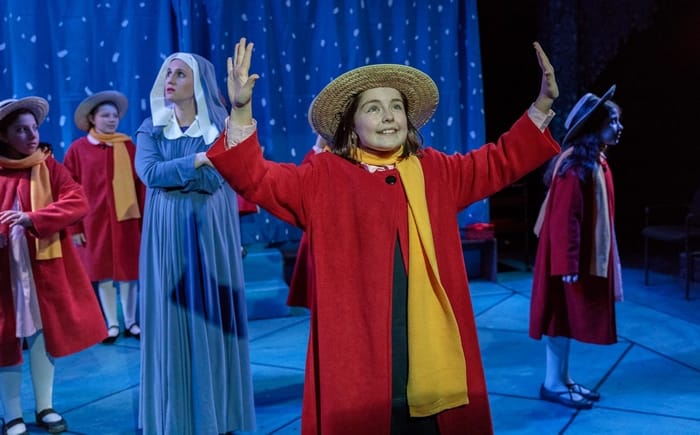 Gabriela Simmons-Robles as Madeline (reminder to novices, pronounced with a long I) is a wonder.  She sings, she dances, she twirls around with joy as a nearly magical sprite of a character. Simmons-Robles portrays her with energy and excitement, confident in her own abilities while always on the lookout to assist and tend to others.  The character is a precious role model for youngsters and families alike that we can appreciate our own strengths and be part of a caring community—win-win.
Seeing what Creative Cauldron can do with wit and imagination is a bonafide treat.  The designers pull out all the stops in establishing the characters and keeping the fun-loving rollicking at a quick pace while telling the story.  Just imagine the visual — twelve young girls perfectly lined up, attired in their distinctive red cloaks, straw brimmed hats, and even down to the gold scarves, as if the books have come to life.
Margie Jervis worked triple time with costuming, set and puppet design including the precious hand mouse as well as the life size lion from a quick trip to the zoo.  The 11 beds all lined up for bedtime, complete with pillows and sheets capture the closeness between the girls adding to the sheer delight.  Lighting designer John Sami created magical sequences with magnificent swatches of sparkling speckles of moving light resulted in some serious ooohs and ahhs from the audience.
Crisp direction by Matt Conner is evident from the very beginning with everyone hitting their mark and moving in perfectly aligned sequence.  The staging is so imaginative –the flying carpet scene with each girl flying a version of herself, is particularly enjoyable with the mouse leading the way on its own carpet, and get this, complete with red and green directional starboard lights!  It's that kind of show, packed with attention to detail and focus. Also, the ensemble of girls do justice to the music and lyrics starting off with the engaging Madeline theme.  They each get a chance to tell their names which they do with glee and personality.  The songs help tell the stories of the girl's routine experiences from "Achoo" to "We're Flying"  with touching reflections about being at home.
——–

Madeline's Christmas

closes December 23, 2018
Details and tickets
——–
The movement and dances are choreographed by no other than, who?  Steven Gregory Smith.  Yes, That Smith, usually directing in the Conner/Smith collaboration.  These guys are so multi-talented that they switch hats on a dime.  So, now we know he choreographs too.  Who Knew?  Ryan Sellars, who usually reigns supreme at Synetic Theater, brings a genuine warmth to the carpet salesman Harsha as he guides the girls for their aerial excursion, ending with a mischievous nod to the house matron, played with charm by Laura Conners Hull and bringing goofy grins to all our faces.
[adsanity_rotating align="aligncenter" time="10″ group_id="1455″ /]
The Madeline series has touched hearts over the years because she's exotic enough in a different French environment, she's part of a loving community, and she gets things done with care and love.  Madeline's Christmas is a perfect holiday treat, sure to bring smiles and laughter sprinkled with whimsy, nostalgia and sparkle for all.
—————————————————-
Madeline's Christmas . Book and Lyrics by Jennifer Kirkeby . Music by Shirley Mier . Based on the book by Ludwig Bemelmans . Directed by Matt Conner . Cast:  Featuring—Gabriela Simmons-Robles, Shaina Virginia Kuhn, Ryan Sellers,  Laura Connors Hull and the Ensemble from the Musical Theater Training Program . Music Director— Iyona Blake . Choreographer—Stephen Gregory Smith . Scenic/Costume/Puppet Design —  Margie Jervis . Lighting— John Sami . Stage Manager— Dwight Townsend-Gray . Produced Creative Cauldron . Reviewed by Debbie Minter Jackson.