Growing up in Alexandra, Va., playwright Sarah Burgess saw first-hand the influence that lawmakers and lobbyists possess in fueling how Washington, D.C., is run.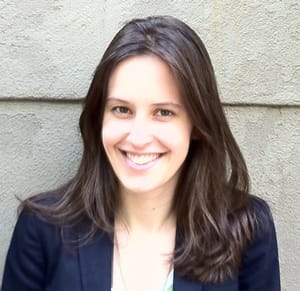 So, it's no surprise that on the heels of her breakout play, Dry Power, which explored the cutthroat world of finance, Burgess turned to this all-to-familiar subject of powerful politics in her work, Kings.
"Being from Alexandria, I was around people with all sorts of jobs in D.C., so for a long time I wanted to write about the different professions and people of the area," Burgess says. "My parents are both retired Navy officers so I've always been fixated with those my mom worked with at the Pentagon and just the office politics. Those who aren't working in the West Wing."
She also had a lot of friends whose parents worked for different federal agencies or the private sector, and found that provided a lot of fodder for ideas.
"I came across an article about fundraising receipts for members of congress, and I just thought there was something funny about that—these donors and lobbyists going away for a few days to a nice resort," she says. "I thought there was some comedy in the idea of these lobbyists and those involved in political fundraising being sent to these events and the relationships that might spring up around that."
Kings, like her critically acclaimed debut play in 2016, wowed critics again when it premiered Off Broadway at the Public Theater earlier this year.
The story follows newly-elected congresswoman Sydney Millsap, full of ideals and sense of duty when she arrives to office, and is unwilling to play by the rules of special interest groups, or her own party for that matter. She comes face to face with Kate, a lobbyist who backs winners, who dismisses the new congresswomen at first meeting, but soon listens closer to what she's saying and starts to remember the conscience she had prior to coming to Washington.
"The play is sort of a non-partisan, comedic examination of how fundraising works in politics and how it affects the lives of the people who have to participate in it," Burgess says.
Kings is being staged at Studio Theatre under the direction of Marti Lyons. "It's really exciting to have it done close to home. Studio Theatre especially has always been a focus for me," Burgess says. "It has a reputation for doing interesting and daring work, so I was proud and happy that they said they wanted to do it."
Burgess wasn't planning on becoming an "It" playwright. When she was 18, she moved to New York to attend NYU's film program and thought more about possibly writing for movies. She studied a semester abroad in London and took her first theater class. Surprisingly to her, she enjoyed it.
"I was working every day to support myself and I decided to try and write plays as a way to support myself, because what I was interested in writing seemed appropriate for theater," Burgess says. "I do a lot of talking and arguments, which can be great in the movies, but it seemed like a good fit. And I really loved New York and I had some friends who were actors who had been involved in the theater."
[adsanity_rotating align="aligncenter" time="10″ group_id="1455″ /]
By the time she reached her late-20s, Burgess was dealing with some theater groups and started submitting some of her work. She applied to work with the writers' group Ars Nova. After her third time trying, she was accepted in.
"That wasn't a guarantee that your work would ever be produced, but it helped give me a chance to meet people in theater. I remember thinking when I was starting out, I would take a couple of years to write the best thing that I could write right now, and during that time I got very interested in finance and Wall Street. I find trading stocks an enjoyable activity."
That led to her writing Dry Powder. Eventually, she applied to the writers' group at the Public Theater and presented her script and it quickly turned heads—especially that of artistic director Oskar Eustis.
"I went in and met with him and (associate director) Mandy Hackett, and he said he wanted to do the play," Burgess says. "I definitely realize there was a lot of luck and good fortune with this, and I just happened to write a play he was interested in producing."
Even with two successful plays to her credit, Burgess admits that she still has a lot to learn about theater since she never studied it, but she feels she's learning as she watches different productions of her shows go up.
The initial runs of both her plays have had a lot of star power. Dry Powder starred Claire Danes, John Krasinski and Hank Azaria, while the first Kings run starred TV stars Gillian Jacobs (Community), Aya Cash (You're the Worst) and Zach Grenier (The Good Wife).
Studio Theatre's production boasts some formidable D.C. theater thespians in Nehassaiu deGannes, Kelly McCrann, Laura C. Harris and Elliott Bales.
"Marti has been very generous in involving me and I was involved in casting and I'm really excited about who we have—they are a great group of actors," Burgess says. "When you have an actor in any production that has a fan base built in, that will obviously create something different, but I never realized how cool it was for a playwright to see so many different versions of her play with great actors from all over America. I've come to appreciate the talent that is out there."
With a background studying film writing, Burgess shares that adapting Dry Powder into a film has been discussed, but she's not sure either of her two plays would be a natural fit. That makes her a bit wary about seeing that done.
For now, she's working on a television project and has started to untangle an idea for a new play that she hopes to write in the next two years.
"It is always unpredictable how things start and stop and can either take over your life or just suddenly die," she says. "It's hard to say how things will take shape, but I'm excited for the journey to come."