With the help of one "ordinary" angel with back-pack wings and a gaggle of colorful, singing animals, a story of complete enchantment unfolded, vying for the number one spot on the extensive list of Washington holiday traditions.
Most everyone who loves the arts has a memory of when such a holiday tradition was first formed. For some it was with The Nutcracker Ballet; for others perhaps it was being taken to a production of Charles Dickens' Christmas Carol.  But for many children of all ages in the Terrace Theatre for the first time this weekend, an opera tradition has been born with The Lion, the Unicorn, and Me.
So, what makes a tradition? I'm remembering first of all, the tingling anticipation and getting dressed up for a special event. Judging from two groups of friends: Marlowe, Clara, and Cecile and Maya and Milliana with their companion "fairy-godmother" Joann, I would say we have specialness covered pretty well.
Then there is finding a story that we need to hear over and over and never tire of – that brings us a special message of hope and sets our hearts on fire. Artistic Director Francesca Zambello stumbled on the perfect choice in Jeanette Winterson's children's book of that title. The story of a donkey who just keeps putting his head down and doing his best discovers he has a unique purpose in life. We all know it was a little donkey who was carrying the mother and her unborn child to Bethlehem who were sent as hope to the world.
The creative team was selected, and, after working for a year on the piece, composer Jeanine Tesori and poet and librettist J.D. McClatchy formed a way of telling this story in opera. Sadly, Mr. McClatchy died this year, but the cleverness and sweetness of his most singable libretto lives on in this work. Washington National Opera's choice to remount the opera after its 2013 debut brings back his memory, all the more precious.
Tesori's music is tuneful and pulls on several traditions in a beautiful blend. There is more than a nod to other operatic gems including the character of Opera singer singing a snippet from Carmen. There are arias after arias highlighting and defining several of the characters. There is also a wonderfully African rhythmic show-stopping ensemble number, led by a gorgeous lion that made me want to shout from the Kennedy Center rooftop, "Move over, Broadway Lion King." Tesori also offers up lovely children's chorus settings.
Two most astute young members of the audience, Emilia Lancaster and Caroline Kaleda, reminded me that a successful holiday tradition must have characters one can relate to, and they enjoyed seeing kids in the show "up there and taking their chances." Emilia reminded me, "Did you see how the angel just came out of the audience? He was just sitting there, a normal person in the audience, and then he became the angel."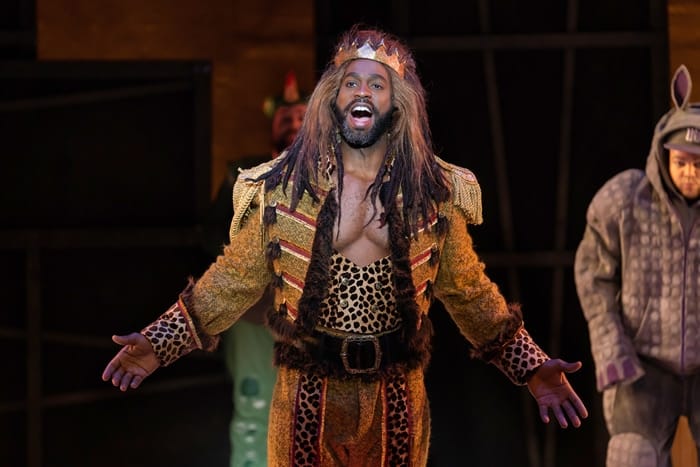 That particular angel was Holden Browne, a rising star in his own right. He ably showed us first a kid who seems just like most of us, someone "who flies never quite in my lane, never sings on key in a choir" and who suffers from a little bit of self-conscious anxiety, asking multiple-times about his new wings, "Is this on right?"  But he has a job to do, and wisely he asks (of everyone in the audience) for a little bit of help. Enthusiastically we hold up our hands and say "Yes!"  Thus, we participate in the magic.
So, yes, the most important thing of all it seems, a holiday tradition needs some transformative stage magic. There's plenty in this piece, from the little to the grand.
Boy becomes angel with the help of a backpack with wings. Another of my favorites was when two standing baskets become "peopled" and shoot across the stage like hockey pucks with heads cheekily popping out of their rattan tops, sticking out their tongues and making decidedly un-opera-ish sounds.
Thanks to set designer Michael Yeargan, the walls of the set get lifted up to create a Middle East kasbah of shaded stalls. Thanks to Erik Teague, costume designer, ordinary folks in hoodies and street clothes transform into colorful animals with most distinct personalities:  flamingo, hippo, camel, lizard, elk, cat, and dog.
Most especially there is that moment where thanks to lighting design wizard Mark McCullough the whole auditorium is transformed into a brilliant starry night of swirling magical light.
The light comes due to the illusive, magical gorgeous unicorn sung with dazzling virtuosity by Alexandra Nowakowski, whose airy notes turn into gossamer and disappear, as she does, into the atmospheric night.
Grounding us throughout the story is Joshua Conyers as Donkey, the very ordinary, often ridiculed and bullied creature, who grows in self-confident purpose. Conyers wins us all over with his satisfying emotionally truthful performance.
——–

The Lion, the Unicorn and Me

closes December 16, 2018
Details and tickets
——–
The most splendid performance of all, it must be said, is Lion, played by the one and only Soloman Howard, in a return performance to the role he originated in the work's premiere. Even before his transformation to the king of beasts, Soloman in sweatshirt and sneakers, stands out, and when he opens his mouth to sing, there is that glorious bass rumble which you can feel rattling around inside you.
[adsanity_rotating align="aligncenter" time="10″ group_id="1455″ /]
As Lion, Howard pretty much owns the stage. He sings about his strengths and past experience, that he "worked with Hercules and David in the lion's den," and you can pretty much believe him. As for weaknesses, he lets out a roar and everywhere on stage tails, ears, and whiskers quiver: he has none. (And so said two little angels in the audience "Princess" Jenesis and Olivia, one of them being Soloman Howard's goddaughter.)
Howard is a king of not only the jungle but of operatic beasts, for this singer, having grown up locally and vocally through WNO's Domingo-Cafritz Program, is now a featured singer at the Metropolitan Opera and on other world stages.
There are other animals in this magical world who get their say or rather "sing." Marlen Nahhas as Flamingo is a vision in pink and dressed as a turn-of-the-century burlesque flutter of feathers on a swing treats us to a songbird's trills. Eliza Bonet is a sultry cat who lounges licking a lollipop. Joshua Blue as Hippo is a tenor whose well-padded costume never hides the sweet notes of his tenor sound. Samuel Weiser, as Lizard, may not get as many notes, but he has the best costume (thinks Emilia) and does a terrific singing turn as the Inn Keeper.  While Samson McCrady grabs the spotlight as the vainglorious Elk with not only his voice but his swift and much-appreciated "flossing" moves.
Two other humans should also be mentioned.  Alexander McKissick as Joseph has a plaintive and compellingly beautiful voice (which I remember loving in other performances, including Lamplighter in the WNO's other holiday tradition, The Little Prince.) McKissick plays well the concerned husband and father-to-be who, wandering as an immigrant with his fledgling family, fights to find harbor in a world overcrowded and hostile his needs. Hannah Haggerty embodies the spiritual loveliness of Mary and delivers a beautiful standout duet with Conyers, where Donkey and Mary find common ground in that they are both carriers of a very important personage.
Children's Chorus Master Steven Gathman and Choreographer Eric Sean Fogel have molded the children performers into outstanding professionals and fully integrated them into nearly every scene. Audience member Caroline Kaleda pointed out how they (and the grownups) articulated so well the text in their singing.
James Lowe has returned to the WNO to take the baton and lead the orchestra in the rich tapestry of music for this opera.
Though I'm in danger of coming off a bit Scrooge-ish, I would like to point out two small weaknesses in the production, and do so because both are entirely fixable.
First there is a Nativity scene with animals as held or hobby-horse "puppets." Their "handlers" gave what singer-actors do – focus to the main event on stage. But, as puppeteers will tell you, the animator of any puppet must always focus on his or her creature, tails wagging, ears twitching, paws shaking aside.  Otherwise, well, puppets just don't animate.
To my mind the opera falters a little in the writing near the end when the creators are dealing with the historical insertion of Herod into the story and the preparation for the flight to Egypt. It felt like the story got crammed into a lot of recitative, and the air threatened to fall out of what was the cherry soufflé.
Luckily, we were treated to a final rousing big ensemble number to restore everyone's spirits. Best of all, we get Lion, Unicorn, yes and Donkey, Child-Angel and all come for a big well-deserved bow. Together they kept their promise to bring the light of light in a dark world.
This is the seventh year of Washington National Opera's holiday tradition. Few performances only left this weekend. Put it on your list for years to come.
Assisting Susan with this review were: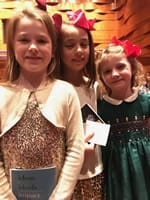 ——————————
The Lion, The Unicorn, and Me. Music by Jeanine Tesori. Libretto by J.D. McClatchy. Based on the book by Jeanette Winterson. Directed by Francesca Zambello. Conducted by James Lowe. Set Designed by Michael Yeargan. Lighting designed by Mark McCullough. Costumes designed by Erik Teague. Associate Director and Choreography by Eric Sean Fogel. Children's Chorus Master Steven Gathman. With Holden Browne, Marlen Nahhas, Eliza Bonet, Joshua Blue, Samson McCrady, Samuel Weiser,  Hannah Hagerty, Alexandra Nowakowski, Joshua Conyers, Alexander McKissick, and Soloman Howard. Plus Washington National Opera's Children's Chorus and National Opera Orchestra. Reviewed by Susan Galbraith.