The Vietnam War ended 45 years ago, and Alain Boublil and Claude-Michel Schonberg's Miss Saigon debuted almost 30 years ago, but the musical, in a riveting touring production at the Kennedy Center through January 13, feels utterly fresh.
All too timely as well, with war and refugee crises making headlines from Myanmar, Syria, Afghanistan, South Sudan, South America, and elsewhere. There are an estimated 40 million internally displaced people worldwide, 25.4 million more refugees, plus 3.1 million asylum seekers. That's 68.5 million forcibly displaced people. The show, then, is both history and current events.
[adsanity_rotating align="aligncenter" time="10″ group_id="1455″ /]
Inspired by Puccini's Madame Butterfly, Miss Saigon is the story of Chris (Anthony Festa), an American G.I., and Kim (Emily Bautista), the Vietnamese woman he falls in love with just before the fall of Saigon. It interweaves tragedy and grim humor, splashy ensemble numbers and poignant ballads, in an exhilarating, mostly sung-through score that mixes opera and rock styles with Asian martial and folk inflections. The show is also known for its productions' ambitious stagecraft, including a helicopter landing during the evacuation of the American Embassy.
That's a big historical and showbiz legacy to take on, but producer Cameron Mackintosh's 2014 London revival, making its way here via Broadway, in no way disappoints. Its exceptional leads in this version, directed by Laurence Connor, also include Red Concepcion as the Engineer who pimps out Kim and the other "bar girls," Jinwoo Jung as Thuy, a steely North Vietnamese officer in pursuit of Kim, J. Daughtry as Chris's soldier pal John, and Stacie Bono as Ellen, Chris's American wife after he returns to Atlanta from the war.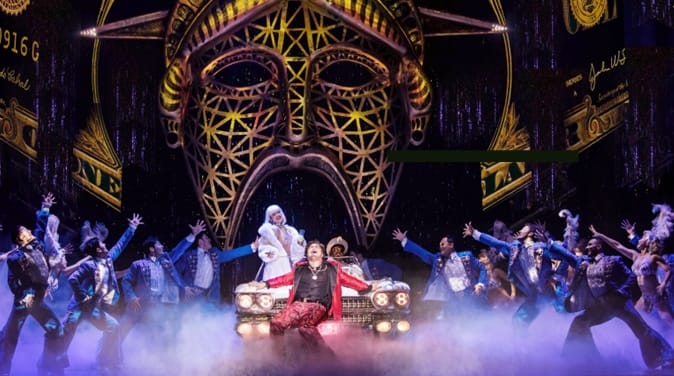 The entire ensemble ignites in the seedy-sexy Saigon and Bangkok bar sequences, the Ho Chi Minh City "Morning of the Dragon" military drill and acrobatic number, and the Vegas-style "American Dream." Hats off to choreographers Bob Avian and Geoffrey Garratt. The all-important embassy chaos is also handled deftly although it would be just as harrowing miked down a few notches from Friday night's earsplitting volume.
If you know this show or Les Miz, then you also know that Boublil and Schonberg are never short on anthemic bombast. Then again, their best ballads—like Kim and Chris's "Sun and Moon," and the bittersweet "Movie in My Mind," sung by Kim and Christine Bunuan's Gigi, another bar girl—will scoop out your heart like a melon baller gutting a cantaloupe.
Counterbalancing all the honey-voiced earnestness, adoration, and pain—and this seesawing is part of Miss Saigon's genius—is the cynical, confessional, predatory, yet self-abasing Engineer, so-nicknamed for his ability to get what he wants by anticipating what you want. Especially if you're a man, a species of being that, in its violence, vulgarity, and moral turpitude, comes off none too well. Concepcion dives into the role 110 percent. The fantasized "American Dream" (not to mention car shopping) will never look quite the same to you after you see the Engineer's materialism and lust merge into a hilariously monstrous quasi-fornication with the hood of a big white shiny sedan.
——–

Miss Saigon

closes January 13, 2019
Details and tickets
——–
The orchestra, under Will Curry's baton, was generally very good but, particularly in the first act, a bit too loud for the instrumental-vocal balance. (With overlapping phrases, the libretto is tricky to follow anyway if you don't know it. A scan beforehand would be wise.) The sweetly pitch-bending Asian flute part bent a little too far in places, dripping away from the score entirely and distracting from Bautista's beautiful song renderings.
The astounding morphing set, by Adrian Vaux, Totie Driver, and Matt Kinley, lives up to the musical's legend. I'd only suggest (in vain, I'm sure) that the rotating helicopter projection be scrapped as it undermines the impact of the subsequent actual propellered set piece. Including the former is like giving someone a sweater along with a car for Christmas in case she doesn't like the car.
Mere quibbles, those.
"They kill like men," the bar girls sing about their carousing customers, "they die like boys." Miss Saigon's vitality, its emotional thunder, will haunt you.
---
The John F. Kennedy Center and Cameron Mackintosh present Boublil and Schonberg's MISS SAIGON, starring Red Concepcion, Emily Bautista, and Anthony Festa, with Stacie Bono, J. Daughtry, and Jinwoo Jung. In the Opera House through January 13. Music by Claude-Michel Schonberg. Lyrics by Richard Maltby Jr. and Alain Boublil, adapted from the original French text by Alain Boublil. Additional lyrics by Michael Mahler. Orchestration by William David Brohn. Musical supervision by Stephen Brooker. Lighting designed by Bruno Poet. Projections by Luke Halls. Sound designed by Mick Potter. Costumes designed by Andreane Neofitou. Design concept by Adrian Vaux. Production designed by Totie Driver and Matt Kinley. Musical staging and choreography by Bob Avian. Additional choreography by Geoffrey Garratt. Directed by Laurence Connor. Music director, Will Curry. Reviewed by Alexander C. Kafka.