"In mid-August, I did the audition and, the very next day, I got the call from my agent that I had booked it; and then, six days after that, I started rehearsal; and then, six days after that, I flew out to Denver; and then, six days after that, I had my first performance."
Doing the math, that's less than twenty days from audition to audience. Paul Scanlan, familiar to DC audiences for his work (you might remember Hair and Cabaret at Keegan, Elmer Gantry and Sunday in the Park with George at Signature) before he moved to New York City, is back in town with the national tour of the Broadway hit Beautiful: The Carole King Story, which runs at the National Theatre through December 30th.
"I initially auditioned (I think it was January or February) because the swing track who covers my current track was opening up, and I fit the mold, in terms of the type and voice type and everything, so they saw me for it. I knew I was in final callbacks, because of how the audition process went, but I ended up not getting it.
"And then the call came in again, this time for the actual role itself, not the swing: the role of Nick slash Low Righteous Brother, and covering Gerry and Don."
Scanlan multi-tasks during the show, most prominently singing lead on the Righteous Brothers' hit "You've Lost That Lovin' Feelin'" and playing Nick, a colleague who encourages King to perform, in the the bio-musical. In addition, he is understudying two of the lead male roles: Gerry Goffin, King's first husband, and Don Kirshner, the legendary producer (renowned as "The Man with the Golden Ear").
During a recent phone interview, Scanlan described the audition that landed him the part. "I went into it really confident, because I knew that I knew the material. Even though I didn't get it the last time, I felt really good about it. I understood the characters and the intentions and everything, and I felt like I was really delivering what they wanted.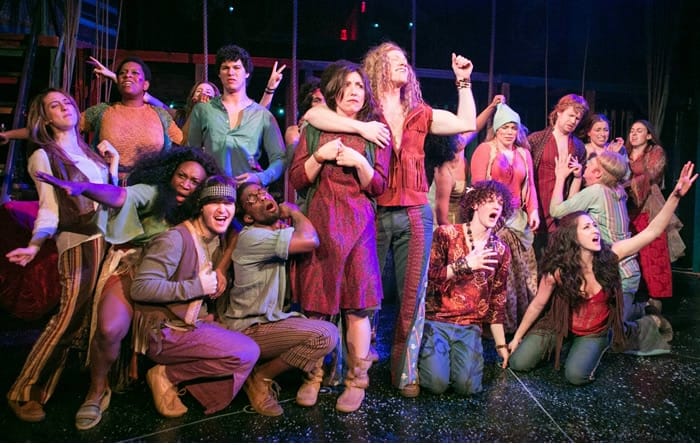 "It was a really quick turnaround because the guy who was in my role had given somewhat short notice, so mine was a very immediate replacement, whereas the other folks who I came into the show with (there were five of us) had known for a month or so already, and I found out — I started within a week. So it was all very quick.
——–

Beautiful: The Carole King Musical

closes December 30, 2018
Details and tickets
——–
"It was nuts. It was, it was…I mean, truly crazy. The five new folks worked with Joel [Rosen,] our touring Stage Manager, and Annie [Annelise Castleberry,] our Assistant Stage Manager, on learning the blocking, and the skeleton of our individual shows. Joel gave us our entrances and our exits and things we had to take on-stage and the bare-bones of the show, and, most of us, we went and saw the show while we were rehearsing, to just focus on our part, to get a better sense of how it's acted; the through-line behind it.
"But it wasn't until we got to Denver and we're starting tech rehearsals and running the show that we really got to fill in the gaps. You know, there's a moment in the show where I do a number called "Little Darlin'"; it's this sort of cut-away scene, if you will. I was given the blocking, but I was never really given any direction, because I hadn't worked with [Director] Marc Bruni until we got to Denver.
[adsanity_rotating align="aligncenter" time="10″ group_id="1455″ /]
"So it was, basically, make something up; see if it works; and, if they don't like it, they'll change it. But it was nice that they trusted us — the strength in our audition — to do what we had done then, and carry that through to the show itself.
"And, since then, we regularly have (like today, for example) notes with Shelley [Butler,] our Associate Director, to tighten things up, if things are going astray from the direction, because we don't have someone out on the road always with us. So, every six weeks or so, we'll have Shelley watch the show a couple times and then give us notes to kind of reel it back in, if it's getting away from the intention of Marc's direction; she puts us back on track.
"I thought The Muny [the St. Louis summer theater where Scanlan did My Fair Lady] was nuts, learning a show in eleven days, but, in this, you're learning all of your music; you're learning your understudy tracks to some degree; and all your blocking; and everything in six days. So, it really demands your entire focus.
"For me, it was all I would do. I would go from rehearsal back home and just be looking through my script, and trying to cram as much in as I could before I went out to Denver."
The five newbies in Denver were four actors and one other: "Leandra [Ellis-Gaston] is our dance captain and swing; she was there with us the entire time. As the dance captain, she has to know everybody's choreography, so, for her, it was even more a task and, even though she wasn't on-stage, she still had all this information and stuff to process along with us.
"The four of us who went on-stage — you know, I can only speak for myself, but, by then, I think we had run it enough to where I didn't really have time to be nervous about going on-stage and doing it. We just did the show and then, afterwards, for myself, the realization set in that, 'Oh my gosh.' You finally take a breath and realize that you're there doing the thing.
"The only time I actually got nervous was our first show in DC, because it was on my home turf and I was, like, 'People know me here.'
"Because that's the thing, too: going to a new city and performing there, you don't know who's out in the audience; you couldn't even begin to guess. Here, it's kind of like, 'Oh — my friends could be here; folks that have directed me or seen me in shows could be here.' And so, I could feel my heart beat a little faster, our first show here in DC."
I asked Scanlan to talk about the tension between making a replacement part your own versus the need to replicate an existing performance. "Especially in our understudy work; that's probably the time that's most often associated with that sort of thing: sticking to what the other person's doing, because you have to keep the integrity of the show, the way it is.
"But what's really amazing about Marc and Shelley and Joel and everyone who's guiding us in rehearsals is that, if we do go on in our understudy tracks, or even compared to the folks who have come before us in these roles, they're never strict about saying, 'You have to do it exactly one way.' They set the perimeters of the play, and of the scenes, and of the songs, and say, 'Work within this.'
"But, obviously, people's choices, just based on their acting styles, their life experiences, whatever, are going to be different. And they've been very okay with that, which is really nice, because you feel like you do have a sense of control. If some impulse leads you one way, you can follow it, as long as it fits within what they've set up. You don't feel like you're doing something wrong, or are not being a dutiful actor. It's really nice that they give us so much freedom within those set boundaries."
Has Scanlan gone on in either of the parts he's covering?
"I have, yeah. Our last two shows in Vancouver, I went on for Don Kirshner, both shows on Sunday. It was great. James Clow had written down that he's going to take a personal day before this Thanksgiving layoff, so I'd known it was coming for three or four weeks or so; maybe even longer.
"I got on-stage and I remember Kaylee Harwood — who is one of the female swings and covers Carole — she was on for Carole, and I was on for Don, and, in that first scene, where Carole is selling 'Might as Well Rain Until September' to Don, I was able to recognize that I felt really tense and really nervous, and I had the clairvoyance to say — internally say — 'Relax. Let all this tension go. Take a deep breath. Just look at Kaylee,' and (saying this to myself), 'You know all your lines; you know your blocking; just do the show and you'll be fine.'
"And then, as soon as I got off-stage after that first scene, I said to other people, 'I just can't wait for tonight, because I'll know this afternoon will be completely over with, and I can actually have fun, and just get out of that, like, "Okay: now I open the door; now I exit off stage left; now I go back and change," and I can actually live in the part for a show.' And so it was a blast; the second show, especially, was so much fun. (And Don is a really fun role to play, anyway.)"
I asked Scanlan how long he's been in New York. "Just about four years; well, I guess, just over four years now. I moved up December 1st, 2014. I've done readings and things: at the Atlantic Theater; at Second Stage. I've done little projects with friends. But nothing on this scale.
The national tour of Beautiful is currently in its fourth year.
"This leg ends June 30th in, I believe, Kansas City, and we haven't found out about what lies ahead. That may come up in the spring. Currently, my contract runs until March, so, even though the tour ends at the end of June, around March I'll (knock on wood) get asked to re-sign for another X amount of months, and maybe, at that time, too, we find out about what the fall looks like, and whatever happens after the summer hiatus."
How are audiences holding up for a show about to head into a sixth year on Broadway?
"They've been great. The National's actually one of the smaller houses we've played. I think the National's about 1,700, whereas the Ellie Caulkins in Denver, and the Pantages in Los Angeles, and the Jubilee Auditorium in Edmonton in Calgary — those have been 2,500-plus, sometimes tipping toward 3,000.
"I really can't see into the audience that well, and I don't really like to look out into the audience, or try to guage how many people are out there; it throws me off. But I do know that the houses have been very full, which is really remarkable. Not to say that we don't deserve it, but, for a show that has been through a lot of places to still draw so many people is kind of a testament to how good the show is, and how good Carole King's songs are; a testament to the drawing power: how much people just enjoy seeing that story told."
I wondered whether Scanlan knew the show well before being cast in it. "No, I didn't, to be honest. I'd seen it once when I auditioned earlier in the year, so I've only seen it twice on Broadway. And, to be honest, there were songs when I was, like 'I didn't know Carole King wrote that song!' So I was just very unfamiliar with it."
Is there the thought that the tour could serve as a funnel into the Broadway production?
"It does happen, yeah. One of the guys that was on the tour when I joined, Michael Stiggers — when we were in LA, he got the call that they wanted him to move to Broadway. So it has happened before. Matt Faucher (who was in my track a little over a year ago) — he is now one of the male swings on Broadway.
"So there is a lot of — I don't want to call it 'upward mobility,' because I don't want to put one above the other, even though people may think Broadway is the gold standard, and rightfully so. But there is a lot of mobility: if you are on tour and a track on Broadway opens up, it could be easier for the producers to put in someone from the tour, and then audition for the tour, or whatever. But, yes, there is a lot of that mobility."
However, without discounting the prestige of a tour, a move to the Great White Way would be exciting, yes?
"Oh, absolutely. If they want to move you to Broadway, you do it. You get to live in one place; you get to sleep in the same bed for more than a week; and it's the thrill — the dream, being on Broadway.
"John Michael Dias — who plays the other Righteous Brother [and who has been with the tour since it began] — they brought him in when Kevin Duda, the long-time Higher Righteous Brother on Broadway, took a vacation; they brought John in for, I think, nine weeks."
High and Low Righteous Brothers? "Yeah. Technically, we're not named in the show. They don't call me 'Bill Medley,' but I am, by all accounts, Bill Medley. But, technically, on my script, it's 'Low Righteous Brother,' so that's kind of stuck in my head."
Now came the question about keeping fresh in a long run, presuming this has been Scanlan's longest stint in any one show.
"It is, yeah. That's something I'm still finding out. But, it's kind of great that it's this show. The variety in what I get to do is really high. Every time I come on-stage, it's a different little moment, or bit, or great song (in the case of 'Lovin' Feelin''), or really honest and well-written character (like my character Nick in Act Two).
"So, while I'm still figuring out the 'keeping it fresh' mentality, it's not like you're going on and doing a sad show for two-and-a-half hours every night. I have a nice little track where I get to make people feel good, and laugh, so I think it would take longer to feel tired of doing that than it would doing some other things.
"But I'm sure I'll come to face that in the coming months, or weeks perhaps, and I'm excited to see how I get passed it, because I think that is one of the perils of doing a show for a long time: how do you keep yourself motivated and disciplined to always be giving your full amount of energy and giving your full commitment? It's something that I just haven't experienced yet with this. I'm still kind of riding that high."
Is Scanlan getting to see a lot of old friends while back in town?
"I am, yeah. That's the great thing, too, is that, around this time, a lot of the shows in the area have weekday matinees. I was lucky in that I got into town before our run, so I could see Billy Elliott at Signature. My best friend Vinnie Kempski is in that, and I saw a ton of friends who are in that as well.
"In the next week or two, I'm going to catch Elf at Olney and Anything Goes at Arena, because they do the weekday matinees for their holiday shows. So, yeah, it's been great.
"And I'm staying with my Dad while I'm in town, in Silver Spring, so I get to spend the holidays with he and my step-Mom, and then the rest of my family's flying in on Christmas. So, yeah, it's like I never left, because everyone's so close together.
"I really couldn't be happier."