This holiday season is a time of celebration. It celebrates the possibility of hope, it celebrates redemption, it celebrates generosity of spirit, it celebrates the triumph of light over darkness.
For many in our area, there is a sadness and a poignancy to the season as well. It was two years ago this Christmas that Tricia McCauley — actor, herbalist, yoga devotee and instructor, and unquenchable bright spirit — was brutally murdered.
The light she shared glows brightly with programs inspired by her passions and dedicated to her.
McCauley's death inspired Jasmine Chehrazi, founder of Yoga District, to bring a yoga program into DC's prisons. "[McCauley's murder] was my wake up call that we have a mental health care crisis," Chehrazi told the Washington City Paper in this article. "People are on the street who need self-soothing and coping skills. [Yoga] wouldn't have prevented what happened to Tricia, but we have these tools and they're helpful." Yoga District and its nonprofit division Yoga Activist are teaching yoga to prisoners in D.C.'s Central Detention Facility and its Correctional Treatment Facility.
Common Good City Farm, a community organization which promotes City agriculture at the old Gage-Eckington Elementary School in LeDroit Park, has dedicated its herbal garden to McCauley, who was once a staffer there. Common Good has started a Tricia McCauley Memorial Herb Garde Fund.  As well as herbalism workshops at Common Good City Farm, the proceeds will be used to teach people how to grow herb gardens. "Our hope is to use our farm, in particular the medicinal herb garden, as Tricia did for so many years – as a place to grow, learn, love, laugh, and connect," they wrote.
One of the people who publicly share her grief was her good friend and colleague, Venus Theatre Artistic Director Deb Randall. Randall's response came via the medium they both loved: she wrote a play called Living and Dying with Tricia McCauley, in which she traced their friendship and McCauley's growth as an actor and as an eclectic human being. Debbie Minter Jackson said this in her review: "Randall shows that the constant and healing effects of our loved ones are still with us, no matter how horrifically they were snatched away.  And since we're still here, we can honor their spirits and legacy and walk through that door into the rest of our lives." Venus dedicated its season to McCauley.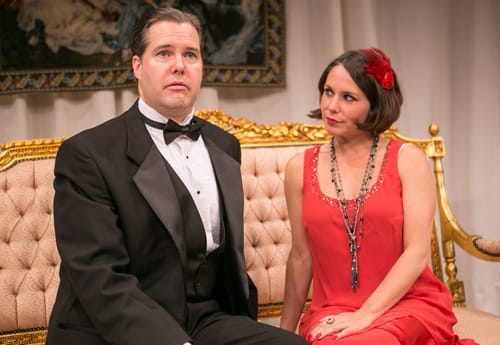 "As an independent freelance performer, yoga teacher, gardener and artist, Tricia was acutely aware of how difficult it can be for those who do not have traditional jobs to obtain and keep health insurance.  She often struggled to work enough weeks to qualify for Equity health coverage, as many of us do," Washington Stage Guild Board President Laura Giannarelli told us.
McCauley did most of her theater work at Washington Stage Guild which has established the TLM FUND in McCauley's name to help it make its payments to the Equity League Health Trust Fund.  That fund provides medical coverage to qualified theater artists. Donors may make tax-deductable contributions to the TLM fund, which is used exclusively for WSG artists' health coverage.
Tricia touched many, many lives," Giannarelli said.  "Because she worked front of house for the Stage Guild in addition to working so beautifully on stage, many of our patrons and ushers felt they got to know her well by chatting with her in the lobby.  She was such a sunny, friendly person, exuding good will and serenity."
We hope, on this, the darkest day of the year, that you will take a moment to remember those who graced your life with the brightness of their spirit.
This is the second post of a 7 part series on theatre year 2018 titled 2018 Wraps.