I don't care if The Play That Goes Wrong has won prestigious theatre awards named Olivier and Tony. I don't care how much the ticket costs, and that there is an intermission, and that it plays, here and elsewhere, in temples devoted to Thespis.
The talents of the hard-working cast aside, the deftness of the physical comedy notwithstanding, the enthusiastic standing 'o response by the audience with which I saw it — it's all beside the point.
It's not really a play, now, is it?
It doesn't have a plot; it has a premise. The characters, such as they exist at all, range from thin to paper thin. Their characteristics have only a wisp of consistency, and that is jettisoned whenever necessary to achieve a laugh.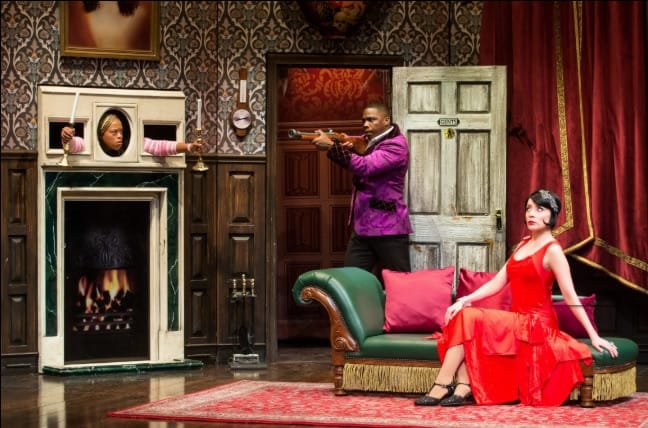 The premise is that we are watching a hapless college theatre production of a hoary old Agatha Christie-like mystery play. The actors putting on this play are bad at acting. That sends us down a well-worn road, to be sure: many a play has taken aim at that easy target.
But the actors at this college (in addition to appearing well past college age) are also ludicrously stupid. By the second act, as the accommodations to the accelerating mishaps become more and more preposterous, credulity has become so strained that no GPS system on Earth could locate it.
It's not that much of the schtick, taken individually, wouldn't fit into a proper, enjoyable farce. But proper farce earns its heights of giddy exaggeration by being grounded in some kind of foundation in reality, and in the sense that its characters are fighting to avoid calamity.
Think of the best Carol Burnett Show skit; or I Love Lucy episode; or classic Monty Python routine — they all are, to me, more based in reality than anything I saw in The Play That Goes Wrong.
A hefty amount of the comedy comes from the remarkably stupid, inflexible play-within-the-play actors spewing out their next line as written even after it has been rendered inane because of one of the on-stage misfortunes. Except when the line is delivered with an ironic twist that indicates actor awareness of the incongruity. Except when one of the actors suddenly becomes capable of dealing with unplanned stimulus, and suddenly has the capacity to try to reconcile the script to the on-stage reality.
Who is taking which approach when? Depends on which will yield a laugh.
The details that define the universe in which the ill-fated play occurs are equally pliable in service of the next yuk.
We enter the theater and are able to see the set, so we can see schtick concerning the show prep. After intermission, there's suddenly a curtain, so we can see schtick as the director crawls under it for his audience address, and so we can then get a reveal of the unready tech prep.
A big point is made about the need for the sound board operator to, in audience view, generate sound cues. Except when a sound cue occurs when we need the sound board op to be somewhere else for a back-stage reveal tableau.
Scripts are bound, except when it's convenient for a laugh to have loose pages fly.
The acting style of the play-within-a-play is excruciatingly broad. Ominous lines are punctuated with melodramatic takes to accompany the sinister music cue. The actors pose and deliver the dialogue straight out to the house and not to each other. Except when it will be funny to mix it up and have them flutter around as if it's suddenly a dance parody. Or except when it will be a hoot for someone inexplicably to begin to gesticulate wildly.
Yes, I'm nit-picking the hell out of this. I was not one of the people who kept finding it wildly hilarious when an actor is supposed to be so unfamiliar with the English language that he will mispronounce relatively common words. It bugs me when I'm asked to laugh at the stupidity of a stage manager who mispronounces the name of a character in the show she's rehearsed for, presumably, weeks.
You have to pay pretty close attention to follow this. If your mind wanders, as mine did toward the end of the first act, you can easily miss (as both me and my companion did) why a backstage character, who has been forced to go on-stage with script in hand, suddenly totally changes her approach to reading lines and seems an entirely different person.
This show has been compared to Michael Frayn's Noises Off and Tom Stoppard's The Real Inspector Hound, but a comparison is unfair to those superior predecessors, which ask more of themselves, and of their audiences; they have an internal consistency — and a thematic agenda — absent here.
But, of course, none of these criticisms really matter as far as The Play That Goes Wrong is concerned. The intention is not to craft a serious comedy (pardon the seeming oxymoron) but to have a lark with a skit premise.
That's not my cuppa tea, and it wears out its welcome with me well before the show enters its third hour.
All of that said, what makes the evening tolerable — and, I hope, what generated the enthusiastic response — is the astounding skill applied to this scrawny material.
Nigel Hook's set won a Tony and, boy, it is a wonder; it, and the actors, and the set pieces, challenge gravity. The set (animated by the stage management team of Jeff Norman and Matt Schreiber, along with the actors) feels like a member of the cast.
——–

The Play That Goes Wrong
closes Janary 6, 2019 
Details and tickets
——–
Every slam into a door or other object is painfully precise. The slapstick comedy is the only aspect of the show that pays any attention to rules of reality or consistency, and is the only thing about the show I'll look back on fondly.
The cast will make you feel as if they were the ones who originated this material, although it was the writers — Henry Lewis, Jonathan Sayer, and Henry Shields — who were in the cast that opened the show on Broadway, where it played after its London success. The company that created it, Mischief Theatre, is comprised of recent graduates from London Academy of Music and Dramatic Art. (The Mischief artistic agenda seems at odds with the lofty name of the school that spawned it.)
[adsanity_rotating align="aligncenter" time="10″ group_id="1455″ /]
As much as I resisted the experience, I never felt as if the issue was how it was being performed.
Evan Alexander Smith, as the play's director as well as its leading actor, is the person closest to having a backstory. Tall and handsome, with a pencil-thin mustache, he reminds me of a young Robert Donat or Campbell Scott. The highlight of the show, in my eyes, was the sequences during which he interacts with the audience.
Ned Noyes is the actor who begins to enjoy some of the more laughable catastrophes along with the audience, and his sense of whimsy provides a few delightful moments.
Peyton Crim — I know, these names! (I'm going to interrupt myself here.) The playbill includes a sham program for the play-within-a-play, including bios of the "actors." I don't want to make fun of people's names, but, writing this review, it's difficult to keep straight the fictive names from the real ones.
Anyway, Peyton Crim has this amazingly rich, deep voice that he uses wonderfully and melodically. He has one of the few scenes during which the actor he plays doesn't just ignore a circumstance caused by a blunder (involving a fire extinguisher), but instead tries to improvise his way out of it. It was a relief to watch, for a brief time, a character displaying a bit of intelligence.
Another interruption: when were body mics — which we've gotten used to in musicals — introduced into straight plays? Hate it.
Yaegel T. Welch has a nifty look of disappointed dismay, which stops the show periodically. Also, when, toward the end, he does lines within the mystery play, they have a sense of plausibility that is missing from the lines given by Jamie Ann Romero, as the mystery's leading lady.
Romero has obviously been directed to exaggerate the hamminess of the character, but they've made her so over the top that the woman in the cast seems even more clueless than the men, which is unfortunate. However, she has a couple pieces of wordless physical comedy that are amazing.
Scott Cote is the butler, played by the actor with the mispronunciation problem. It's a tiresome bit, but Cote has some amusing moments of slow-burn frustration, and a great reaction to a suddenly-occurring fire.
Angela Grovey and Brandon J. Ellis play the backstage folk. Ellis has a nice deadpan delivery, and Grovey is winning when the stage manager she plays begins to have fun doing an on-stage role — though, as I said, I didn't follow what it was that motivated her sudden change of affect.
Grovey, Ellis, and Smith also interact with the audience before the show and during intermission. I wasn't able to see any of that, but did hear some occasional localized laughter from various parts of the house.
So that was my night at The Play That Goes Wrong. I'd have liked it a lot more if the comedic highlights were skit-length, and I was watching it on TV or as part of some kind of variety show.
At this point, it should be pretty clear to you whether you would share my antipathy toward spending a full night with it.
If not, ask yourself this question: how many "paint thinner in the scotch bottle" spit takes can you watch before the returns diminish and you yearn for the ride home?
If your answer nears twenty, I think I know the show for you.
——————————-
The Play That Goes Wrong by Henry Lewis, Jonathan Sayer, and Henry Shields. Tour Directed by Matt Dicarlo. Original Broadway Direction by Mark Bell. Featuring Brandon J. Ellis, Evan Alexander Smith, Yaegel T. Welch, Peyton Crim, Scott Cote, Jamie Ann Romero, Ned Noyes, Angela Grovey. Scenic Design: Nigel Hook. Costume Design: Roberto Surace. Lighting Design: Ric Mountjoy. Sound Design: Andrew Johnson. Original Music: Rob Falconer. Production Stage Manager: Jeff Norman. Stage Manager: Matt Schreiber. A Mischief Theatre Production. Presented by The John F. Kennedy Center for the Performing Arts. Reviewed by Christopher Henley.