What I remember most vividly about Carol Channing in Hello, Dolly!, some forty years after I saw her performance, are her eyes, and the surprising vulnerability, even neediness, that they expressed.
Those were not the qualities I was expecting to encounter as, during a college break, I learned that Channing was touring the show to Baltimore and I decided to make the trip north to see it.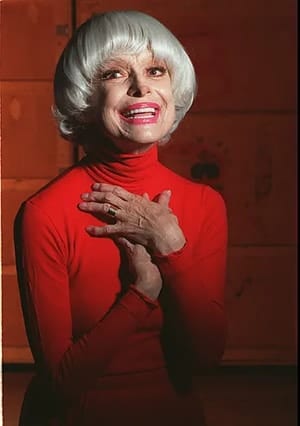 Carol Channing died on January 15, 2019 at the age of 97. As has been noted repeatedly in the days following her death, she was a larger-than-life personality, a Broadway star with a capital S-T-A-R. Here she was in her signature part, one of the most iconic roles in 20th Century musical theatre history, arguably the apex of the golden age of the American musical.
And the role, Dolly Gallagher Levi, is the epitome of the enterprising survivor, the person who can leverage any situation, and all of her talents and instincts, to her advantage — someone who represents a pinnacle of motivated self-reliance and confidence.
And yet, behind those eyes, those big eyes that you could read at the back of the house, there was something delicate, something I felt could easily be broken, something that caused an audience to balance its admiration with a desire to protect; something fragile.
By contrast, as a performer, Channing seemed indomitable. The easiest — or most frustrating, depending on your attitude — job in theatre must have been to be standby for Carol Channing: cash the checks and settle into your couch to read a good book. She took the adage "the show must go on" as an inviolable commandment.
The night before I saw Hello, Dolly! in Baltimore, local news carried the story of a fire in Channing's hotel. Apparently, it took a certain amount of persuasion for the fire-fighters to coax her out of her room and to walk through smoke-filled halls, because she feared that it might take a toll on her voice.
Before the show the next day, I could hear some of the matinee ladies refer to the incident, worried that it might mean that the star would miss the performance. Not to worry: curtain up, Carol on, carrying on.
Channing even joked about it at the curtain call, which wasn't just a take-a-bow affair; it was a bit of a visit between the performer and the ticket-buyers whose devotion had made her a star.
Channing wasn't like the marquee names that anchor shows these days — the movie and TV actors who do something in New York for three or four months between films or series seasons.
Channing was a star at a time in our culture when a theatre actor would (as I believe she did with the first run of Hello, Dolly!) do the show for two years or so in New York, and then would take it on the road for a year. That touring aspect made those actors familiar and accessible to audiences in cities across the country, even the theatre stars whose careers didn't involve much film success.
And Channing was of that generation of musical-comedy titans (which included the likes of Ethel Merman and Mary Martin) who, sadly, and more often than not, had to sit by and watch as the great parts in the film versions of their shows went to others.
At least Channing didn't lose out on her two indelible stage parts to Betty Hutton or Mitzi Gaynor (like Merman and Martin had); she lost out to legitimate screen legends, it must be said: Marilyn Monroe (whose turn as Lorelie Lee in Gentlemen Prefer Blondes resulted in her classic rendition of "Diamonds are a Girl's Best Friend") and Barbra Streisand (although that film version of Hello, Dolly! is mostly forgotten, except by WALL-E).
Film acting is a related, but distinct, talent from stage acting, and major theatre artists (think of Zero Mostel, for instance) were considered overwhelming (at the time) when in front of a camera. Channing did make Thoroughly Modern Millie (and received an Oscar nomination for it to boot), but no other major films; she did have the TV movie of Alice in Wonderland, but no classic series. Her legend depended on her theatre work (mostly two roles, into each of which she double-dipped — in the early 70s, she did Lorelie, something between a revival of and a sequel to Gentlemen Prefer Blondes), and on the cultivation of a distinct and idiosyncratic (and easily mimicked) personality.
That personality was informed by those big eyes, that husky voice, and the unusual drawl with which she pronounced words as no one else did, except when "doing" Carol Channing.
But it was also informed by the imperative Channing felt to perform; by her self-identification as the embodiment of the trouper; by her palpable enthusiasm for and devotion to the theatre, the art form that had given her the platform to do what she loved to do. Watch the 2011 documentary Carol Channing: Larger Than Life and listen to her effuse about a life in the theatre to a group of young Broadway chorus members who she encounters on a New York City street.
And that devotion was genuine, and is reflected in the ethic that pushed her out on stage, whatever the ailment; that kept her coming back to give audiences, new and old, the chance to see a legendary Broadway performance as she wracked up what she claimed were more than 5,000 performances of Dolly over thirty-plus years.
Speaking of legends, that was the name (Legends!) of the other show I saw Channing in. James Kirkwood, Jr. (who wrote P.S. Your Cat Is Dead and the book of A Chorus Line) wrote that slip of a play about aging acting rivals who meet to bury the hatchet (motivated by the chance of a comeback opportunity) and bond a bit (fueled by a shared joint).
Channing (theatre's legendary Dolly Levi and Lorelie Lee) teamed with Mary Martin (theatre's legendary Maria von Trapp, Nellie Forbush, and Peter Pan) for a tour that passed through DC on its way toward a Broadway run (that never happened, because the play was thought to be so limp).
The reviews were mixed, at best, but, looking back, who wouldn't jump at the chance to see those two, well, legends working together? For sure, given the material, it wasn't like seeing Tandy and Brando in A Streetcar Named Desire, but it was fun.
Channing played the instigator of the reunion and the looser of the two; Martin the more reluctant partner, the somewhat more bitter woman. That meant that it was Martin who was doing more as an actor, and relying less on personality to carry the show. (That isn't wildly surprising, as Martin had a deeper straight play résumé; I had seen her ten years earlier in a Soviet-era two-hander opposite Anthony Quayle, and she famously played Sabina opposite Helen Hayes' Mrs. Antrobus in the revival of The Skin of Our Teeth.)
As pleasant as are my memories of Legends!, it's the Dolly I saw that is my most indelible impression of Carol Channing. I still remember the final curtain falling, as Channing stooped to follow its drop, so that those inviting eyes (eager to please and with a tinge of fear for the unlikely possibility of rejection) could enjoy every last instant of the enthusiastic response, and could afford her audience every last instant of what she so eagerly gave to it.
---
Addendum 1: In this clip from Jerry Herman's Broadway at the Hollywood Bowl (1993) watch as Channing recreates one of the greatest entrances of all time . She is resplendant in all of her uniqueness — and delicateness. (As a bonus, stick around to see Bea Arthur deliver an unforgetable one-liner as she introduces the Mame sequence.)
Addendum 2: This lovely statement came from Tappan Wilder, nephew of Thornton Wilder (upon whose play The Matchmaker the musical Hello, Dolly! was based) and his uncle's literary executor, who issued this tribute from his home in Northern California: "It is going to be so hard to think of the American Stage without Carol Channing on it or waiting to make an entrance that lights up the world. But the actor who made Dolly Levi a household name will not be forgotten. That's the happy fate of a legend, and Carol Channing was and will always be a legend. Thornton Wilder's family mourns her loss but celebrates her genius."
Addendum 3: Walter Kerr (a legend himself among theatre critics) said of Channing that she was "maybe the only creature extant who can live up to a Hirschfeld." Al Hirschfeld (like his colleague Kerr, there is a Broadway theater named after him, the long-time caricaturist for The New York Times) "always lives up to the people he draws, but the people he draws don't always live up to him. Here's the exception: mascara to swim in, nobly tragic mouth, the face of a great mystic about to make a terrible mistake." I love that description.
Addendum 4: Channing and Hello, Dolly! have a local connection. Nelson Pressley wrote in The Washington Post about how the show was importantly shaped during a pre-Broadway run at our National Theatre.
And, in the 1950s, Channing came to Olney Theatre to play Eliza Doolittle in Pygmalion.