Abrupt decapitations. A chatty, fiendish cat. Magical sorcery onstage and off. An epic costumed ball thrown by Satan himself.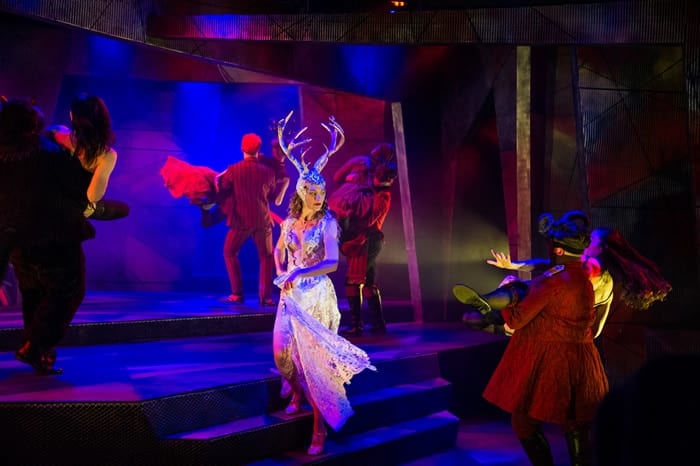 On its surface, The Master and Margarita doesn't seem like the easiest great novel to adapt into a play. But Edward Kemp's gutsy new interpretation feels right at home on The Source Theatre stage, courtesy of Constellation Theater Company and director Allison Arkell Stockman.
Mikhail Bulgakov's novel of magical realism is hardly a plot made for brief synopsis, but here's a go at it: our heroes are a struggling playwright (Alexander Strain) and his lover Margarita (Amanda Forstrom; "master" is her nickname for him). The playwright's new work, a meditative look at the relationship between Pontius Pilate and Jesus, is causing uneasy stirs in Soviet Russia.
[adsanity_rotating align="aligncenter" time="10″ group_id="1455″ /]
Meanwhile, the Devil, in the guise of a professorial magician Woland (Scott Ward Abernethy) along with his entourage of miscreants, among them said talking cat and a fanged henchwoman, have come on the scene and are causing an even greater stir, wreaking genuine havoc on the theater community staging the Master's work. When the playwright disappears, Margarita must forge an uneasy alliance with Satan in order to potentially be reunited with her love, who becomes one of many figures who end up in an asylum due to the machinations of Woland and his crew (among his tormentors: Dallas Tolentino, Louis E. Davis, and McLean Fletcher).
The Master and Margarita's central pair has a formidable chemistry, and their passionate connection grounds the play's early scenes. It's easy to see why Margarita is drawn to Strain's portrayal of The Master's brooding, if self-deprecating playwright. Her anguish at his disappearance transforms into brave self-possession as she takes on the ultimate villain in a bid to win back her love (as Satan/Woland, Ward Abernethy takes in everything with a sly, unsettling charisma).
——–

The Master and Margarita

closes March 10, 2019
Details and tickets
——–
Constellation's production has moments of slapstick-y shock value that break up the play's smoky intensity. But even during those goofier scenes, the threat from Woland and his gang feels like real, menacing danger. It all climaxes in a visually arresting ballroom scene, as various fiends from the ages greet Margarita as their queen (the Devil knows how to throw a house party, and legend has it that the scene's decadance was inspired by a real-life over-the-top ambassador's soiree attended by the novel's author).
The Master and Margarita is one of those works that is a true original, and Constellation's equally eccentric production will make you grateful you went along for the ride.
---
The Master and Margarita. Novel by Mikhail Bulgakov, adapted by Edward Kemp. Directed by Allison Arkell Stockman. Choreography by Tori Tolentino. Scene/Lighting Design: A.J. Guban. Costume Design: Erik Teague. With Alexander Strain, Amanda Forstrom, Scott Ward Abernethy, Dallas Tolentino, Louis E. Davis, McLean Fletcher, Jesse Terrill, Ben Lauer, Anna Lynch, Emily Whitworth, and Omar D. Cruz. Produced by Constellation Theatre Company. Review by Missy Frederick.