BLKS at Woolly Mammoth Theatre Company starts and ends with a scream, for reasons you cannot guess. Despite unexpected turns in the plot, you can count on BLKS to consistently provide a front-row seat to the physical and emotional feelings of Black women and femmes. In a society that so often censors Black women for being too much of anything, BLKS breaks the characters out of a claustrophobic box, and invites them to share everything at whatever volume they please.
BLKS feels unlike anything I've seen on stage, because it was not written for me. In the program notes, poet and playwright Aziza Barnes (Z) describes Z's inaugural play as "a play by and for Black people." Z goes on to say "[I]f you are not identifiable or identified as a Black person… you can still watch this play, of course, but… you are bearing witness. You cannot claim it as yours, and you can't commodify it as yours, but you can surely enjoy it." In the program notes, director Nataki Garrett adds that "[T]he Woolly audience in particular is capable of coming to this space of witnessing while sitting next to people who are reflecting."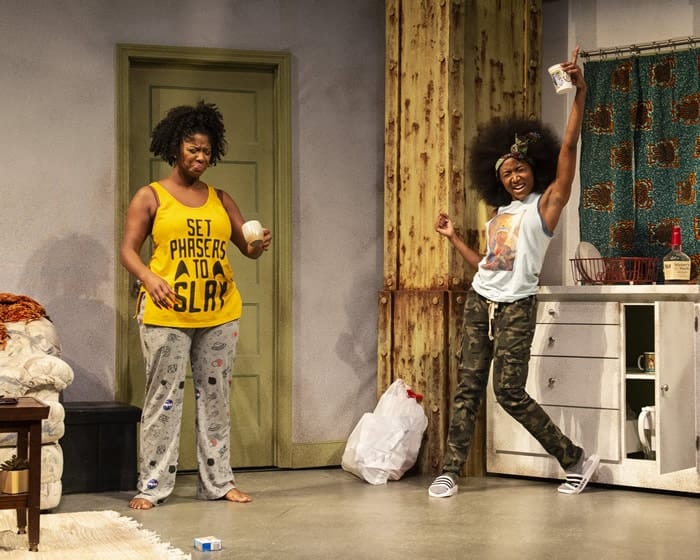 Yet BLKS does feel familiar in 2019 pop culture: it befits a moment with thriving television shows centered on friendships of women in their 20s and early 30s living in American metropolises. If you love watching Abbi and Ilana of Broad City, or Molly and Issa of Insecure, experiencing Octavia, Imani, and June in BLKS as they fight, cry, and laugh together will bring you great joy. Other similarities extend to the play. Like in Broad City, main characters proudly live their various LGBTQ identities, although those identities seldom take center stage. Octavia dates women and men, and Imani dates women, but their romances take a back seat to their friendships. Like in Insecure, the characters codeswitch in and out of African American Vernacular English, and weave considerations of race into their conversations, but always return to the health of their friendship as the story's core.
[adsanity_rotating align="aligncenter" time="10″ group_id="1455″ /]
While BLKS celebrates Black women and Black genderqueer folk, the engine of BLKS is the relationship between the three leading women. These friendships are authentically grounded in specific experiences at intersectional identities, yet feel accessible to people of any background.
So too do the discussions of Blackness feel familiar to the podcast-turned-HBO-specials 2 Dope Queens. Like the co-hosts Jessica Williams and Phoebe Robinson, the characters of BLKS invite us onto their couch, where discussions of hair style and romantic partners' behavior are just as worthy of attention as current events. The pleasure of seeing women of color recount their experiences to friends who affirm and uplift each other is so infectious that the audience frequently joins in.
One aspect of the show is familiar to the point of being uncomfortable. Since many scenes take place in Octavia and June's apartment, with frequent pauses for laughter, the play often feels like a sitcom. When the audience audibly reacts to a quip launched from the living room couch, the play can feel like a live studio audience taping of a T.V. show, which can be disorienting. But these scenes are also the strongest of the show. I laughed to recognize props from my own first experience living self-sufficiently: piles of unwashed laundry in the corner and a nice blanket hidden from guests; drawers filled with takeout bags and a coffee table that serves as a dining area.
——–

BLKS

closes March 3, 2019
Details and tickets
——–
Garrett, who directed the acclaimed An Octoroon at Woolly Mammoth, also directed BLKS when it premiered at Steppenwolf Theatre Company. She is an expert in maximizing every moment on stage and encouraging actors to take up space: when the massive moving parts of the set need to transform for several minutes from the interior of an apartment under a Subway line to a New York City street curb, she finds ways to channel the actors and projections to keep the audience engaged. Even within scenes, she is able to block multiple points of interest, be it a potential hookup across the room from a dance party, or someone cleaning a mess in the corner while two people engage in a pillow fight. Garrett clearly inspires the best in each actor, and it shows in performances from a cast that collectively shines.
Justin Weaks masters the art of shapeshifting in BLKS as he did in Woolly Mammoth's production of Gloria. As Justin and several other characters, he magnetizes your attention, whether dancing in a club, contorting himself through a window, or angrily swaddling himself in a blanket. Shannon Dorsey, who was nominated for a Helen Hayes Award in An Octoroon, is the comedic standout of the show as Imani, who uses Venmo as a modern-day delivery system for reparations. She squeezes major laughs from even the smallest verbal comeback with her physicality, and when Imani tries her hand at stand-up comedy, Dorsey is so convincing that she inspires audience members to shout words of encouragement.
The jubilant comedy of the show is punctuated by moments of sadness: Octavia worries whether a surgery will permanently damage her nerves; Imani and June struggle with how to move forward from a loss and a betrayal; and the women are followed by different forms of violence. Near the end of a madcap 24-hour dash around the city, the second half of the play loses momentum. The tempo slows down too much during more somber monologues, and we lose some of the excitement of the first half, although it thankfully returns in the final scene.
In an address after the show, Garrett recounted the feeling of being seen by Z's play. So many of the stories told about Black women and femmes fall into harmful stereotypes or tales of soul-crushing despair. In BLKS, Garrett recognized her own experience, and the experience of other Black women in her life, who persist through all the tragedy society throws at them, and resiliently thrive with love and laughter.
In such a heavy time, choosing to present a story that lifts and lightens is an act of resistance.
---
BLKS by Aziza Barnes .  Director Nataki Garrett. Cast: Shannon Dorsey (Imani), Alina Collins Maldonado (Ry), Cyndii Johnson (Octavia), Tatiana Williams (June), Justin Weaks (Justin), Madeline Joey Rose (That Bitch on the Couch). Set by Efren Delgadillo Jr. Costume design by Lex Liang. Wig and hair design by Jason Hayes. Lighting design by Jeanette Oi-Suk Yew. Sounds design and original music by T. Carlis Roberts. Projection design by Rasean Davonte Johnson. Intimacy and fight choreography by Lorraine Ressegger-Sloane. Production dramaturg Kirsten Bowen. Production stage manager Hope Villanueva. Produced by Woolly Mammoth Theatre Company . Reviewed by Kate Colwell.