If every copy of August Strindberg's Miss Julie spontaneously combusted, and from each pile of ashes emerged phoenix-like a copy of Hilary Bettis's Queen of Basel in its place, I could be persuaded that this is an overall net gain for literature, apart from the tears of a few theatrical purists and chauvinism apologists (not to mention Swedes). At least that's the case made by Studio's provocative staging of the first full production of Bettis' re-envisioning of Strindberg's three-hander for the age of #metoo, #maga, #blm, #occupy, etc.
Bettis takes Strindberg's shall we say problematic play, which (let's be real) may have been a revelatory breakthrough in realist writing at the time but now reads more like a 19th century Incel manifesto (if you think his play was bad, just read his preface), and levels the playing field for gender, class and racial politics to roil together in an impressively balanced kettle. I can't say Bettis saves or redeems the source material, though that doesn't appear to be her goal. But it's a Miss Julie that we can sit through without cringing, and manages to do so without softening the electricity and tension between the three characters, Julie, John and Christine. Where Strindberg stacks the deck against Julie, Bettis has empathy for all three.
The bullet points of the original plot are largely unchanged: kitchen, big party, rich young woman, upwardly mobile working class man (engaged to working class woman), seduction, argument, rich young woman ruined.
What is striking in this new play is the displacement of the characters, their precariousness, and how they're never comfortable in their own skin. Julie holds tightly onto her Colombian identity despite being ¾ Caucasian. John is simultaneously not Black enough nor Cuban enough. Christine, a Venezuelan refugee fleeing Maduro, wants to get the rest of her family, including her 5-yr old daughter, over to Miami. John and Christine in particular repeat a familiar refrain over the play's brisk 100 minutes, a telling shorthand for their daily struggles and the pain they carry: "It's fine."
——–

Queen of Basel

closes April 7, 2019
Details and tickets
——–
The play is set in the backdrop of Basel Miami, the annual December contemporary art fair that basically is an excuse for the richest of the rich to have a weeklong party on South Beach a few weeks. Julie, daughter of one of the most powerful men in Miami, is seeking shelter in a service kitchen of her father's hotel, having a tray of drinks spilled on her by Christine, a cocktail waitress. She's in recovery, reeking of alcohol, and risks becoming tabloid fodder. Eager to escape the paparazzi, she calls her fiancé for assistance (spoiler alert: he never shows), Christine calls her fiancé John (spoiler alert: he does), moonlighting as an Uber driver, to get her home. Cue fireworks.
[adsanity_rotating align="aligncenter" time="10″ group_id="1455″ /]
One could argue that the characters from Strindberg's play don't fully survive the transplant to contemporary Miami. John and Christine are engaged because, well, I guess out of economic necessity but mostly because the play requires them to be. Julie and John's sexual tension builds from zero to consummation in about 30 minutes in theory because of the need for escape from the directions their lives are spiralling toward, but mostly because the script obliges them to do so (unlike the original, this is their first meeting). However, the play picks up notably in the latter half as it transcends some clunky exposition and didacticism to roar to life as the post-coital stakes ratchet up, and serious sparks start flying.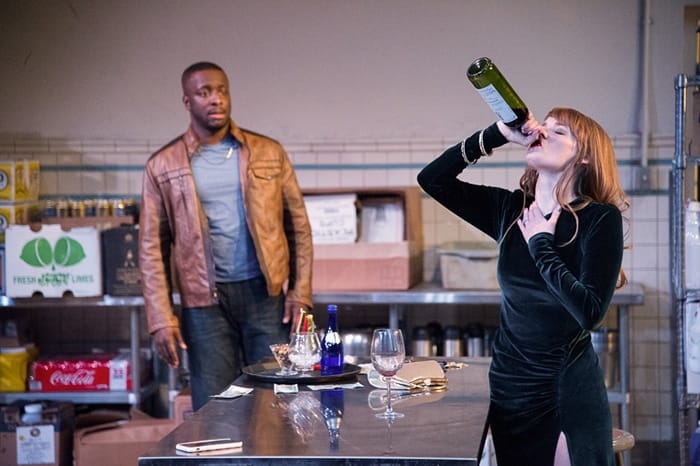 The strong individual performances, and Jose Zayas' brisk, electric direction do compensate for any initial lack of chemistry. Andy Lucien has a seemingly effortless charm and charisma as John, and Dalia Davi's Christine is utterly riveting in her closing monologue as she reveals depths of passion and loss that she kept tightly to herself up to that point. The two are engagingly unforced and natural in a way that Christy Escobar occasionally labors to equal as Julie; I'm not sure if the studied mannerism is Christy's or her character's. Nonetheless, when Julie falls off the wagon and chugs the $13k bottle of wine intended to grace her upcoming wedding, it's a powerful moment, and her jubilant unraveling is poignant and affecting.
An ultra-naturalist play merits an ultra-realist set, and Debra Booth's disused hotel kitchen is rich with detail and detritus. Andrew Cissna and ML Dogg provide subtle and effective lighting and sound, respectively, with the techno beat of the party amping up at just the right moments. Ivania Stack's transformation of Christine from bewigged cocktail waitress to street clothes is startling.
Studio has a fascinating update of a problematic classic on its hands.
——
Queen of Basel by Hilary Bettis, directed by José Zayas. Cast: Christy Escobar (Julie), Dalia Davi (Christine), Andy Lucien (John). Scenic Design: Debra Booth. Costume Design: Ivania Stack. Lighting Design: Andrew Cissna. Sound Design: ML Dogg. Dramaturgy: Adrien-Alice Hansel. Production Stage Manager: Madison Bahr. Produced by Studio Theatre. Review by John Geoffrion.