Only one week ago, Washington National Opera gave us a cool, minimalist modern take on a romantic opera (Eugene Onegin); this week the company took us back to an old world, even hedonistic approach to grand opera with its production of Charles Gounod's Faust. It was in many ways being fed the operatic equivalent of comfort food, allowing us to sit back and 'bathe' in a riot of senses tickled by the scope and craft of the production.
How fitting for a story about a man who sells his soul to experience more earthly pleasures!
Starting with paint. There was a lot of it. A gorgeous curtain greeted the audience making their way to their seats. It all seemed at first a riotous red swirl, reminiscent of the dancer Loie Fuller's serpentine skirts always flowing and circling, drawing us in, making us reel with desire. Scrutinizing the canvas, carefully strange faces began to appear. Were they the Original Sins peering and leering at us? The curtain was often used as a scrim so that we saw the characters through their (many) sins and one could imagine they saw the same in us.
Later, there were a series of flats (side panels) staggered all the way to the back of the stage to create depth, with above overhead drops of daubed leaves, and a great back curtain with a tiny castle painted in perspective. The design evoked a classic theatricality.
This production, which came to Washington by way of the Houston Grand Opera, has also pulled out the stops for some carefully wrought (and sometimes stuffed) stage pictures.  Earl V. Staley's set and costumes and Ken Billington's original lighting (recreated for the Opera Stage by Michael Clark) help us discover Faust in his study, just as Gounod ordered: a medieval scholar with full beard and long black robe trimmed in fur surrounded by soft darkness. Light falls on an astrolabe glowing copper, and the same glow is reflected in the man's face. The whole scene is reminiscent of a Rembrandt portrait.
Then, with a bit of stage magic in a blink of an eye, the following contrasting scene opens with the scrim lifting, and a whole European faire is recreated, complete with jongleurs and acrobats, soldiers and priests, a traveling theater troupe, and huge puppet masks carried aloft, bringing together the entire Washington Chorus to sing of spring and happiness. I felt I'd never seen so many people on stage in a WNO opera (nor have I ever seen a complete set change and big ensemble picture achieved so quietly – certainly not on an opening night.) And what marvelous choreographic detail by director Garnett Bruce who brought it all to life. So many moving parts!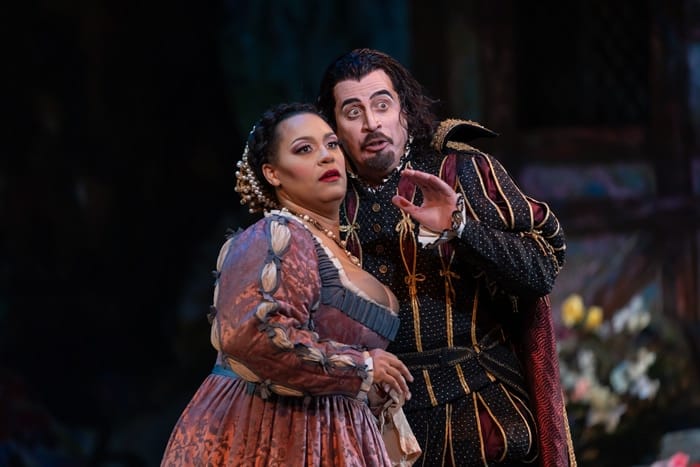 Gounod's opera was worked and reworked between 1859-1869 through various productions. Goethe's great epic, based on the medieval Faustian legend, inspired the composer and many other Romanticists. Gounod's opera focuses mostly on the part of Goethe's story that features the virtuous Marguerite and the great three-way struggle with Faust and the devil (here Méphistophélès) for her body and soul.  Marguerite puts up a serious struggle; by contrast Faust was easy pickings.
——–

Faust

closes March 30, 2019
Details and tickets
——–
As in most stories, the devil gets the popular vote. Gounod sets it up, filling his opera with this character's words and business that move between sheer villainy and wry humor. Bass Raymond Aceto appears looking like Sir Walter Raleigh in overstuffed breeches-with-codpiece, cape, and a rakish cap with red feathers fluttering. This curious "rooster" takes on the over-refined mannerisms of Inspector Poirot as played by David Suchet.
Aceto manages both the funny business, as running from and disappearing down a trap door from the over-sexed Dame Marthe, and the heavy demands of the singing role. He nails the music with a power that never waivers, and the role shows off well the unique quality of his voice.
Marcelo Puente makes his WNO debut in the title role. The Argentine tenor was most affecting in the 'Rembrandt' scene, totally convincing as an old, crippled, and embittered man who weighing his life, finding that for all his accomplishments, he is isolated, lonely, and depressed.
It's in the dark hour of night when dark thoughts lead to desperate actions, and he prepares to take his own life, cursing both God and science that have, he feels, let him down in equal measure.
He seemed to be speaking directly to many Americans today, stuck in darkness, running from anti-depressant medications to therapy. And what have society's goals, their intellectual achievements, and the compromises they've made got them? Isn't it telling when meeting Méphistophélès, the devil tells him he can give him tout, that Gounod's Faust does not ask for wealth or power (checking out the audience in this Washington audience; most have been there, done that.)  What does an old man really want?  La jeunesse (youth) and the opportunity to press himself on ever-younger women. Our tabloids and media report on our own Faustian bigwigs every day.
[adsanity_rotating align="aligncenter" time="10″ group_id="1455″ /]
Poof! And Faust gets his wish in another bit of phantasmagoria and la voilà, he stands before us in a spangly white "get-up" and long hair, ready to be a rock star to the ladies.  Only opening night Puente was not quite up to rock star status. The tenor voice can be treacherous, and although he gave us several good passages, especially in some of the duets and quartet singing, some of his upper notes tightened and his voice lacked that aching presence of a special tenor. You could feel him working hard.
We got something entirely different from Marguerite, who was played by Canadian soprano Erin Wall. Her notes were silvery and her technique sure. She had moments of real electricity with the audience. She was quite fabulous in Marguerite's "Jewel song" flinging the new-found tempting jewels and her body in dizzying ecstasy. (She definitely showed that the song is surely a precursor to Cunegonde's "Glitter and Be Gay" aria from America's own Leonard Bernstein.) "How can one not be little vain?" she sings, and so starts her downward slippery slope to "sin" with Faust. It costs Marguerite shame and then her life, but not, thankfully, her soul.
On the other hand, Wall did not sustain a convincing acting arc to her character, and truthfully Gounod doesn't provide much help with his helter-skelter arrangement of her moments. Kneeling to Faust's kneeling at the culminating "bodice-ripping" moment, I was simply aware she was trying to negotiate getting down to the big clench with Faust on the floor. When her brother Valentin was dying, she knelt, and (curiously) stayed wooden for ages while he sang his last aria. There was altogether too much kneeling required for this singer, which made her managing her long garments even more problematic.  She had a marvelous mad scene. However, the moment of her apotheosis, in climbing the narrow stairs to heaven, the effect was marred, as the entire house grew fearful thinking that this Marguerite, wrestling with her skirts, might topple and join Faust in his hellish descent.
Wall's Canadian counterpart, Baritone Joshua Hopkins played Valentin, the stalwart military hero and upright brother to Marguerite. Hopkins could have remained a ramrod-stiff  "toy-soldier" in the role but instead crafted detailed moments of tenderness as well as humor as in his simple act of farewell to Marguerite and his reviewing his troops. He moved me deeply in the famous soldier aria  "Avant de quitter ses lieux."
Two of the other singers, graduates of the Domingo-Cafritz program, have been trained to be free and expressive vocally and physically for opera of the Twenty-first century. It was a pleasure to see Allegra De Vita in the role of Siébel, the young juvenile smitten for Marguerite. She continues to delight audiences with her vocal choices and coloration as well as her physical ease and nimble use of the stage. Her moment of triumph was figuring out how to neutralize Méphistophélès' curse with holy water. In making a rose stay erect and not wilt, she shared her sheer pleasure.
Deborah Nansteel, as loyal companion to Marguerite, was able to embody compassion, motherly domesticity, and unleashed libido in the one role.  Her pursuit of Méphistophélès was a great comic foil to Marguerite's attraction to Faust and just goes to show how a good woman can go bad. No wonder this rich-voiced mezzo-soprano as Dame Marthe put one over on the devil!
Keri-Lynn Wilson conducted energetically, moving the opera along with conviction. Gounod's waltzes were spirited, and her orchestra stayed on top of the growing shifts in modulation when Faust's and Marguerite's story is spinning out of control. The orchestra featured some nice solo work on the French horn and harp. Then, with Gounod you also get for your money (rage at the time) a whole Church organ sound thrown in.
Occasionally, the chock-o-block approach in this grand opera went just a little too over the top, and choices blurred the focus. A clever thought to put a traveling troupe's staging in the middle of the Medieval faire, complete with a barely leaf-clad Adam and Eve and God pitchforking the devil with his thunderbolt, but the tableau vivant was a little too vivant and completely stole focus from Valentin's aria. There were also some upstaging attempts by Faust indicating his conflicting feelings about confronting Valentin that covered the singing.
For any "sins," may the production be forgiven. There's plenty for the senses to enjoy in the opera, but for this Faust only five more performances remain.
---
Faust. Music and by Charles Gounod. Libretto by Jules Barbier and Michael Carré. Based on Goethe's Faust: Part One. Conducted by Keri-Lynn Wilson. Stage Direction by Garnett Bruce.
Set and Costumes designed by Earl V. Staley.  Original Lighting designed by Ken Billington and at the Opera House by Michael Clark. Stage Manager Laura R. Krause. With  Marcelo Puente, Raymond Aceto. Samson McCrady, Joshua Hopkins, Allegra De Vita, Erin Wall, Deborah Nansteel,  and Washington National Opera Chorus and Orchestra. Produced by Washington National Opera while first produced by the Houston Grand Opera, and presented at the Kennedy Center. Reviewed by Susan Galbraith.