Baltimore's Chesapeake Shakespeare Company is presenting Henry IV, parts One and Two in repertory. Part One (not reviewed by DCTC, we regret) opened February 15th, Part Two opened March 15th, and they overlap for three weeks, offering three (now two) Saturdays where patrons can see Part One at 2pm, have a dinner break, then return for Part Two at 8pm.
Perhaps I'm doing CSC a disservice by not having seen Part One; I missed getting a sense of the overall narrative arc and how director Ian Gallanar's approach plays out across the two plays (Note: Part Two is co-directed by Gallanar and Gerrad Alex Taylor). Part One has the best scenes, one of the Bard's best characters (Hotspur, whose impact is missed in Part Two), a climactic epic battle, and the bawdiest and most memorable Hal/Falstaff vignettes.
Part Two offers comparatively fewer pleasures plotwise: A few more repetitive Falstaff escapades, with and without Hal, against an extended buildup to a battle that never actually happens. The payoff comes toward the end; Henry's deathbed reconciliation with Prince Hal, who then becomes Henry V and rises to the occasion just as he promised us in Part One, and his iconic repudiation of Falstaff, likewise as promised. But said payoff is some two hours in the making. CSC might've been better served editing the two texts together and excising the superfluous and expendable bits, most of which were from Part Two, as Orson Welles did for Chimes At Midnight.
——–

Henry IV, Part Two
closes April 7, 2019
Details and tickets
——–
In past CSC productions I've reviewed or seen, whatever liabilities may have existed in the company were compensated for by the strength of the scripts themselves, or an imaginative bit of staging or some especially inspired performer(s). This time around, however, faced with one of Shakespeare's lesser plays and with the leads largely sidelined, despite standout performances by some and earnest effort and/or journeyman competence from the rest, the company lacks the collective chops to transcend the challenges of the script. Compounding the problem, largely indifferent staging, vague and/or mealy-mouthed performers, and belabored would-be comedy ("Doll Tearshit?" Really?) result in an unfortunate misfire.
[adsanity_rotating align="aligncenter" time="10″ group_id="1455″ /]
It certainly looks great. Above and beyond the splendor of the building itself, I appreciated Daniel O'Brien's set design that utilizes projections against wooden spires, and Heather Jackson's costume design merges classical forms with contemporary fabrics and flourishes.
It's difficult to gauge Gregory Burgess' performance as Falstaff without having seen Part One, which arguably has a majority of Falstaff's best moments. Falstaff has more of an understated, elegiac quality in Part Two, and he's more of a tragicomic character here. Burgess is subtle and his Falstaff isn't quite larger than life, so without Part One to compare, I can't really fully judge. That said, I wanted his Act Five comeuppance to land with greater weight.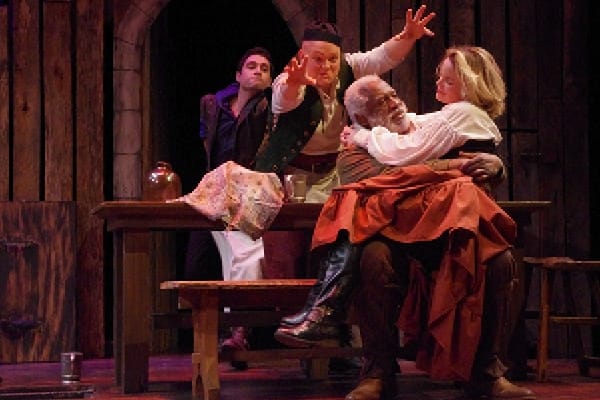 Ron Heneghan and Séamus Miller as Henry and Hal have a touching chemistry together as they bond both as father/son and King/King-to-be in their famous Act 4 scene, which comprises the seeming majority of their collective stage time. Amongst the rest, Keith Snipes has an engagingly world-weary melancholy as Northumberland, Gregory Michael Atkin lustily chews scenery as Pistol, and Ashly Fishell-Shaffer is a feisty, spritely Doll Tearsheet. Her scenes with Burgess provide some of the evening's strongest and more poignant moments.
Ultimately Henry IV pt 2 is a frustratingly uninspired production. It's a difficult play to start with, not one of the Bard's best, and without a fresh directorial perspective or a company (noted exceptions aside) with the skill set to breath life and passion into it above a certain level, it wavers between passable and mediocre, though never less than pretty to look at. I'll wager Part One was a more fulfilling experience.
---
Henry IV, Part Two by William Shakespeare. Directed by Ian Gallanar & Gerrad Alex Taylor. Cast: Gregory Michael Atkin, DJ Batchelor, Lance Bankerd, Gregory Burgess, Tamieka Chavis, Michael Crowley, Kathryne Daniels, Bart Debicki, Nello DeBlasio, Ashly Fishell-Shaffer, Ron Heneghan, Steven J Hoochuk, Briana Manente, Elana Michelle, Séamus Miller, Molly Moores, Brendan Murray, Tudor Postolache, Scott Alan Small, Keith Snipes. Scenic Design: Daniel O'Brien. Props: Alexander Rothchild & Willow Watson. Lighting Design: Katie McCreary. Costume Design: Heather C Jackson. Sound Design & Composer: David Crandall. Music Director: Grace Srinivasan. Fight Choreography: Casey Kaleba. Production Stage Manager: Alexis Davis. Produced by Chesapeake Shakespeare Company. Review by John Geoffrion