Nobody applauds when Annette Bening first appears on stage in All My Sons, the third Broadway revival of Arthur Miller's 1947 tragedy, the playwright's first hit play. This is  because of director Jack O'Brien's staging, a deliberate choice to have her character Kate Keller start speaking while she is still partially hidden inside the Keller's old-fashioned suburban house. The house itself is largely just a three-dimensional backdrop; the action takes place in the Keller's backyard.
Bening is also so plainly dressed and free of any obvious makeup that it took time to recognize her.
Kate's low-key entrance feels like a strategy for the play as a whole. It drives home how much the Keller family – father Joe (Tracy Letts), mother Kate (Bening) and son Chris (Benjamin Walker) —  are just plain American folk, like their friends and neighbors. Yet, it also suggests how much they have hidden…from the audience, from each other, from themselves.   When by the end all is revealed, the play explodes into three powerhouse performances. All My Sons begins with a realistic-feeling thunderstorm thanks to the designers and ends with a bang thanks to the performers.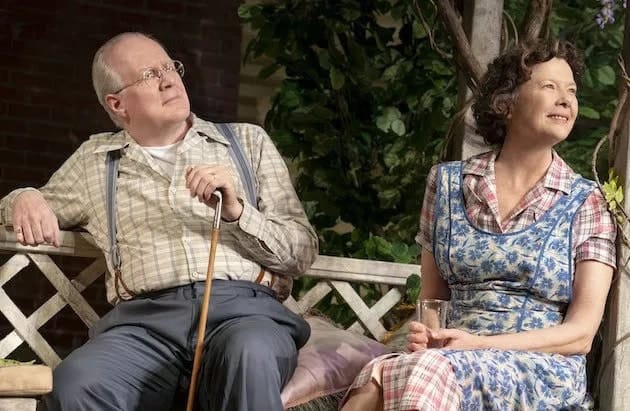 All production photos at NewYorkTheater.me
Those climactic performances by Bening, Letts and Walker will be enough for many audience members. For theatergoers  who might  join in the criticism that the script is dated or implausible or otherwise flawed, it's useful to consider this production through three lenses.
The first is the time in which it was written and in which it is set – just two years after the end of World War II.  One can view the plot as a preserved artifact of the concerns and attitudes and theatrical craft of the period – and thus find it at least anthropologically satisfying.
Joe and Kate Keller (Letts and Bening) have lost one son in the war, Larry. The younger son, Chris (Walker) has survived, but feels guilty for having done so. As the play unfolds, we learn that Joe owns a factory that accidentally manufactured faulty airline parts but covered up the cracks and shipped them off anyway, resulting in the death of 21 pilots. Both Joe and a man named Steve Deever, his next-door neighbor and employee, spent time in prison for this. But Steve remains in prison, while Joe was exonerated and sent back home, having convinced the court that he was out sick that day from work and the crime was all Steve's doing. Steve's children, ashamed, have moved out of the neighborhood and haven't spoken to their father since his imprisonment.
On the day in which the play takes place, Chris has invited Larry's old girlfriend Ann Deever (Francesca Carpanini), Steve's daughter, to the Keller home, and plans to ask her to marry him. Mother Kate is passionately opposed, because, though it's been three years since he was reported missing, his body has never been found.
Then Ann's brother George (Hampton Fluker) shows up too.
\
It would be easy to pick apart elements of the plot as illogical or overly dramatic.  Miller himself responded to that attack by replying: So was Sophocles' Oedipus. Here is where the second lens comes in handy – seeing the play as Miller intended it to be, as a Greek tragedy involving everyday Americans.
The third lens is one that we can't help using – the view from 2019. In one way, there is some startling relevance, with the play's handling of complicity and exoneration, deceit and self-denial.  But there is at least one baffling choice. This is the production that was to be originally helmed by Gregory Mosher, but he quit after the Arthur Miller estate refused to allow him to cast two African-American actors in the roles of Ann Deever and her brother George. But the Jack O'Brian production has cast one of the siblings with a white actor, and the other with a black one.  If that's a compromise, it seems like a self-defeating one.
If there are missteps in both production and script, one nevertheless senses that All My Sons was written in an era – as Miller wrote in his memoir Timebends —
"when it was still imagined that with the possible exception of a doctor saving a life, writing a play was the most worthy thing a human being could do."
All My Sons is on stage at Roundabout's American Airlines Theater (227 W. 42nd St., between 7th and 8th Avenues, New York, N.Y. 10036) through June 23, 2019.
Tickets and details
---
All My Sons. Written by Arthur Miller; Directed by Jack O'Brien .  Scenic Design by Douglas W. Schmidt; Costume Design by Jane Greenwood; Lighting Design by Natasha Katz; Sound Design by John Gromada; Video and Projection Design: Jeff Sugg; Hair and Wig Design by Tom Watson; Makeup Design by Tommy Kurzman . Featuring Tracy Letts, Annette Bening, Benjamin Walker, Francesca Carpanini, Hampton Fluker, Michael Hayden, Jenni Barber, Nehal Joshi and Chinasa Ogbuagu. Produced by Roundabout Theatre Company . Reviewed by Jonathan Mandell