Playwright Allyson Currin's poignant new work Sooner/Later captures the messy reality of relationships and family in a funny and brutally honest way. From the crushing awkwardness of a first date to the often thankless grind of raising kids, to the dull pain of loss, Mosaic Theater Company's world premiere of Currin's intimate comedy/drama gives an engrossing look into the little moments of connection that define our lives while we're making other plans.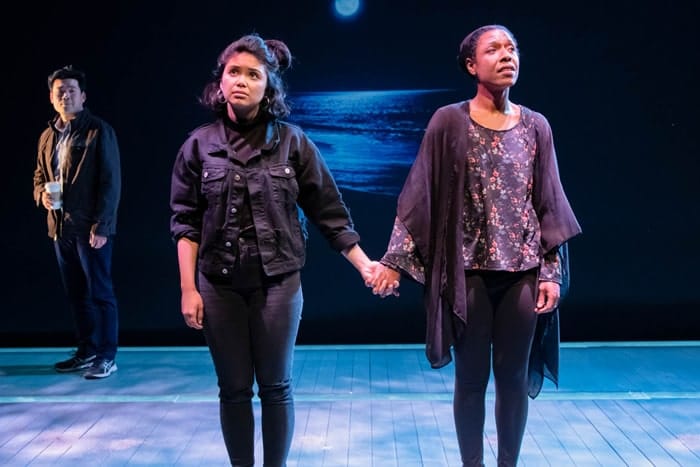 The play opens in the home of quick-witted teenager Lexie, played by the instantly likeable Cristina M. Ibarra, and her hard-working mother Nora (the versatile Erica Chamblee), as the two discuss Nora's dating struggles. A string of duds and failed coffee meetups has left Nora frustrated, yet Lexie pushes her hesitant mother to get back into the fray, using a wry combination of statistical analysis and teenage snark. The mother-daughter relationship is touching and believable, with Ibarra playing the plucky cheerleader to Chamblee's striving yet humble career woman.
---

Sooner/Later from Mosaic Theater Company of DC closes June 16, 2019. Details and tickets
---
As Nora's run of bad luck continues, laid back game designer Griff enters the scene. Played by the magnetic Tony K. Nam, Griff provides an irreverent yin to Nora's tightly-wound yang. The two bond in their favorite coffee shop over a shared skepticism of relationships and the compromise it takes to sustain them. Nora and Griff's witty rapport fondly recalls the immortal diner scene from "When Harry Met Sally." Currin's talent for brutally honest banter and corny jokes give Nam and Chamblee plenty of chances to shine. They're a totally endearing couple, stumbling forward together into the wild unknowns of companionship.
Director Gregg Henry expertly guides these intimate exchanges, injecting bits of visual poetry into each scene with help from set designer Debra Booth and lighting designer Kyle Grant. Henry and his creative team use the spartan yet adjustable stage and dynamic lighting to shift seamlessly between times, places, and moods. Their creative approach helps expand the production's horizon beyond its relatively cozy narrative boundaries.
And just as Griff and Nora seem ready to settle into a quirky yet stable routine, the play leaps forward several years. A harried Nora spars with teenage Lexie over what seems like typical teenager problems, as a slightly older and more confident Griff counsels patience and perspective. But things later become not quite what they seemed in the first half, as revealed by costume designer Danielle Preston's total inversion of Lexie's look. Chamblee and Ibarra's early work establishing their mother-daughter chemistry pays off here, as the pair are forced to suddenly turn the relationship on its head.
[adsanity_rotating align="aligncenter" time="10″ group_id="1455″ /]
After hinting early on, the production rolls out a big twist gradually over several scenes, like a Magic Eye image that slowly comes into focus and then can't be unseen. It flips much of the previous character development on its head, but in a way that feels earned. As the little family struggles to adjust to a new reality, it's a treat to watch Chamblee, Ibarra, and Nam stretch their characters in unexpected psychological and even metaphysical directions.
Sooner/Later's closing scenes play with notions of selective memory and the distorting power of pain. The tearjerker finale holds a funhouse mirror up to the upbeat opening, dramatically reconciling the family's prior illusions with cold reality. Currin's call to accept life on its own terms – not as we'd like it to be – rings out loud and clear in the final moments. If you can find another  play that packs this much rewarding insight, laughter, and pathos into just eighty five minutes, your next coffee is on me.
---
Sooner/Later . Written by Allyson Currin . Directed by Gregg Henry . Scenic Design: Debra Booth . Lighting Design: Kyle Grant . Costume Design: Danielle Preston . Composing and Sound Design: Evan Cook . Properties Design: Willow Watson . Production Stage Management: Laurel VanLandingham . Produced by Mosaic Theater Company of DC . Reviewed by Ben Demers.