When a stage manager places a single incandescent light bulb on a stand, front and center on a stage, it has a practical reason. The "ghost light" provides safety in the dark for living beings, and, the superstition goes, the ghosts of actors as well.  It's the perfect title for this ghostly theater tale conjured up by Frank DiSalvo Jr.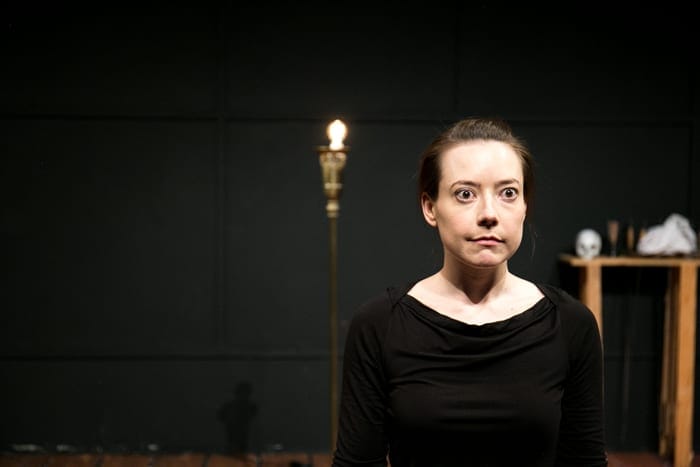 Three performers, responding to an email, show up to an empty, on its last legs, theater space. Virgil, an historian from the Maryland Historical Society, played with zany zeal by Emberlein DiSalvo, is thrilled that someone is plucking the old space from obscurity.  All three of the wannabe actors have issues of their own and DiSalvo's neat script sheds enough light to appreciate each one.
[adsanity_rotating align="aligncenter" time="10″ group_id="1455″ /]
"Why are you here?" It's the first question Sage, the director, played with amazing aplomb by Mo O'Rourke, asks.  The answers set up the crux of the hopefuls' intentions.  Derren, given an earnestly intense rendering by Robert Pike, is a committed actor ready to dig into rehearsal and get the show going. Amy Leigh Horan's Mary starts off as mousey, anxiety ridden and insecure, complete with panic attacks.  After years of trying to hit stages in New York, she had packed her bags to give up her quest when she got the email to audition.  Thomas DiSalvo's TJ is the comic relief, entering as a bit of a goof off. His family's money can get him anything he wants and he skates through life on that. With a constant smirk on his face he just plays along at first.
The cast have questions of their own which Sage carefully dodges. There is an apparent lack of advertising, and no box office. Most importantly, how are the three of them expected to perform all the characters in Hamlet, with no sign of the lead actor? Sage assures them that he'll show up, but eventually admits that the renowned actor, Ellrick Black, was killed playing Hamlet on that same stage over 100 years ago.
That Sage has the moxie to direct three actors in all the roles while she channels the spirit of the actor who died playing Hamlet is a lot to take on.  But it Works!  O'Rourke is unbelievably effective as Sage.  She has the steady gaze of a shaman as she commands this F Troop of actors searching for meaning, struggling to tackle an impossible project, trusting in her vision (or at least the sizeable payment promised at the end), while she channels a cantankerous spirit.
---

Ghost Light from Parlor Room Theater closes June 2, 2019. Details and tickets
---
The effect is delightfully delicious.  Each time O'Rourke takes on Black's persona, she starts with patterned movements that relay her receptivity and openness, then she dips her arms into the air as if to breathe him into her being and voilà – the distinctive mannerisms and British vocals of a totally different person.  What sold me even more is that Sage as Black looked at each person in a different manner.
The new script is generous in exploring the trust, consciousness and the soul it takes to create theater.  As they rehearse, the actors take journeys of self-discovery as they slowly peel off their layers of caution and disbelief, and dive into their performances.  Costumes (Julie Cray Leong) are part of this neat transition as the cast eventually appears in Elizabethan puffy sleeves and reenact the fencing scene where Black was struck down in the prime of his career.  It's absolute magic.
Ghost Light is a love letter to theatre. Parlor Room Theater's production is innovative, creative and entertaining. And it's a reminder of the enormous talent begging to be explored and appreciated in our Metro region.
---
Ghost Light . Written and Directed by Frank DiSalvo, Jr . Cast: Emberlein DiSalvo (Virgil); Thomas DiSalvo (JT); Amy Leigh Horan (Mary); Mo O'Rourke (Sage); Robert Pike (Derren);  Set – Ember DiSalvo; Costumes – Julie Cray Leong; Asst. Costumes – Meredith Johnson; Lights – Dean Leong; Sound – Frank DiSalvo Jr.; Props—Thomas DiSalvo; Stage Manager – Alex Davis . Produced by Parlor Room Theater . Reviewed by Debbie Minter Jackson.