"Fiction carries a greater amount of truth in solution than the volume which purports to be all true," wrote British novelist William Makepeace Thackery, author of Vanity Fair. This simple sentence seems to be the mission statement behind Rajiv Joseph's Obie Award-winning play, Describe the Night, currently closing out Woolly Mammoth Theatre Company's 2018–2019 season. Joseph takes great pleasure in smashing the clay pots of historical "fact" and reassembling them into a new narrative, one that explores the nature of truth, the power of art, and nearly 100 years of Russian history. That's a tall order for one play, but under John Vreeke's keen direction and with stand-out performances from a talented cast, Woolly has created a spellbinding evening of theatre.
Describe the Night ranges from the front lines of the Polish-Soviet War in 1920 to a rental car office in Smolensk in 2010. We begin with the first meeting between Isaac Babel (Jonathan David Martin), the prolific Jewish writer, and Nikolai Yezhov (Tim Getman), the eventual officer in Stalin's secret police. Babel has been writing about his war experiences in a journal, including the killing of a local, elderly Polish man by Yezhov that day. Yezhov confronts Babel, wanting to know how he's going to portray the day's events—that Yezhov was defending himself from a man armed with an ax or that he murdered in cold blood a man whose tears of grief for his dead son unnerved the young officer. What follows is a debate regarding the nature of fact and fiction ("true is what happens; false is what does not happen," repeats Yezhov, unable to comprehend any shades of gray) and the beginning of a long, unlikely, and ultimately fraught friendship.
[adsanity_rotating align="aligncenter" time="10″ group_id="1455″ /]
From there, we jump to 2010, where Feliks (Justin Weaks) is hiding inside the car rental office in which he works, having just been visited by the Russian police. The reason for their visit is a crash of a Polish Air Force jet carrying the Polish president and first family just outside the city. He's joined in short order by a similarly terrified journalist, Mariya (Kate Eastwood Norris), who managed to narrowly and accidentally escape a roundup of her media colleagues who happened to witness the plane crash. During their back and forth, Feliks reveals that he went to the site of the crash and spoke to an older woman before she died, and she handed him a book… Isaac Babel's journal.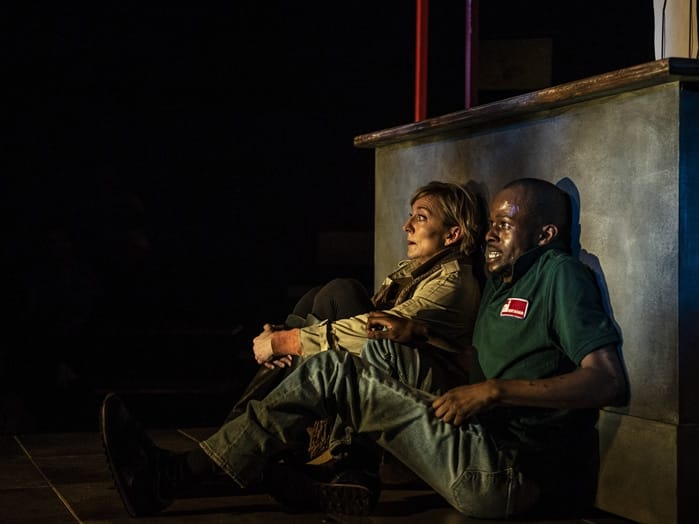 The plot then bounces back and forth between Dresden in the 1980s and Moscow in the 1930s and 1940s, with Babel's journal remaining the constant in every scene. In the process, we meet Yezhov's wife, Yevgenia (Regina Aquino), her granddaughter, Urzula (Moriamo Temidayo Akibu), and Vova (Danny Gavigan), the KGB officer meant to find Urzula and prevent her from defecting to the West.
The connecting of all these characters represents the ripped-from-the-headlines-and-stitched-back-together nature of Joseph's narrative—Yezhov, who was executed in 1940, appears as a worker in a clandestine Soviet bureau with the power to change official history with an all-powerful black magic marker ("the most useful tool in communism") in 1989. At the same time, Yevgenia is living her own life in Dresden, despite being 110 years old. Joseph seems to take great glee in hanging a lantern on these metatheatrical moments, which are meant to mirror the real-life process of editing the historical record to present an official version of the truth. The real Babel, for instance, was fully stricken from the public record until his persona was "rehabilitated" in 1952; similarly, Yezhov was literally removed from photos showing him with Joseph Stalin after his death, as if he never existed.
The script bends over backward to connect these disparate characters in unexpected and increasingly fantastical ways, but they themselves are kept ground thanks to some stellar performances from the cast. Getman, in particular, deftly plays the straightforward Soviet officer Nikolai as both slapstick and menacing, keeping the audience on the edge of their seats and laughing nervously. Weaks plays Feliks is the opposite direction—rather than controlled and placid, he's as jittery and exposed as a live wire—but with a similarly visceral physicality. And Akibu's gorgeous voice and tender defiance brings depth to a character who isn't as heavily featured as the others.
---

Describe the Night at Woolly Mammoth Theatre  closes June 23, 2019. Details and tickets
---
Vreeke, who's previously directed Woolly's productions of Joseph's Gruesome Playground Injuries in 2010 and Guards at the Taj in 2016, finds inventive ways to have his characters turn up in unexpected places. Even when a character isn't in a scene, he or she is seated somewhere off to the side or in the balcony, either passively watching the goings-on or actively participating by swinging a spotlight. These choices—combined with scenic designer Misha Kachman's galley stage, which cuts the audience perfectly in half—give the feeling that we are part of the action, rather than mere spectators.
One characteristic of Joseph's script who's harder to mitigate is the sometimes complex-to-the-point-of-confusing structure of the narrative. I've only touched on some of the plot points above—to explain them all would require one of those crime boards with thumb tacks and red strings commonly found in police procedurals. The jumps in time and aging of characters can be difficult to keep up with, and while knowing the news stories and histories from which the plot is pulling isn't strictly necessary, it certainly helps. I was left at the end feeling that the show was too long yet wanting it to be longer—we only get one scene between Feliks and Mariya at the very beginning of the show, and the dynamic between Weaks and Norris was one I longed to see more of. And while all the metatheatricality surrounding the ways in which truth and facts are developed and altered is interesting and certainly resonant to today's world, I was left unsure as to what message or lesson I was supposed to be taking with me out of the theatre—I left impressed, but vaguely confused at the same time.
Still, Describe the Night is an ambitious play by a celebrated American playwright brought to life with care and a winking nod by one of DC's top theatre companies. In the age of "fake news," pausing to look at how and by whom the official story is being crafted is a good thing—and it may, in fact, be the most important thing of all. And the idea that one person's words, scribbled hastily in a journal, could have the power to inspire generations to come offers some hope that even the most ephemeral of artworks can have a permanent impact on us all.
---
Describe the Night by Rajiv Joseph. Directed by John Vreeke. Featuring: Jonathan David Martin, Tim Getman, Justin Weaks, Kate Eastwood Norris, Regina Aquino, Danny Gavigan, and Moriamo Temidayo Akibu. Scenic designer: Misha Kachman. Costume designer: Ivania Stack. Lighting designer: Colin K. Bills. Sound designer: Roc Lee. Movement choreographer: Lorraine Ressegger-Slone. Production dramaturg: Kirsten Bowen. Production stage manager: Rachael Danielle Albert. Assistant stage manager: Leigh Robineete. Produced by Woolly Mammoth Theatre Company. Reviewed by John Bavoso.