Shakespeare's most iconic schemer is the centerpiece of Synetic's fourteenth (mostly) wordless re-interpretation of the Bard's works. The world of 15th century England is updated to a dystopian cyberpunk future, with soulless, almost robotic soldiers, technology gone rogue, a terrifying landscape upon which Synetic's trademark physicality and visuals create a breathtakingly theatrical tour de force.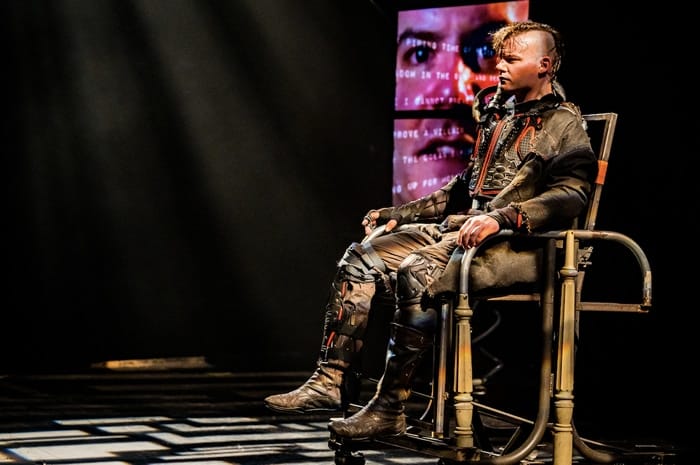 In director Paata Tsikurishvilli and adapter Nathan Weinberger's re-envisioning of the story, a lot of liberties are taken. Richard isn't born deformed, he's severely wounded in the prologue and then reconstructed into a cyborg by Tyrell & Ratcliffe, who seem to be the chief schemers and (literal) kingmakers. Robbed of agency, Richard isn't so much a villain as Robocop with a soupçon of Frankenstein. That license is a bit tough to weather, as is the re-imagining the relationship between Richard and Anne as nearly functional (until she's expendable, then…)
---

Richard III from Synetic Theater closes June 16, 2019. Details and tickets
---
Not as tough to weather, though, is the re-imaging of Queen Elizabeth (widow of Edward IV) as the driving force against Richard, thereby reducing the role of Richmond but giving a lot more agency and power to the female characters (not to mention a more prominent role for Irina Tsikurishvili, never a bad thing).
Regardless of how these liberties impact your embracing of the production, the almost overwhelming spectacle tends to drown out any opportunity to lend the matter much thought. It may be wordless Shakespeare, but it is by no means silent. Konstantine Lortkipanidze's original music, Thomas Sowers' sound, and Tennessee Dixon & Scott Brown's twisted metal sets and multimedia displays are all individually stunning, Erik Teague's military cyberpunk costumes terrify, Brian Allards' lighting creates tension and mood… it's all technically dazzling, though it occasionally overshadows the moments of human emotion and subtlety. If you're looking for that sort of thing.
Of course, it's Synetic, and the athletic, sinewy, balletic, kinetic performances make you forget that there's no dialogue. Alex Mills manages to inject a vulnerability and sympathy into his Machiavellian power-hungry villain, no small feat. Maryam Najafzada also elicits our pity as she goes all-in on trying to make a life with the man who killed her previous husband. Ana Tsikurishvili and Scean Aaron are omnipresent and ominous figures throughout as the technicians who created, and perhaps control Richard.
[adsanity_rotating align="aligncenter" time="10″ group_id="1455″ /]
Synetic remains masters of their craft, and this is another impressive achievement in spectacle, thrills, and chills. Regardless of your take on how they adapt this story, their Richard III further establishes their unique brand identity.
—–
Richard III by William Shakespeare, adapted by Nathan Weinberger, directed by Paata Tsikurishvili. Cast: Alex Mills (Richard), Irina Tsikurishvili (Queen Elizabeth), Matt Stover (Buckingham), Maryam Najafzada (Anne), Thomas Beheler (Clarence), Philip Fletcher (Edward), Jordan Clark Halsey (Richmond), Tim Proudkii (Prince), Aaron Kan (Younger Prince), Nutsa Tediashvili (Princess Elizabeth), Ana Tsikurishvili (Tyrell), Scean Aaron (Ratcliffe). Choreography by Irina Tsikurishvili. Music by Konstantine Lortkipanidze. Scenic and Multimedia Design: Tennessee Dixon. Costume Design: Erik Teague. Lighting Design: Brian S Allard. Sound Design: Thomas Sowers. Properties Design: Kelli L Jones. Video Producer & Editor: Scott Brown. Technical Director: Phil Charlwood. Production Stage Manager: Marley Giggey. Produced by Synetic Theatre. Review by John Geoffrion
{Small world alert: Paata and Irina Tsikurishvilli were instructors in my grad theatre program)