Forest Treás is a fictionalized cozy Mayberry-type Maryland town described by its residents as the "safest place" to live.  This original story loosely inspired by conditions surrounding the 2002 Beltway sniper attacks, explores what happens in the heart and soul of a community when danger threatens to destroy their sense of safety.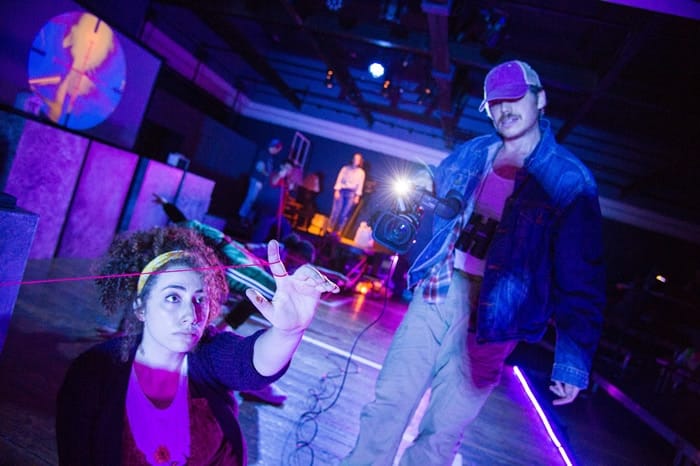 The townspeople enter, greeting each other and the audience, engaging us all to listen attentively to the "Sunrise Summit" show.  They bustle along, ordinary folks going about their daily routines and chores, carousing up and down the make-shift streets, lost in their own worlds.  They even gather attentively around the large monitor in the middle of the town square to listen to upbeat messages from "Sunrise Summit"'s Mr. Chylle.  Sweetly portrayed by David S. Kessler, even the name soothingly encourages listeners to "chill" and listen to their hearts and lovingly live their lives while offering tidbits of community association news.  A visiting news broadcaster, played with aplomb by Lee Gerstenhaber, takes it upon herself to interview residents to understand the town's wholesome spirit.  With camera in hand, she livestreams the sights and sounds of Forest Treás.
Little do they know the significance of the video feed in the wake of the random shootings that will change their lives forever.
[adsanity_rotating align="aligncenter" time="10″ group_id="1455″ /]
Director Kelly Colburn and movement coordinator Rachel Munyuk reveal how the daily doses of shock-trauma transform loving congeniality into fear, as people are gunned down seemingly from out of nowhere.  Most poignant for me (as an insistent jogger in 2002) was Acacia Danielson as the Power Walker, complete in green sweat suit and swirly arm movements to enhance her aerobic routine.  She suddenly became paralyzed with fear, representing all of us, her once fluid movements stuck in place or jerked in staccato.  As the community struggles to find a sense of normalcy, the walker returns to her routine, only to discover she's got a following, thanks to the video feed.  The intense media in the search has thrust even basic routines into the limelight.
The script even covers the famous white van episode in a humorous bit.
Video monitors and live feed cameras are pervasive throughout the set bringing everyone front and center into the action.  Roberta even has an idea that the community shouldn't succumb to fear and trembling and, rather than cancel the beloved Fall Fun Run, should pack the route with video cameras to track every move.  That will make everyone feel safer by exposing every inch of the path right?
Here is where the story hits its stride.  Once the reign of terror begins, the beloved Mr. Chylle comforts the community and reads names of the slain. When his own heart gives out in stress, awkward cameraman Chip takes his place, but when he's on an assignment, newcomer Roberta sheds her prickly manner and pumps up the crowd with enthusiastic encouragement. When she leaves, the ever present Hiba, (Sara Herrera) takes the spot.
---

Forest Treás from Pointless Theatre closes June 30, 2019. Details and tickets
---
The message is that we're all in this together, and we pick up the pieces as needed to carry on.  The remarkable message rings through with clarion clarity from this experimental company.  Forest Treás offers an entirely new way to "see" and feel something that we considered old, over and done with.
I was fortunate to catch the writer Navid Azeez's performance in his retro-futuristic d0t: a RotoPastic Ballet —dude just thinks outside the box like that, his work is a wonder to watch.
The set by Emily Lotz is in three sections, with an old fashioned family run gas station on a slight platform left, described in an endearing monolog/interview by Melissa Carter.  A higher leveled reclining area on the right is a comfortable living spot for Roberta to unwind, and the town in the middle is represented with platforms of miniature homes and parks as well as the full size monitor for the town to gather for the latest sunrise news stories.
Azeez notes – "In most cases, violence happens absurdly quickly. The media response is the thing that sticks around, amplifying long after the event is over. With the Beltway Sniper, we had a chance to examine an event where the violence and the media coverage surrounding it went hand in hand for a prolonged period of time, and explore how people interact with and respond to media in an ongoing time of crisis."
Dedicated to "creating bold, visceral, and affordable spectacles that gleefully smash the traditional boundaries between puppetry, theatre, dance, music, and the visual arts" Pointless hits its mark yet again with this poignant reminder that we're all part of a community – "forest and trees" perhaps?  And that all we have in approaching the unknown every next minute is each other.
---
Forest Treás by Navid Azeez. Director— Kelly Colburn. Cast– David S Kessler (Mr. Chylle),  Sarah Herrera (Hilba),  Lee Gerstenhaber (Roberta),   Timothy Thompson (Chip),  Melissa Carter,  Mason Catharina, Acacia Danielson, Nitsan Scharf, Eirin Stevenson,  Eric Swartz.   Composer/Sound Designer – Navid Azeez.  Lighting Designer— Max Doolittle. Associate  Lighting Designer—Hailey Laroe. Set Designer–  Emily Lotz.  Miniatures Designer—Grace Guarniere.   Costumes – Jeannette Christensen.  Movement—Rachel Menyuk. Video and Projections Designer—Dylan Uremovich. Props Master— Adrianna Watson.   Production Stage Manager—  Hayden Morrissett.  Assistant Stage Manager— Rachel Schor.  Produced by Pointless Theatre . Reviewed by Debbie Jackson.