I guess I just don't get Falsettos. The Tony Award® winning musical may have been fresh at its 1992 Broadway debut—it's mainstream depiction of gay couples was certainly trailblazing—but it now feels vexingly thin, dated and dull.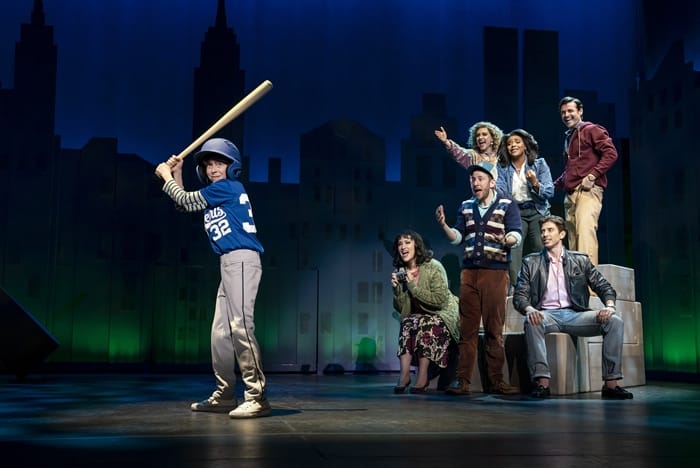 The intimate, conversational operetta by William Finn and James Lapine, directed here by James Lapine, captured a period slice of the American experience—to be gay and Jewish at the dawn of the AIDS era in New York City. The show suggests thematic depth about the variability of love and family and the fragility of relationships but presents itself as either high anxiety or sentimental melodrama, making it difficult to really relate to or care much about the characters.
For all its narrative faults, the uneven work—a 2016 revival production from Lincoln Center Theater on its national tour— is energetically performed and well sung at the Kennedy Center's Eisenhower Theater.
Falsettos is a conjoining of two one-acts, March of the Falsettos (1981) and Falsettoland (1990) and is perhaps better suited to its Off-Broadway origins. It's never really fair to compare, but it can be clarifying to put Falsettos next to the work of fellow celebrated contemporaries writing in the same milieu. It lacks the grandiosity of Tony Kushner's work of the era for example, or the piercing statement of Larry Kramer's procedural docudrama The Normal Heart.
[adsanity_rotating align="aligncenter" time="10″ group_id="1455″ /]
Falsettos strains to be more than a cheeky-then-weepy Hallmark Channel Movie of the Week, but attempts at liveliness often fall flat and tired, with a couple of notable exceptions. At the same time the latter scenes dealing with impending loss and grief offer moving moments, but overall the show is undercut by the tissue-like tenuousness of the material.
The story is essentially about a not-very-likable guy named Marvin (Max von Essen) who leaves his comically bewildered wife Trina (Eden Espinosa) for a goofy stud named Whizzer (Nick Adams). Marvin's shifting sexuality and family role is further complicated by his young son Jason's (Jonah Mussolino at the performance I saw) coming of age and Trina's rebound marriage to the family shrink Mendel (Nick Blaemire).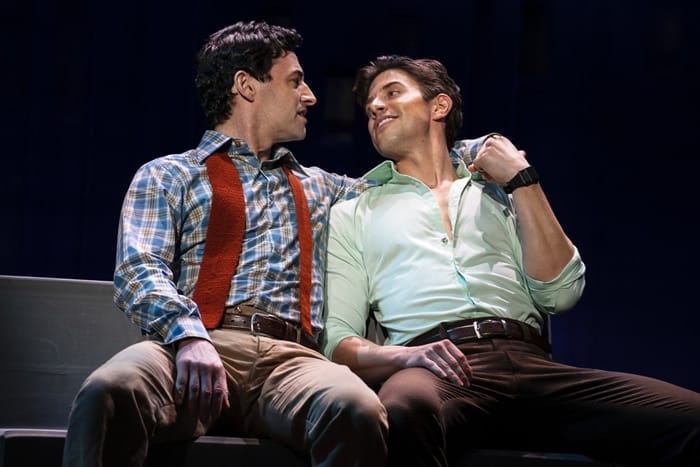 A "Modern Family" scenario years before the popular sitcom first aired, Falsettos is a briskly-paced if repetitive series of interactions between these five characters (and in Act II, a superfluous couple of "lesbians next door") who all find themselves adapting to a new understanding of love, family and acceptance.
The lyric "love can tell a million stories," became the tagline for the show, and yes of course that's true but not especially revelatory. People want to be loved and the characters of Falsettos do too.
The first act begins with an unfortunate and unfunny out-of-place sendup of Jewishness ("Four Jews in a Room Bitching") that feels like cut material from a Mel Brooks sketch, before getting to the story at hand. Once underway, some songs delight, such as Espinosa's priceless account of her nervous breakdown in "I'm Breaking Down," and Blaemire's wise counsel in "Everyone Hates His Parents"; some songs showcase powerful emotion and strong voices such as "Love Is Blind," "I Never Wanted to Love You," and "What Would I Do?"; while many of the numbers just come and go in a blitz of bland innocuousness.
"The Baseball Game" scene in Act II is fun, as the newly extended family cheers Jason at bat while "watching Jewish boys … Who cannot play baseball, play baseball!" But I still can't really make heads or tails of the neon-bedecked "March of the Falsettos."
The second act feels more mature (as it should; it was written years after the first) and gradually shifts into a requiem.
Spencer Liff's jaunty choreography and Lapine's fast-paced direction would seem to be the right accompaniment to Finn's complex lyrics and melodies which spill out in Sondheim fashion, but I was left instead never feeling a connection with the characters, as if the show just ran over me on the way to its conclusion.
The ensemble does well with the vocal complexities of the conversational score. Von Essen's baritone voice is especially fine during the soliloquies "Father to Son" and "What More Can I Say?" Espinosa and Blaemire mostly win when playing for laughs and Adams brings a throbbing vulnerability to the role of Whizzer.
---

Falsettos closes June 23, 2019 at The Kennedy Center. Details and tickets
---
David Rockwell's versatile, building-block set made for the actors to constantly configure into a variety of settings underneath a cityscape backdrop works well as an expression of the arrangement and rearrangement of the pieces of one's life as well as its precariousness.
Jennifer Caprio's costumes reminded me of what I saw during my 1980s childhood, especially Trina's leotard and the men's racquetball attire.
I get that Falsettos could be felt as an emotional reverberation from a transitional period on the LGBTQ timeline, but it just isn't a very good musical. It's more tiresome than either funny or thought-provoking, and its somber ending is more deus ex machina than earned.
---
Falsettos. Music and lyrics by William Finn. Book by William Finn and James Lapine. Directed by James Lapine. Cast: Nick Adams, Nick Blaemire, Audrey Cardwell, Eden Espinosa, Thatcher Jacobs, Jonah Mussolino, Bryonha Marie Parham, Max von Essen. Choreography: Spencer Liff. Set design: David Rockwell. Costume design: Jennifer Caprio Lighting design: Jeff Croiter. Sound design: Dan Moses Schreier. Music supervisor: Vadim Feichtner. Production stage manager: Gregory R. Covert. Produced by The Lincoln Center Theater . Presented by The Kennedy Center . Reviewed by Roy Maurer.