In David Lindsay-Abaire's Ripcord, there are two odd couples. The first are roommates Abby and Marilyn at the Bristol Place Senior Living Facility. The second are the farce and melodrama compelled to cohabitate in an unsatisfying evening that is neither funny nor moving.
The premise has potential. Two elderly women, one a supreme grump and the other off-puttingly upbeat, make a bet. If Abby the grump can make Miss Sunshine, Marilyn, angry, Marilyn has to move to a room on the first floor, leaving Abby to her preferred misanthropic solitude. If Marilyn can scare Abby, who claims she doesn't get frightened, Marilyn not only gets to stay but can take the bed by the window. Needless to say, pranks escalate to an absurd, dangerous, borderline criminal degree, pulling in a Bristol Place caretaker, Scotty, as well as family of the two protagonists.
Lindsay-Abaire has said that he wanted in this 2015 work to combine serious themes with the madcap comedy of his early career. He was inspired by "I'm Not Rappaport, Lettice and Lovage, or The Gin Game, comedies about two characters of a certain age really going at it with each other."
[adsanity_rotating align="aligncenter" time="10″ group_id="1455″ /]
A worthy endeavor, perhaps, but, as we see in the play's regional professional premiere at Keegan Theatre, it doesn't work out well. In combat mode, the women here are too cartoonish to take seriously. To the extent we do, or try to, we don't like them much. Like Scotty at one point, our instinct is to flee and leave them to their sadistic and somewhat tedious enterprise. They deserve each other.
Then Lindsay-Abaire changes tack and tries to humanize them, introducing evidence, in each case, of the domestic traumatizing burdens the women are trying to escape and recover from. The absurdist and realist ingredients don't mix, though. Throw Ionesco into a dressing bottle with a Lifetime movie, shake as vigorously as you like, and they remain insoluble.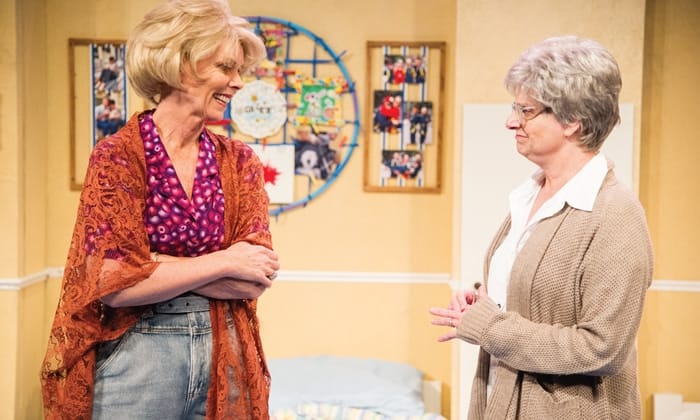 Lindsay-Abaire is a Pulitzer-winning and accomplished playwright, lyricist, and screenwriter, and he knows how to generate a Christopher Durang-ish momentum and push those tense giggle and moan buttons. But he also deals from the bottom of the deck. Abby quips about the convenience of newly vacated rooms, however sad the circumstances, and the quiet pleasure of residents silenced by laryngectomy. She has lost her taste, literally, and Lindsay-Abaire has evidently lost some of his too.
He works his titular metaphor for life into a grimly amusing speech by a sky-diving coach. And late in the game, he even pulls a heartstring or two with an unexpected moment of bonding.
---
Ripcord closes July 6, 2019 at Keegan Theatre.  Details and tickets
---
But you see most of his twists coming like brights around the soft bend of a country road. And the totality amounts less to a coherent drama than to a series of capable but uninspired writing exercises.
Keegan's presentation is adequate but can't save the material. As Abby, Deb Gottesman is as relentlessly dour and drab as her outfits, and Claire Schoonover is an aggressively genial Marilyn, although I didn't know what to make of her accent, which was sometimes British (as is she), sometimes New York-y, and eventually settled down into some neutral Province of Theatrical Enunciation.
Jared Shamberger's empathetic Scotty felt uncharacteristically well-rounded and lifelike, given the play he's in. And Kari Ginsburg, Oscar Ceville, and Robert Bowen Smith interpret their varied roles nimbly.
Matthew J. Keenan's modular set converts impressively from retirement home to haunted house and more. And director Megan Thrift keeps things lively, which is about all that can be asked from this script, which doubles up on its central conceit with a momentarily pulse-quickening plunge into the narrative void.
---
Ripcord by David Lindsay-Abaire. Director: Megan Thrift. Cast: Deb Gottesman, Claire Schoonover, Jared Shamberger, Kari Ginsburg, Oscar Ceville, Robert Bowen Smith. Set design: Matthew J. Keenan. Sound/projections design: Veronica J. Lancaster. Lighting design: Jessica Steadman. Costume design: Alison Samantha Johnson. Properties design: Cindy Landrum Jacobs. Hair/makeup design: Craig Miller. Assistant sound/projections design: Benjamin Sullivan. Stage manager: Kelly McNesby. Reviewed by Alexander C. Kafka.