Gaseous and unpredictable, witty and sentimental, Support Group for Men is ninety minutes traffic of our stage which seems longer, an earnest foray into secrets and feelings masked as a comedy. It is complicated without being complex; amusing without being satisfying. It is like the old cliché about Chinese food: in half an hour you'll want to see another play.
Let's begin by stating the obvious: men, like anybody else, have problems.  If they elect to confront those problems in dialogue with other men, who's to say them nay? But playwright Ellen Fairey plays the concept for laughs, with the supportable men larding themselves with ersatz Native American names, hokey rituals and a tricked-up baseball bat which entitles the holder to speak.
The character types are familiar, too. There's mellow Brian (Chris Thorn), who has organized the group and in whose apartment they meet. There's Roger the cynic (Scott Aiello, doing some nuanced work in this), Brian's softball buddy, who finds the rituals ridiculous but who has some real issues. There's Del (Ken Robinson), Brian's friend from high school, whose ill wife terrifies him with her self-loathing. And there's Kevin (Juan Arturo), Brian's whiz-kid colleague at work, who teaches salsa on the side and whose love life – or at least his sex life – has been unsatisfying of late.
As Fairey describes it, the deal is that the bat-holder has the floor so that he can describe his current woes. The others are prohibited from interrupting, or giving advice, or even commenting. They are there to bear witness, to hear, the implication being that the suffering male suffers in silence, in a culture unprepared to recognize his burdens.
Then, of course, after bearing witness, everyone slaps various parts of their bodies and grunts.
Plenty of commentary gets sandwiched in between all the bearing witness. Brian's apartment is apparently on top of a bar, and not all of the action is, strictly defined, heterosexual. This provokes a halting conversation about gender identity, as you might imagine Chicago men who came of age during the administration of the second Bush might have. In the midst of it, a new sound comes from the alley below: two men beating up a woman. The men's support group rushes down to support the woman.
You can almost guess the rest, but let me spell it out for you. After a nasty, brutish and short visit by two Chicago cops (Tom Coiner and Julia Coffey), the support group discovers that the victimized woman was not a woman at all but a cross-dressing, resolutely heterosexual man, Alejandro (Rolando Chusan), who assures them, correctly, that he gave as good as he got. For the rest of the evening, the support group for men learns to extend their support to men who like to dress as women. Leading the way is Roger, who in confronting his own failure to measure up to an unrealistic masculine ideal learns to withhold judgment on those with an alternative take on masculinity.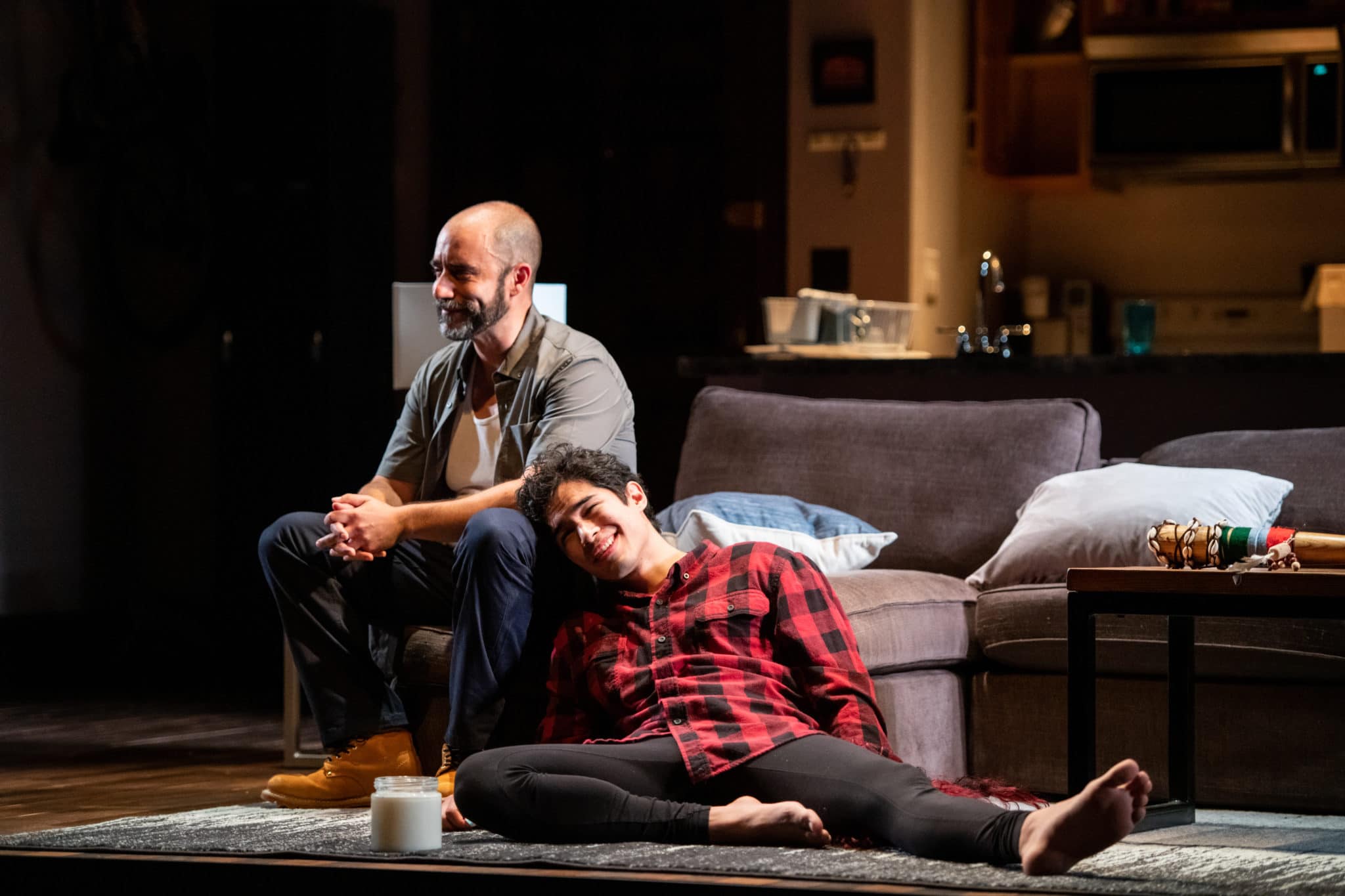 Had Fairey written this play fifteen years ago, it might have been groundbreaking stuff, but the message ("accept men who like to dress as women") seems pretty dated now. The more difficult message, dealing with men who not only dress as women but believe that they can, by declaration, become women, is untouched, except in a vaguely comic way.
[adsanity_rotating align="aligncenter" time="10″ group_id="1455″ /]
Which describes another problem with this story: it doesn't know whether it's a comedy or a drama. A play can be both, of course. Wrecked, a better play also running at the CATF, succeeds as both a terrifying drama and a raucous comedy. That's because in that play the comedy explodes the terror at key moments, and the terror hangs over the comedy, making the characters' comic natterings even more absurd. In Support Group for Men, the comedy and the drama seem to come at random. Imagine a hot roast beef sandwich slathered with vanilla ice cream, and you have Support Group for Men.
---

Support Group for Men at Contemporary American Theater Festival closes July 28, 2019. Details and tickets
---
That's not to say the play – and particularly the production – has no merit. Sometimes, the comedy is really, really funny.  The characters are well developed, with their own quirks, some of them quite unpredictable. The actors all acquit themselves honorably, and Coffey and Thorn are notable for convincingly playing two entirely different characters in Wrecked and Support Group for Men. (Coiner, on the other hand, plays two nearly identical characters in the two plays, and does a good job in both). If you see this show, you'll probably have a good time. I just wish it had been better.
Let me end on a cheerier note. I've seen three shows so far at the CATF, and the technical has been wonderful in each of them. Here, the technical artists have outdone themselves. David Barber's set perfectly captures a small apartment in gentrified Chicago and Victoria Deiorio's sound design is spot-on. D.M. Wood's lighting design is exquisite – the apartment's windows perfectly edged with reflected red light, to show us the presence of the bar below. CATF's technical staff initiates the fictive dream from the very moment that lights go up. After that, it's in the hands of the playwright and the actors, and us.
---
Support Group for Men by Ellen Fairey . Directed by Courtney Sale . Featuring Scott Aiello, Chris Thorn, Ken Robinson, Juan Arturo, Tom Coiner, Julia Coffey, and Rolando Chusan . Scenic and projection design: David Barber .  Costume design: Therese Bruck . Lighting design: D. M. Wood . Sound design: Victoria Deiorio  Technical director: Kevin Dunckel . Stage manager: Paul Mills Holmes, assisted by Ryan Kane . Production stage manager: Deb Acquavella . Produced by the Contemporary American Theater Festival . Reviewed by Tim Treanor.