Franz Kafka and musical theatre might not automatically go together in the minds of most theatre-goers. But Fringe festivals often showcase such juxtapositions and thus we have the musical tale based on Kafka's masterwork from 1915, Metamorphosis, playing this weekend at Capital Fringe.
If you like shows in the Bloody, Bloody Andrew Jackson-vein, or post-modern vibe with tongue held firmly in cheek, Kafka's Metamorphosis: The Musical might be up your alley.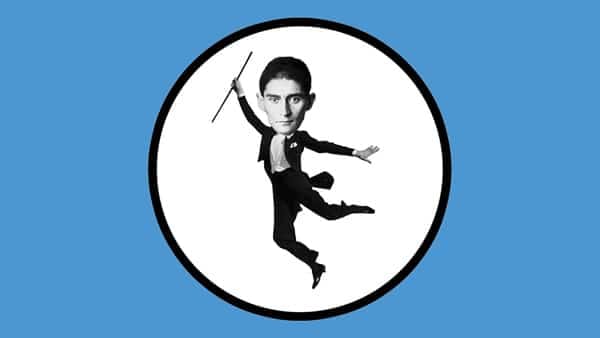 Featuring some engaging music and lyrics by Matt Chiorini, this chamber musical condenses and stylizes the dark tale of a man's slow transformation into an insect with Brechtian style by way of Avenue Q. Yes, that means there are puppets involved! Truly something for everyone can be found in this small cast tuner with intricate harmonies and witty lyrics. (But I won't spoil the fun of finding out how puppets are used, you really have to see it to believe it.)
The effect of the creative use of the puppets is coupled with an intense but playful rendering of the story of Gregor Samsa, the protagonist who awakens to find himself changed into a "monstrous vermin." Samsa is portrayed with skill and even a winking charm by Jack Rento, who uses his flexible, slight frame to great advantage showing the horrific physical changes Gregor must endure. With contorted posture and a symphony of movement, akin to Merrick in The Elephant Man, Rento conveys the torture; his strong tenor voice is also at home with the edgy songs.
[adsanity_rotating align="aligncenter" time="10″ group_id="1455″ /]
Rento is ably supported by author Matt Chiorini who also doubles as Gregor's father, and strums the guitar throughout the show. Meghan Lees lends her strong vocal presence to the role of Gregor's mother, and Morgan Smith makes an equally strong impression as Grete, Gregor's sister. The family members must face the strange, new reality of Gregor's insect status and the cast all handle the challenges of the stylized presentation and the complex harmonies with skill.
---

Kafka's Metamorphosis: The Musical closes July 14, 2019 Details and tickets
---
The only caveat I have with this intimate musical is the acoustics of the Christ Church basement made for some muddy diction while the performers were not using microphones. The challenging acoustics caused some of the witty lyrics to be unclear, but did not diminish the strong performances of the piece as a whole.
---
Kafka's Metamorphosis . Music, lyrics, and book by Matt Chiorini . Additional music, lyrics, and Orchestrations by Travis Newton . Cast: Jack Rento, Morgan Smith, Matt Chiorini, Meghan Lees . Music Director/Keyboards: Greg Giovanni . Designer/run crew: Brittany Schafer . Technical Director: John Czajkowski . Produced by the 2019 Capital Fringe Festival . Reviewed by Jeff Walker.