Eighteen years ago, a Texas energy company's deceptive accounting practices finally caught up with them, their inflated stock value plummeted, billions of dollars evaporated, employees' retirement savings obliterated, lives were ruined. The Enron collapse was the leading headline for most of 2001, pretty much right up to September 11th.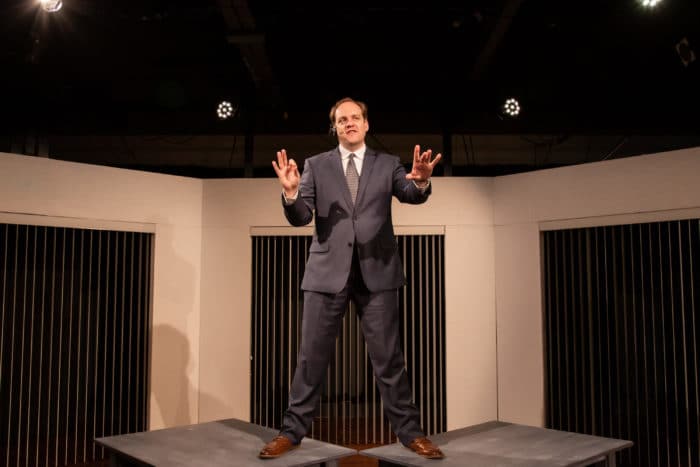 The almost perfect storm of greed and corruption inspired Lucy Prebble's script that draws from epic Greek theatre and even The Producers. It's a theatrical tour de force, with Andy Fastow's shell companies he dubs 'raptors' represented by actual raptors. It's also a very human story, of greed, hubris, aspirations, trust, betrayal, love, sex and death. Initially a London hit, it infamously stiffed on Broadway. Perhaps it was too soon, too close to the bone.
Of course the script takes liberties with reality in the name of storytelling. Was Founder Ken Lay truly this willfully ignorant about CEO Jeffrey Skilling and CFO Andy Fastow's creative accounting? Was Fastow an obsequious and obviously toadying suckup? And, well, for want of an actual female Enron executive to serve as a foil and rival to Skilling and Fastow, Prebble had to create one.
[adsanity_rotating align="aligncenter" time="10″ group_id="1455″ /]
4615 Theatre Company, in their third season, pull off a damn near astonishing feat bringing this challenging, layered, complex tale to life. Gleefully inventive staging and powerhouse performances bring out the humor and pathos underneath the quintessentially American tragedy. Along with their talent, what really sells this production is the unbridled joy and passionate commitment the cast brings. It's as tight an ensemble as I've ever seen.
Director Jordan Friend, 4615's Artistic Director, keeps the action flowing, incorporating the numerous technical elements (music, sound, multimedia) seamlessly with the human elements. His vision is ingenious and inventive throughout. It's an especially impressive accomplishment. Based on this and his work helming last year's Macbeth, in which the technical and directorial elements elevated an ensemble of variable quality, he's establishing himself one of the area's leading directors.
---

Enron closes September 1, 2019. Details and tickets
---
Here he has no need to compensate, as he has a top-rank ensemble. Andrew Scott Zimmer delivers a brilliant performance as Jeffrey Skilling, capturing his hubristic rise, and his increasing desperation as his web of deception grows too complex for him to control. Jittery Charlie Cook is his equal as Andrew Fastow, and the two have an almost Bialystock-and-Bloomish quality as they invent new ways to conceal increasing debt. Nick Torres' Ken Lay comes across as a blustering buffoon, but maintains a sharp edge. Amanda Forstrom's Claudia Row is a cool shark swimming through a male-dominated industry, perceptive enough to see through Skilling's shell game.
The rest of the ensemble all make significant impacts, either individually (Danielle Gallo as Skilling's daughter, Michael Crowley's security guard and Sue Streuve as two of the thousands of Enron employees who lost their entire savings) or collectively (Jon Jon Johnson, Ezra Tozian and Rachael Manteuffel's raptors versus the team of traders whose sharkiness isn't as literal). The entire cast delivers admirable work.
I might've come across as a bit patronizing in my previous review. For Macbeth I referred to 4615 as 'kids' hitting above their weight. Enron pretty much clinches it; they've got the goods. A talented cast, a director with vision, a meaty and relevant script, check, check, and check. I rate them a strong buy.
(Next week: how does 4615 handle Pinter's Betrayal? Stay tuned.)
—–
Enron by Lucy Prebble, directed by Jordan Friend. Cast: Andrew Scott Zimmer, Amanda Forstrom, Nick Torres, Charlie Cook, Michael Crowley, Olivia Haller, Jon Jon Johnson, Ezra Tozian, Rachel Manteuffel, Erik Harrison, Joshua Simon, Sue Strueve, Danielle Gallo. Costume Design: Benjamin Weigel. Scenic Design: Kathryn Kawecki. Lighting Design: Jon Medley. Sound Design: Jordan Friend. Intimacy/Fight Choreography: Jonathan Ezra Rubin. Multimedia Design: Andrew Scott Zimmer. Assistant SM: Madeline Sperber-Whyte. Stage Manager: Abigail Wasserman. Produced by 4615 Theatre Company. Review by John Geoffrion