"It's so good and so timely, I couldn't let go of it. I knew if I didn't mount it right after the Fringe experience, the danger of not coming back to it would have been very real. So it was now or never."
That was Karin Rosnizeck, a well known D.C. area actor, talking about Surfacing: An Inventory of Helplessness, which she has translated, directed and chosen to open her own company, ExPats Theatre. It will run Sept. 12-29 at the Atlas Performing Arts Center.
A graduate of the Honors Conservatory of the Theatre Lab in Washington, D.C., and a familiar actress on many stages in the area, her list of performances is long including these adventurous roles for companies such as IN Series (Marlene Dietrich, Cabaret & Kabarett), Factory 449 (Nanni, The Ice Child), Washington Shakespeare Company/ Avant Bard (Countess Geschwitz, The Gnädiges Fräulein.) Also a translator, last year she adapted a play by Russian/Austrian Julya Rabinowich from German to English called Surfacing: An Inventory of Helplessness, and it was a critical darling at the Fringe Festival.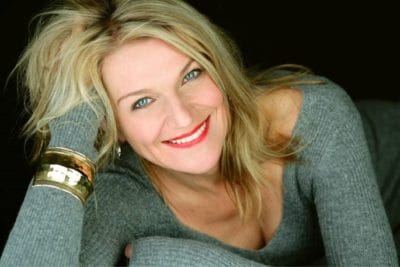 That got her thinking. What if there was a place where plays like this could be performed in the D.C. region? Rosnizeck decided to start her own theater company, and set in plan a motion to open the ExPats Theatre, devoted to connecting people across cultures through theatre and the performing arts.
"The theater and production are closely intertwined," she says. "When I took a directing class last winter, I had an assignment to do my final scene and I picked the play, which I had already translated for a reading two years before. I really liked it and the topic, so when I wanted to produce it for the [2019] Fringe Festival, I also had to come up with the production company."
At the time, she was reading a lot of literature by artists in exile, and came across a lot about groups of ex-patriots in different cities such as Paris, London and Berlin. And though she never had to flee her country, German-born Rosnizeck understood the situation of being somewhere else and the importance of bringing parts of your own culture to your new country.
"The fact that you are constantly between these two cultures and you don't belong to any of those anymore," she says. "It's also a metaphorical term and it would also be true for me if I was in Germany now because I came here in 2007."
The theater will showcase work by international writers, something she felt was lacking in the U.S.
---
Surfacing runs September 11 – 29, 2019 at Atlas Performing Arts Center. Details and tickets
---
"I've worked for 10 years in international relations at the U.S. Consult in Munich, and I studied English and French literature, so these things were really important to me and big influences for me," Rosnizeck says. "When I came here, I felt a lot of plays from Germany or other European countries had not been translated, especially if the playwright was not established."
Today, she says, there's an unprecedented number of refugees in Europe, causing controversial reactions, and that means the same thing she is seeing here—scapegoating of the immigrants and a toxic narrative. Which brings us to her debut production.
"The play raises consciousness and gives a voice to the anonymous masses of undocumented, disenfranchised, underrepresented migrants to Western Europe," she says. "It puts the dominant toxic narrative of the refugee crisis of migrants as the root for economic and social problems into question."
Surfacing follows three people who live in captivity.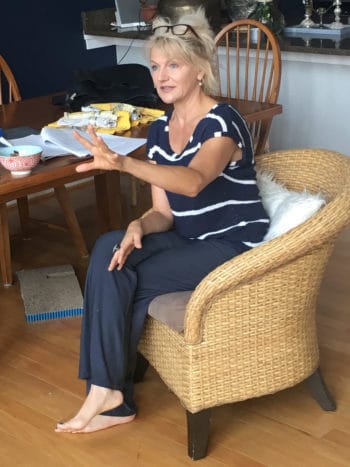 Karin Rosnizeck directing Surfacing, June 2019.There's a female refugee hiding underground over fear of deportation; a woman who was kidnapped trapped in her perpetrator's basement; and a young man imprisoned in his own home due to the threat of blood revenge against his family. The show stars Nichole Chimere, Christine Jacobs and Greg Ongao as the trio of captives.
The story explores each character's mental states, survival strategy and the way the mind works through cycles of hope, fear, anger and desperation.
Rosnizeck's original version ran around 35 minutes, but she added new dialogue and a dance element choreographed by Rebollar Dance's Erica Rebollar, bringing the running time closer to an hour.
"At Fringe, I had a choreographer and we added some movement, but now it's more elaborated," she says. "Each of the three actors will have a solo moment at a modern dance piece to express their mind and trauma. I always felt the element of dance was so honest and important in theater because it goes so much beyond the words. In this play, so much of that trauma translates into body movement or ticks or mechanisms of denial, and that comes out in dance."
As for the ExPats Theatre's future once Surfacing closes, the one thing Rosnizeck knows for sure is that it will not exclude anyone, so there is no "for expats only" hard rule.
"Rather, I want to point out that in today's global, post-national world, mobility and deterritorialization, the migration experience, the transnational existence, and living between cultures have become a social and cultural norm," she says. "People are more and more 'transnational,' but we don't have a language for that yet."