The Washington Stage Guild, renowned for its delightful stagings of "house playwright" George Bernard Shaw, kicks off its 2019-20 season with one of his earliest comedies, Candida, directed by Laura Giannarelli, Sept. 26 through Oct. 20.
Married couple Emelie Faith Thompson and Nathan Whitmer, take on the roles of wife and husband Candida and Reverend Morell.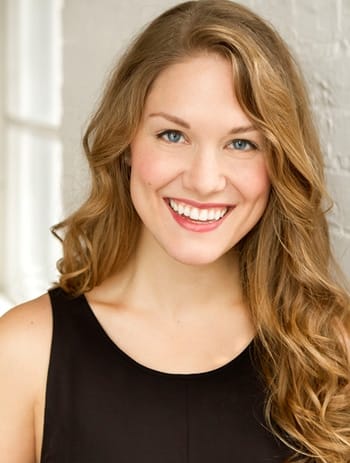 The comedy involves a love triangle between the couple and youthful poet, Eugene Marchbanks, who tries to win Candida's affections.
"The play is about marriage; the communication and trust, and what we fear in our marriage and what happens when something comes in and disrupts the status quo, and what we believe about our partner," Whitmer says.
Both were interested in the roles not only because they would be working together, but because it was a piece they both consider wonderful theater.
"There's not a lot of Shaw produced and it's a pretty unusual Shaw, that hasn't been done in the D.C. area for a long time," Thompson says. "We may never have an opportunity to do this text again."
"Sometimes you have to jump at a chance before you age out of a role, and who knows when we're going to be in a place where someone else is putting on a play like this," Whitmer adds. "I think we also both knew when we auditioned that this might be an opportunity for us to work together. But even if we weren't cast opposite each other, this play is unique and challenging and it's a language-driven play that I really enjoy."
The love story of Whitmer and Thompson began in the theater, when the two met in 2009 while members of a six-person acting company at the Barter Theatre in Abingdon, Va., working a 15-month contract, performing different shows at the theater and on tour.
"It was pretty intense, and we were seeing each other 15 hours every waking hour, every day for a long time," Whitmer says.
[adsanity_rotating align="aligncenter" time="10″ group_id="1455″ /]
And though they audition for many of the same shows since and wish they could do more productions together, it just hasn't worked out that way.
"We'd love it to be our thing, but this is our first time working together in six years," Thompson says. "We sort of gave up hope that it was going to work out again."
Besides the ease of being able to go to rehearsals and performances together every day, working together allows them to improve their craft and both feel it adds to their roles.
"We speak the same language as actors. We know each other's work incredibly well, and it's not just because we are married, but because we had that long 15-months of cutting our teeth, where we learned how to act together," Whitmer says. "Part of the challenge when you start work with new people is it takes some time to get to know each other and how things work, but we already know that and trust each other."
Thompson adds that it really "set the groundwork" on how they approach their process and their work on the stage.
"Just with a look, we know what's going on, whether the other is struggling or if the other is doing well, and that puts us a little further down in the process," she says. "It helps with our vulnerability as actors, which is also really important. If in rehearsal I want to try something that's a really high risk, I am comfortable in doing that."
Thompson played Thea in last spring's hit Resolving Hedda. This is Whitmer's first show for The Washington Stage Guild.
---
Candida runs September 26-October 20 at the Undercroft Theatre. Details and tickets
---
"I had done a reading with them, just a one-night thing, so it was nice to meet everyone, but I got to know a bunch of people while Emelie was working there, which was nice," Whitmer says. "They are so friendly and a wonderful group of artists, so I'm excited to get an opportunity to work with them. These are people I wanted to be in the room with."
The play does creep into their home life a bit, so they probably talk about their characters more than other actors working together would. When commuting to rehearsal, they often talk about choices and they may go over things sitting in their living room.
But the couple has a 2-year-old daughter and this is the first time since she was born that they both have been in a show at the same time, so that has helped keep Candida from overtaking their lives completely.
"Actors are always working in other ways as well, so there's enough other stuff to occupy our time," Whitmer says. "We are each other's acting coaches and each other's audition partners, so sometimes between rehearsals and commuting, there's not much time left for us to do anything but catch a half hour of TV and fall asleep."