— This season, audiences have the chance to see plays about the African-American experience, written both by a new generation of writers and distinguished playwrights from the 20th century, on numerous stages. Invariably, the audiences are often predominantly white.
One man had a grander vision, and for a time here in Washington, DC that vision was a reality. Last year, speaking to the Washington Post, 81 year old Robert Hooks, touched briefly on the rise and demise of his company, the DC Black Repertory Company. Thanks to historian Blair A. Ruble, we bring you a deeper look at the man and his company, which begins when a DC mayor made the extraordinary request of an artist to come home to DC to start a theatre company. —
After the assassination of the Reverend Dr. Martin Luther King Jr. in 1968, Washington's presidentially appointed mayor-commissioner, Walter Washington—who later would become the city's first elected home rule mayor—reached out to Robert Hooks to see if he might come back to help the city find ways to connect with homegrown artistic talent. A Washington native, Hooks was the son of a blue-collar family living in the city's then-plebeian Foggy Bottom neighborhood. His father died working on the railroad when he was two; his mom kept the family going as a seamstress, sewing at every available moment. Hooks was immediately taken with the Mayor's idea, especially when he began to consider the extraordinary talent the city had to offer.
Hooks was already established in New York, where he had joined with Douglas Turner Ward and Gerald S. Krone to found the Negro Ensemble Company (NEC) in 1967. Hooks made his Broadway debut in 1960, in Tiger, Tiger Burning Bright; had replaced Louis Gossett Jr. in the Broadway production of A Raisin in the Sun; had replaced Billy Dee Williams in A Taste of Honey; and had filled in after James Earl Jones left Jean Genet's The Blacks. He originated the role of Clay in Amiri Baraka's The Dutchman in 1964.
As Hooks recalled the story, he "was doing Dutchman at the Cherry Lane Theatre downtown and I was living in Chelsea at the time. And one Monday night, which is the actor's night off, I was asked to come and speak at the Hudson Guild in Chelsea about Blacks in the Theater and the various problems they were having to face. The talk was well received and afterwards the kids came up to ask all sorts of questions. Now I lived right across the street and knew most of these young people. So I said, 'If you're really and truly interested in theatre, come over to my house. I'm off on Monday nights.'"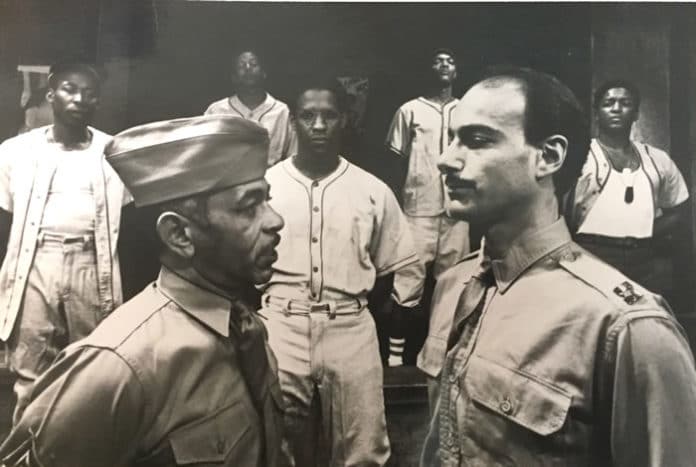 These Monday night mentoring sessions grew to sixty or more people, causing alarm among his neighbors who did not understand why so many young black men and women were showing up in their building. Hooks started the "Group Theatre Workshop" in his living room, even knocking out a wall to build a theater.
"I'm stone broke and I turn down jobs because I know what's more important. We've got to have black theater in this country and especially in this city. – Robert Hooks, 1972"
His efforts to support student actors led to his eviction, so he moved to a loft and expanded the workshop. Along the way, he joined forces with Ward, hired Krone, and, before long, launched NEC. Hooks told reporters as his career simultaneously took off that his success only advanced from his helping others. "The kids have taught me so much," he told the New York Amsterdam News on his twenty-ninth birthday. "They've given me insights into myself as a person, as an actor, and as a Negro Actor."
At the turn of the 1970s, Hooks returned to Washington to establish the DC Black Repertory Company (DCBRC). By 1973, with city help, the DCBRC secured "the Colony Theater" which had stopped showing movies. Changing the name to "the Last Colony" (a name for the city used by home rule advocates), the DCBRC settled into its new home at Georgia Avenue and Farragut Streets NW at the northern edge of Petworth, a predominantly black, blue-collar neighborhood at the time.
"It was just a gorgeous facility, and we had some fantastic people working with us: Debbie Allen, Glenda Dickerson and, of course, Peggy Cooper [Cafritz] and Clifford Alexander and people like that were on board," Hooks told Roxanne Roberts of the Washington Post.
In founding the DCBRC, Hooks brought together a senior artistic staff, including Artistic Director Motojicho (Vantile Whitfield), Vocal Director Bernice Reagon, and Choreographers Louis Johnson and Mike Malone. All had deep DC roots. Motojicho graduated from Dunbar High and Howard University before heading to Hollywood. Reagon moved to the city after graduating from Spelman College in Atlanta to pursue a PhD at Howard. She would become a fixture at the Smithsonian Institution. Malone, who had come to Washington to earn a degree in French at Georgetown University, had tap danced for Josephine Baker while studying at the Sorbonne. Johnson captured the attention of his teachers in the DC Public Schools while growing up in the U Street neighborhood. Encouraged by his early mentors, he headed off to the New York City School of American Ballet, where he studied with Jerome Robbins and George Balanchine. A Kennedy Center program from June 16, 1973, described the DCBRC as "developing a Black theater company that is a powerful and vital statement to the Black community; an outlet capable of imparting meaningful ideas."
From the very beginning, Hooks acknowledged that discovering and presenting works that would speak to African American audiences posed a prime challenge. Hooks felt that blacks had not embraced theatergoing as a primary leisure activity because the American repertoire did not speak to them. He believed that a vigorous program of workshops for youth would attract new audiences for his main stage productions. At the age of thirty-four, when the DCBRC opened, Hooks evinced a mixture of youthful energy and mature realism. Hopes ran high.
The company's first full professional production in their new home—Evan Walker's Coda—tackled the explosive issue of the day as it traced the return of Lonnie Duncan from service in Vietnam. The son of a successful middle-class family in Harlem, Duncan had been slated to enter law school before his military service and was to have joined his father's legal practice. Instead, the enraged Lonnie joins the black liberation movement.
Opening night was a social event, "with a first-night crowd dressed in everything from black ties to dashikis." Among the audience were  Kennedy Center Board chair Roger L. Stevens, Norman Feigan of the National Council of Arts, Congressman Ron Dellums, the actor Yaphet Kotto, and former Miss Black America Stephanie Clark.
The company's second full-length production at the Last Colony featured Bernice Reagon's musical pageant Upon This Rock, presenting the company's acting and dance wings. Divided into two sections, the first featured song and the second included the local premiere of Louis Johnson's No Outlet and a performance of Mike Malone's earlier work, Spirit. The show was held together loosely by a shared narrative in a "folk-mythic mode." The image of the rock carried through in the set design. Reagon's singing unit would develop into the highly successful Sweet Honey in the Rock a capella group.
The DCBRC continued to evolve, participating in community-oriented events, expanding its training programs, and offering a variety of smaller new works. Washington increasingly gained a reputation as a center for black theater as other companies and funding agencies responded to the company's initial success. As the Christmas season settled over the city in 1972, Robert Hooks was on a mission. "I'm stone broke," he told Washington Post theater critic Richard L. Coe, "and I turn down jobs because I know what's more important. We've got to have black theater in this country and especially in this city."
DCBRC began its second season with enthusiasm and hope. As Baltimore Afro-American critic Charles Farrow observed, "Something great still happens when you attend a performance at the DC Black Repertory Theatre for the very first time. People come away positively unglued at the intensity of the blackness of the production and the sight and sounds of so many black people grooving to the same vibrations."
But within a few weeks, despair replaced euphoria. Grant renewals failed to materialize, and revenue fell short of expenses. DCBRC was hardly alone among local and national arts organizations in needing money. Hooks launched his company just as arts funding everywhere began to tighten. Federal largess after the end of the booming Lyndon Johnson years began a long, torturous contraction, while foundations similarly started to lose interest in the arts.
Hooks managed one more significant production during the 1974–75 theatrical season, an adaptation of Owen's Song celebrating the writing of Howard University's Owen Dodson. Dodson had joined the Howard University faculty in 1940 and remained a prominent fixture on the Washington African American cultural scene for the next three decades. The Brooklyn-raised, Yale-educated poet and theater director served as chair of Howard's Drama Department while simultaneously writing and directing plays around the country. In doing so, he animated a department that trained some of late-twentieth-century African America's brightest theater, dance, and movie stars.
Mike Malone, who had worked with Dodson at Howard, joined with fabled Howard choreographer Glenda Dickerson to produce a work bringing Dodson's poetry and writings to life on the stage. Again and again, they discovered a common theme running through Dodson's work, that of "climbing a powerful long ladder to catch the bird of freedom." They drew on this image to suggest "a young man's fleeting vision of freedom as a lovely swan, who will disappear and reappear through life's turmoils and temptations." Owen's Dream enjoyed a two-week run at the Kennedy Center's Eisenhower Theater in early 1975 with the same cast and creative team as at the Last Colony, but without the DCBRC affiliation. Hooks bet instead on mustering the company's resources on other works at the Last Colony. In June 1976, the company relocated a mile closer to downtown on Georgia Avenue in a cost-saving effort. But in December 1976, the DCBRC shut its doors.
The story of the company's demise, in fact, is more complex than a linear narrative of rise, success, and fall. In December 1976, the DC Black Repertory Company closed as a professional "Equity" house. The voice and dance units already had attained autonomous lives of their own. In shutting down, the Board was careful to transfer the workshops and training divisions to a "nonprofessional assembly." Thus, DCBRC did not evaporate in a single instance. The company spawned a number of astounding progenies across its sparkling yet brief lifetime. Its demise nonetheless left one of the nation's most vibrant centers of African American culture without a fully professional black theater company.
Olive Barnes caught the tenor of the company in a November 1974 review of Owen's Song for the New York Times. Barnes lavished praise on the production, which she described as "beautiful" and "a "kind of pictogram for freedom." She continued: "There is an infectious joyousness to the piece, a visual beauty adds a swiftly poetic message. . . . This is a seamless masque and it is quite impossible to see where choreography starts or drama ends. It has the essence of poetry to it, with a grandeur of concept and a simplicity of effort. It has a style of its own, and trades in images. It is an unusually pregnant piece of theater, subtly suggestive of future possibilities, perhaps of some concept of the dance/music/poem staged with theatrical grace."
Earlier in her review, Barnes observed, "As the black theater finds itself, it is moving farther and farther from the white theatre. The Black Repertory has opened its season with a striking musical and dramatic collage called 'Owen's Song,' and its content, style, manner, impact and intention have virtually nothing to do with white theater. There are similarities—both Frederic Chopin and Jelly Roll Morton played much the same piano—but it is the differences that count."
---
Productions of interest:
Day of Absence by Douglas Turner Ward
Fairview by Jackie Sibblies Drury
Fences by August Wilson
Jitney by August Wilson
Radio Golf by August Wilson
School Girls: or, The African Mean Girls Play by Jocelyn Bioh
Thoughts of a Colored Man by Keenan Scott II
Veils by Steven A. Butler, Jr. and Courtney Baker-Oliver
The author is presently working on a book examining race and theater in Washington : PERFORMING EXCLUSION: PRIDE CONFRONTS PREJUDICE ON THE WASHINGTON STAGE. We are grateful for his permission to post this excerpt.
This article is part of our series: Roots: History of Washington DC Theatre