Ruminations about love and passion abound in George Bernard Shaw's Candida.  Written and first performed in a past century (1898), questions of what makes a successful marriage feel right at home today with top notched actors exploring the witty interchanges in the context of Victorian propriety.
It's telling that the title character is one of the last ones to emerge on stage.  Candida's husband, Morrell, is an earnest Christian Socialist minister working on a sermon with his secretary. When Candida bustles in from a London trip, she oversees his affairs and listens tactfully to the ongoing philosophical discourse between him and her industrialist father while settling into practical household matters.  The final character to enter is a young admiring poet whom she befriended who spouts lofty notions of love and impassioned pleas for ardent expressions of desire.  Soon, the traditional household's preconceptions of service and duty start popping like a too-tight corset.
The trio of featured characters, Candida (Emelie Faith Thompson), Reverend James Mavo Morell (Nathan Whitmer) and the bumbling anxious  Eugene Marchbanks (Ben Ribler) are the cornerstone of the piece. Thompson is a marvel as Candida from her first entrance in charge, efficiently managing the home decisions with an underlying twinkle in her eye, hinting at possibilities of perhaps a bit of mischief if provoked.  Whitmer's Reverend has a strong upright bearing, and is focused on his writing, sermons, decorum and propriety. His stiff manner seems insurmountable until he slowly wonders if his wife's affections could indeed be questioned.  Ribler's Eugene Marchbanks enters as a fumbling upstart poet who is captivated by the fantasy that his artistry could release Candida from the confining, stifling, doldrum life with the Reverend.  Marchbanks grows more and more convinced that her expressed fondness for him can escalate into love and Ribler's metamorphosis as Marchbanks beams and even struts with newfound confidence is a hoot.
Danielle Scott and Danny Beason play the secretary Miss Proserpine Garnett and a fellow colleague Reverend Alexander (Lexy) Mill with intriguingly possible (though typically understated) love interests of their own.
David Bryan Jackson portrays the money-hungry leaning father, Burgess, with a seasoned assurance.
---

Candida closes October 20, 2019. Details and tickets
---
Burgess represents the business interests with bottom-line commerce preoccupations that clash with the social and intellectual inclinations – sound familiar?   Leave it to Shaw to illustrate the constant and ongoing tensions of love, social will and character.
Washington Stage Guild Company Member Laura Giannarelli directs the show with neat touches – for example the nuanced caress between the sparring couple at the end of Act 1 contrasts with the hilarious opening image for Act 2.  Giannarelli understands Shaw's style, sets up the moments and assures a balanced steady pacing through the verbiage and philosophical punches.
The full scale parlor by set designers Carl Gudenius and Jingwei Dai contains a sturdy centerpiece bookcase, comfortable seating across the set and an early model typewriter table for the secretary's clerical activities. Sound and lighting are handled astutely by resident designers Frank DiSalvo and Marianne Meadows.  Finally, Cheryl Yancey's costumes bring a sumptuous flair to all.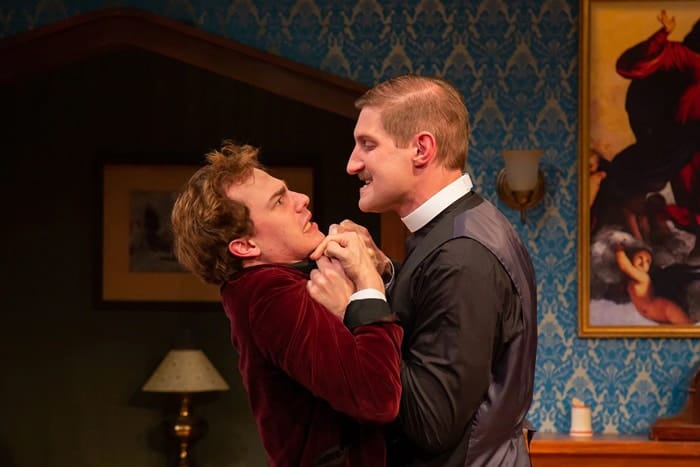 That, as we revealed in our earlier talk with them, Thompson and Whitmer are an actual married couple is an added bonus to watch.  The rather unusual script for Shaw delves into marriage, communication and trust using a young catalyst to shake up the stodgy traditional status quo. The two characters grappling with the layers of feelings that percolate up to the surface buckling the reserved, corseted up society, help to clarify the bonds of marriage even now.
[adsanity_rotating align="aligncenter" time="10″ group_id="1455″ /]
Shaw's Candida is on the cusp of the emerging modern woman, a plum role to showcase a character of gentle grace, wit, and a sense of irony.  Candida is presented with a choice of two men who profess to love her, and while she's still corseted to make the obvious pre-determined choice, her reasoning hints at self-determination and agency with solid self-assurance.  Peeking back at the early glimmers of such an expression of female empowerment is assuring, enlightening and remarkably satisfying.
---
Candida by George Bernard Shaw; Director: Laura Giannarelli; Cast:  Danny Beason, David Bryan Jackson, Ben Ribler, Danielle Scott, Emelie Faith Thompson, Nathan Whitmer . Scenic Design: Carl Gudenius and Jingwei Dai; Costumes: Cheryl Yancey; Lighting: Mariannne Meadows; Sound: Frank DiSlavo, Jr.; Stage Manager: Arthur Nordlie; Produced by Washington Stage Guild . Reviewed by Debbie Jackson.