Jane Austen's resilient and comedic novel "Pride and Prejudice" has survived high school English classes, stuffy college seminars, the musical stage, several film adaptations, and even a parody in which the Bennett sisters dispatch zombies while remaining the fine young ladies they were written to be.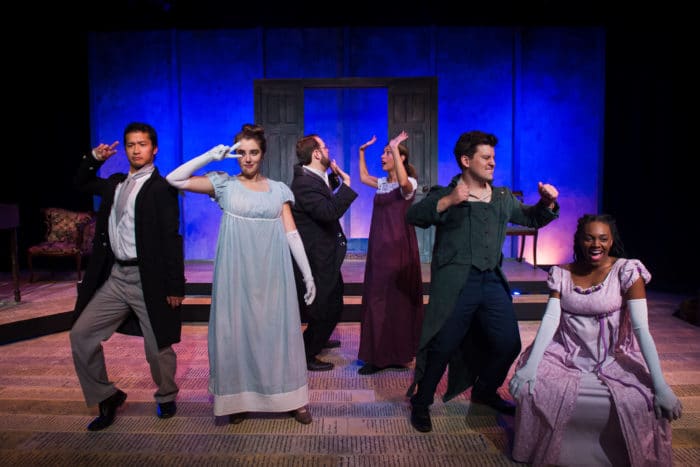 Now thanks to prolific playwright and actor Kate Hamill, the Bennett girls are back, they are onstage but this time there are no zombies in sight. (Thankfully!). Also absent is the dust of a 206-year old novel and an exact verbatim transfer to the stage, of which I am also appreciative. Not to take anything away from Austen's popular, romantic novel, Hamill's Pride and Prejudice is a slightly irreverent, sometimes rollicking, and ultimately earnest stage adaptation that revels in the Regency Period style and focuses on the marital fortunes of Elizabeth Bennett and her three sisters. (Keen observers and fans of the novel will notice Kitty is not among the siblings here.)
Although seen on other regional stages in recent years, this is my first encounter with Hamill's adaptation of Pride and Prejudice. What I found was a comically charming (in all the right places) condensation of the book. As it is written, this two-hour trifle has a giddy sense of chaos, while attempting to maintain the upper crust veneer of British society types vying for social position and attempting to secure lucrative marriages for all the eligible daughters.
---

Pride and Prejudice closes October 27, 2019. Details and tickets
---
Director Megan Behm certainly kept the actors crackling along at a rapid pace, and the uniformly solid cast brought out the nuances of the period style, even when they got caught up in the Monty Python-esque conventions of gender switching for both straight and comic effect – but more on that later.
If you have not picked up the book or seen one of the many filmed versions in recent years, you will get the gist of Austen's plot soon enough: Old Mr. Bennett could die at any time and if he does, his wife and daughters would be destitute, having no male heir. That is unless one (or more) of the daughters marries well. The two eldest daughters, Jane and Elizabeth, have the most options for being wooed and wed and saving the honor and fortunes of the Bennetts. Third daughter Mary is plain and rather surly, and the youngest, Lydia, is too young to marry, in spite of her flirtatious and capricious nature.
I am certain there are many details missing from the novel noticeable to scholars, but I commend Hamill for giving the story a strong focus on the top tier plot points, driven by Jane's courtship with the super eligible (and well-heeled) Mr. Bingley, and Elizabeth – here nicknamed Lizzie – and her eventful relationship with the prideful Mr. Darcy, the archetypal romantic hero.
Playing their central roles as grounded characters inhabiting the theatrically translated world of Austen's story were Katelyn Manfre and Jacob Yeh as Lizzie and Mr. Darcy. Well-matched in wit and independence, these characters are what the title is all about. When Elizabeth can overcome her first impressions of Darcy, and he can overcome his lack of subtlety and social grace, they can become a pair – but not before they move apart quite memorably. Manfre nails down Lizzie's intellectual streak, her sharp wit, and the firmness of her convictions. The actress also is deliciously expressive when she gazes at Yeh as Darcy, with her face betraying true feelings even when Lizzie's tongue is wagging against him. Manfre is well-matched by Yeh as Darcy, although he downplays the boldness and veers more gentlemanly for most of his scenes. By the time the two confront each other and see through their differences, Yeh's connection to Manfre is completely believable.
Playwright and actor Hamill may have written herself a juicy role in Lizzie – she originated the role herself – she also provided the other actors with a showcase for entertaining character roles; other than Manfre and Yeh, the other performers play at least two roles, often in stark and clever contrast with the other. Alyssa Sanders strikes a stuffy and detached figure as patriarch, Mr. Bennett, while taking on the somewhat mousy persona of Charlotte Lucas, Lizzie's best friend.
Renea Brown makes for a lovely and refined Jane Bennett, the object of so many suitors, as well as the de Bourgh's sole heiress.
Providing more comical turns than the other cast members, Ben Lauer is a suitable suitor when playing Mr. Bingley, but practically steals the show when, with furrowed brow and exasperated outbursts, he dons the pinafore and sullen poses of Mary Bennett. Also taking both male and female characters on to great effect is Matthew Shea. From the soft-spoken clergyman Mr. Collins, to the smooth-talking gentleman soldier Wickham, Shea does a fine job. But you need to see this actor – who sports a full beard –  while he flirts with Mr. Darcy as Miss Bingley, lesson in comic looks and timing.
Also pulling double-duty with impeccable skill is Angeleaza Anderson who is a flirtatious flibbertigibbet as the youngest Bennett sister Lydia, and an imperious riot as the formidable Lady Catherine de Bourgh. And saving the day on short notice due to the indisposition of the original actress, Rebecca Speas reveled in playing Mrs. Bennett as the Mama Rose of Regency England, working hard to marry her daughters off for the most lucrative deal they (or she) can get, as well as an assortment of servants, male and female.
[adsanity_rotating align="aligncenter" time="10″ group_id="1455″ /]
Switching roles with quick changes and suggested costumes works beautifully in the highly paced, kinetic staging by director Behm. The whole evening kicks off with the actors coming out and mingling with each other in character while they lure members of the audience into a game of blind man's buff which sets the mood for both the 18th Century and the frolicsome nature of the adaptation. This theme is carried over to other scenes where characters overlap their dialogue and it is sometimes difficult to know where to focus. The chaotic style at work onstage had its appeal and was mostly amusing. But, I would say, it was rarely laugh-out-loud funny, at least to me and most of the appreciative, opening night audience. (One young lady who sat behind me laughed enough for the entire audience.)
This is a minor quibble for an otherwise lively and tightly constructed adaptation of a literary classic. The performances were uniformly strong and the entire cast was bonded within the effervescent world onstage, all sharing the sense of playfulness and imagination that firmly held the show together.
---
Pride and Prejudice by Kate Hamill . Adapted from the novel by Jane Austen . Directed by Megan Behm . Featuring:  Katelyn Manfre, Jacob Yeh, Alyssa Sanders, Renea Brown, Angeleaza Anderson, Rebecca Speas, Matthew Shea, and Ben Lauer . Set design Carrie Cox . Costume design Judith Harmon . Lighting design Katie McCreary . Sound design Kevin Alexander . Stage manager Eileen Goodrich . Produced by NextStop Theatre Company . Reviewed by Jeff Walker.