How shocked must Jimmy Buffett have been when "Margaritaville," his ode to heartbreak and mid-grade alcoholism, became not just a breakout 1977 hit but a potent lifestyle brand? It's about wasting away, not chillaxing, yet his parrothead followers apparently longed to be that lonely flip-flopped loser on the beach.
Or did they? Maybe what they really longed for was just a little sunny solitude, this island sad sack the persona to which they could transfer their blizzard-battered nine-to-five-frazzled Robinson Crusoe-with-a-tiki-bar dreams. Buffett's fans aren't beach bums. They're haggard IT and finance types in Massachusetts and Atlanta who like to occasionally exchange their stress-sweat-soaked white collars for loud Hawaiian prints and ridiculous headgear.
And that's fitting. After all, Buffett himself has a dirty little secret: He's a workaholic too. He's issued more than 50 albums, tirelessly toured, written fiction and nonfiction best sellers, made film and TV cameos, and branded a satellite radio channel, restaurants, bars, sports and video-game tie-ins, plus his Landshark Lager. He's in a joint venture constructing an entire Daytona Beach retirement village. All this to the lilting tropical tune of a half-billion dollars' net worth. He's come a long way from busking for tourists in New Orleans. Next thing you know the National Enquirer will reveal that he's been a teetotaler and AA sponsor for 50 years too.
Thus it is that Buffett's second Broadway musical — his first was, of all things, an unlikely, short-lived late 90s collaboration with the novelist Herman Wouk — plays to his ardent fans' escapist dreams. Lest there be any confusion, the concept is the first word of the title: Escape to Margaritaville, even though the original Margaritaville seemed more like a place to escape from than to.
[adsanity_rotating align="aligncenter" time="10″ group_id="1455″ /]
This 2017 concoction is an untaxing, amiable amble of a show, wrapping a few signature "Gulf and Western" style hits into new musical material and a moderately punchy sitcommish book by TV veterans Greg Garcia and Mike O'Malley. The tunes, in these three minute or less versions, never overstay their welcome, and there's nothing remotely threatening about the script's broadstroke romance and farce.
That was just fine with Thursday night's very white audience — the script even pokes fun at the ethnic skew of Buffett fans. They hummed along and happily shouted the words "screw!" and "salt!" at the appropriate moments in what amounts to a lounge singalong harmlessly disguised as a Broadway show.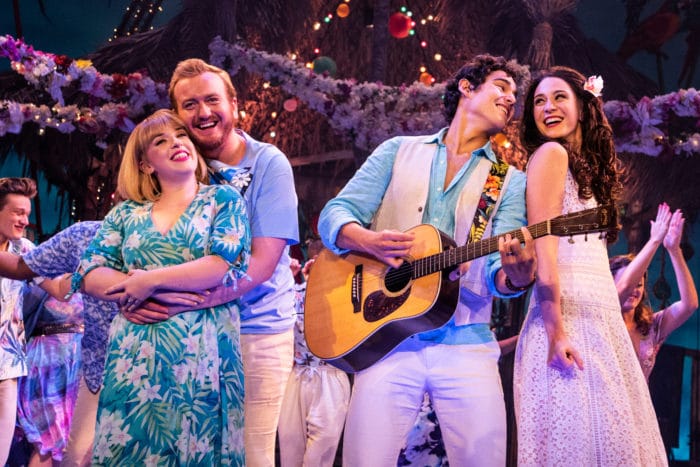 At a run-down Caribbean getaway, two women from Cincinnati, Rachel, an environmental scientist, and her pal Tammy, strike up vacation romance with Tully, a Buffett-like singer-songwriter and his bartender friend Brick. But is this just a sun-baked fever dream or will their attractions survive Rachel's quest to find a potato-based energy supply, Tammy's ill-advised engagement to a jerk named Chadd, and Tully's ambivalent efforts to turn his small-time gig into something more?
C'mon, you already know the answers to all those questions. But getting to the foreordained resolution is more fun than you might think. Just when you fear the show is sinking like a deck chair in high-tide-bathed sand, a volcano's eruption, a surreal tap number with an old-school costume effect, and some other little twists liven things up a bit in the second act.
---

Jimmy Buffett's Escape to Margaritaville closes October 13, 2019. Details and tickets
---
The cast is young — many are on their first national tour and have mostly regional credits to their bios — and they perform with the ebullience of newborn foals. Chris Clark as a toned Tully, often shirtless because why not, and Sarah Hinrichsen as Rachel, a love-starved romantic beneath that layer of professional northern frost, make a cute couple. You can picture them as homecoming royalty at their high schools not long ago. But their singing is sometimes forced and flat in pitch, a contagion that seeped into the ensemble numbers too, especially early on.
Musically and comedically, they are upstaged by their ostensible sidekicks, Peter Michael Jordan, the talented recent Boston Conservatory at Berklee grad who plays Brick, and Shelly Lynn Walsh as a brassy Tammy. Patrick Cogan is a fun J.D., an older beer-soaked Margaritaville regular with a mysterious past (one that makes very little chronological or historical sense as you learn more about him in the Jim Croce-esque song "He Went to Paris").
The onstage band, under the direction of keyboardist Andrew David Sotomayor, is perky and polished — especially its rhythmic heart, Taurus Lovely's drums and Russ Henry's steel drums and congas, with confident bursts from Jake Boldman's trumpet and quirky riffs from Emma Reinhart's reeds.
Escape to Margaritaville is a superficial snorkel, not a scuba-depth dramatic dive. But a little change in attitude and latitude won't do impeachment-frenzied D.C. any damage, and might even soothe its scarred civil-servant soul.
---
Escape to Margaritaville . Music and lyrics by Jimmy Buffett. Book by Greg Garcia and Mike O'Malley. Starring Chris Clark, Sarah Hinrichsen, Shelly Lynn Walsh, Peter Michael Jordan, Rachel Lyn Fobbs, Patrick Cogan, and Matthew James Sherrod. Based on the original direction by Christopher Ashley. Reviewed by Alexander C. Kafka