Newsies, the movie, established a cult following in 1992, with a pre-Dark Knight Christian Bale playing Jack Kelly, a 17-year-old newspaper hawker in New York City who leads the 1899 newsboys strike, protesting two of the country's most powerful men, Joseph Pulitzer and William Randolph Hearst.
Theater lovers came to appreciate Disney's story and music even more when Newsies hit Broadway in 2012 with a book by Harvey Fierstein, and a Tony Award-winning score by Alan Menken and lyrics by Jack Feldman.
Under the helm of director Molly Smith, Arena Stage is presenting the musical, which features fan favorite songs such as "Carrying the Banner," "King of New York" and "Seize the Day" from Nov. 1 through Dec. 22.
Joe Montoya takes on the role of Crutchie, Jack Kelly's best friend, who, though he needs a crutch to walk, doesn't let that define him as he becomes the heart of the resistance in leading the Newsies crusade.
A Los Angeles native, Montoya relocated to New York City to study acting at Pace University, graduating with a BFA in Music Theater.
"I was prepping for showcase when a friend of mine sent me an email that Arena was doing Newsies and he got me an appointment, so I was very excited," he says. "I love the passion of young people taking their opportunity. They are seizing their moment after recognizing they are being exploited. I think that really spoke to me."
Although he only saw certain clips from the film and had knowledge of the score, Montoya had never seen the full script so only knew the show's premise. He gravitated to Crutchie on first read.
"I love that he is ever so optimistic and he is seeking to defy people's expectations that he can't do as much as everyone else or can't be a part of the group," he says. "He is always the first to jump into a fight."
[adsanity_rotating align="aligncenter" time="10″ group_id="1455″ /]
A self-proclaimed "card-carrying homosexual Mexican-American," Montoya often seeks out roles that shine a spotlight on the LGBTQ+ experiences and people of color.
"My culture is who I am and gives me my lens on the world," he says. "I was raised in a bi-racial household and my older brother is half African-American, and we are a very multi-cultural place."
He's not afraid of pushing boundaries. Earlier this year at Pace University, Montoya played Eponine in Les Miserables, becoming the first-ever sanctioned male actor to interpret that iconic role.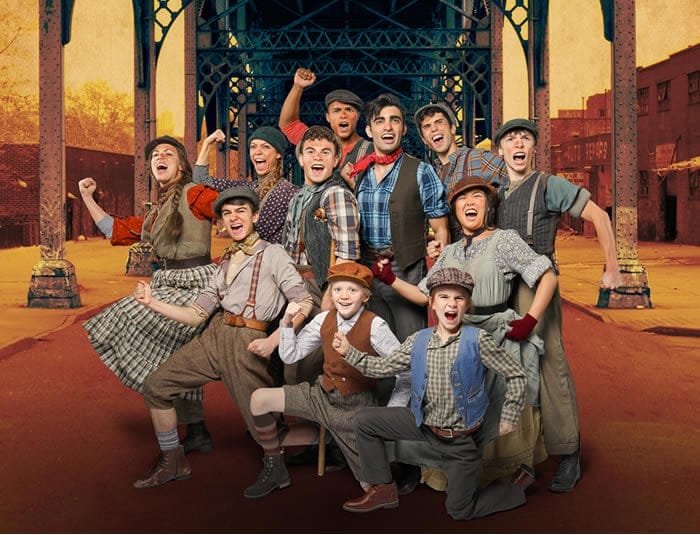 "It was an educational production, but still licensed. Our director, Zi Alikhan, wanted to bring Les Mis into 2019 and reflect the issues we're facing, which are immigrant crises and poverty and disparity between the classes. Why couldn't the students be mixed with women? Why couldn't factory workers be men? He wanted to change it up to reflect reality," he says. "That's all there in this show—young people are rising up to shape the world they want to live in. That seems to be the theme of the work I'm doing this year!"
He's also had the chance to re-contextualize mythic figures, playing Odysseus in Chris Rivera's Our Own Odyssey, a reimagining of Homer's Odyssey set in the Bronx telling the story of a teenage runaway.
"I love connecting with people, and I realized very early doing community theater as a child that this is what I wanted to do," Montoya says. "I fell in love with storytelling and helping people see something from their life. I was able to realize the talents I had could be used for that and that's something I like doing. I don't want to just be famous. I want to tell stories that are important."
---
Newsies runs November 1 – December 29, 2019. Details and tickets
---
This is Montoya's first time performing in D.C., and he's been enjoying the spirit of the company and energy and love everyone around Arena has for their work.
"This level of professionalism I have never experienced," he says. "I'm over the moon and grateful to be here. I love that D.C. is a city about informed and passionate people, whatever side of politics they are on. They want to discuss and be informed about other people's ideas and come to consensus and talk together."
Looking five years down the road, Montoya would like to have been on a TV show or two, on stage, either Off-Broadway or Broadway and continuing to tell stories that are important to him.
"I don't have a set list of things I must do or think I failed, because I don't think you can live life with that kind of plan," he says. "I do have expectation for my life and my career, and I definitely want to do good work and important work that speaks to people. That could be at a little theater in Brooklyn or a show like Pose that reaches across the world."