By 1970, Washington, DC had long been a major college town; home to tens of thousands of young people who were trying to define their generation in opposition to the dominant values of their parents. Eventually known as "Boomers," this postwar generation struggled to delimit what it meant to be part of the dominant culture—and in opposition to it. The city, as the nation's capital, became a public stage on which deep social revolts played out against traditional authority, racial prejudice, gender limitations, and militaristic Cold War foreign policies. Debates ranged from gigantic demonstrations on the National Mall to late night household and dormitory bull sessions across the city and region.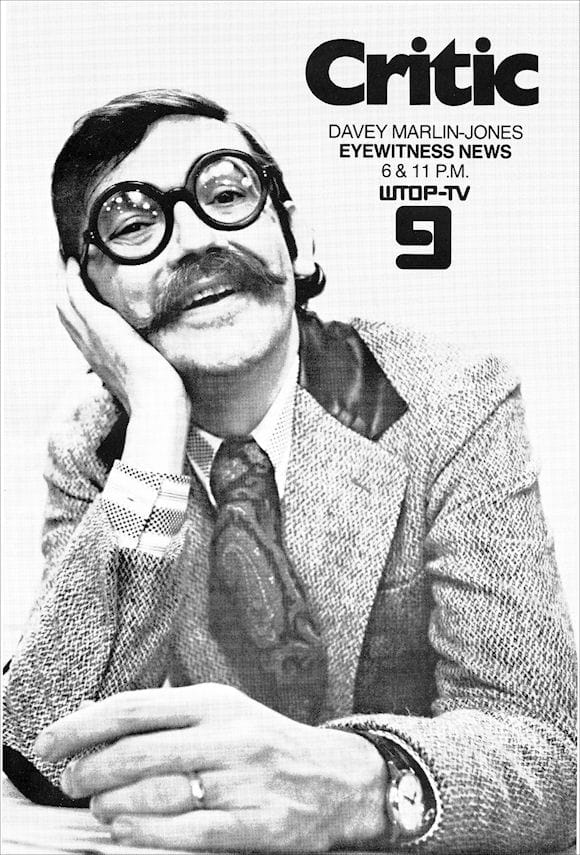 How would those coming of age express themselves, their communities, their nation, and their world in this time of cavernous social conflict?
Washington's small but growing theater community engaged such disputes over what it meant to be an American in the 1960s and 1970s. Hazel and John Wentworth opened their Georgetown carriage house at 1632 O Street NW to the Washington Theater Club during the 1950s. Zoning regulations impinged on the club's attempts to grow into a dramatic arts center and school. The enterprise eventually moved, in 1970, to an abandoned church in the traditionally African American working-class West End neighborhood (the present site of a Ritz-Carlton Hotel at 11th and 22nd Streets NW). Despite sustained popularity among Washington theatergoers, the club's ambiguous legal status provided scant protection from the city's rapacious tax collectors. The company liquidated its assets in 1974 to cover back real estate taxes.
Well before this untimely demise, Davey Marlin-Jones, who had come to the city as a film and arts critic for the CBS television affiliate (WTOP, later WDVM, and presently WUSA-TV), assumed directing responsibilities for the small company. The eccentric and slightly-outlandishly dressed Marlin-Jones attracted college-aged and young adult audiences with a repertoire that reflected their own lives and interests. The club's production of Paul Zindel's Pulitzer Prize–winning drama The Effect of Gamma Rays on Man-in-the-Moon Marigolds in the early 1970s, for example, drew enthusiastic audiences from nearby colleges and universities as it explored generational conflict in a dysfunctional American family.
[adsanity_rotating align="aligncenter" time="10″ group_id="1455″ /]
Arena Stage's November 1971 production of young Michael Weller's first play—Moonchildren (Cancer)—similarly captured the moment; offending many while winning its author a prestigious Drama Desk Award as the year's "Most Promising Playwright." The production was part of a concerted effort by Arena Stage to attract younger audiences. Moonchildren—which became something of a cause-célèbre—presented Arena with one among many contested moments when artistic visions struggled against their audience's sense of self.
In the face of racial strife, generational alienation, and demands for gender equality, Arena managed during these years to nurture an invaluable milieu for a city and a society struggling with itself to forge new identities. It did so while constantly facing resistance from long-time supporters and subscribers. For example, one "long patron from about 1957" wrote Arena founder Zelda Fichandler on May 16, 1968, finding the season's repertoire "most discouraging and sad. The plays this year, I feel, typified the charges I am speaking of. . .  I feel you have lost many of the people who were your regular, enthusiastic patrons of long standing."
Another Arena supporter of "twenty years' standing" found the "Director's Notes" in the autumn 1967 Arena program to be little more than "a hash of jejune New Left slogans, cross-bred between the early Marx's theory of alienation, nineteenth-century anarchism, and utter ignorance." Weller's Moonchildren, though staged a few years later, represents precisely the sort of offering the correspondent found so troubling.
How Moonchildren came to the attention of Fichandler is an interesting story. In September 1970, Martin Rosen directed a new play by Weller, the then-unknown young American playwright, at London's Royal Court Theater. Felix Barker, who reviewed the production for the Evening News, described the play as eavesdropping on "five men and two girls [who] share a scruffy apartment and live in what seems like a perpetual state of civil war. . . . They show a cynical disregard for each other's feelings and their conversation is a continual stream of four letter words and blasphemy."
After hearing about the play, Fichandler made arrangements to give the play its American premiere the following year. In early 1971, an Arena Stage interdepartmental memorandum mentioned that Rosen "called to suggest a name for 'Cancer.' It seems that 'Cancer' is not the popular astrological term; in its stead, they are now using 'moonchild' with the word 'cancer' in parenthesis under it. So—he suggested Moonchildren." Thus, Moonchildren came to America.
Weller's play immediately generated outrage over its unending torrent of impolite slang and "four-letter words." Many viewers, beginning in London, noted an underlying disdain for the self-absorbed, argumentative, unkempt, narcissistic young horoscope readers presented on stage who hid their own egocentricity behind trite reveries of peace and love. If this be the new generation of "love children," there is little difference underneath all the trappings of placidity from the most aggressive objectionable traits of their parents. The era's culture wars had been joined.
Weller, still in London, tried to explain himself to Fichandler in a letter on March 20, 1971. While accepting the proposed title change, the playwright revealed that he did not "know if the play is really about anything beyond what happens in the script and on the stage. I meant only to take some people and tell about them, as I saw them. I have no point to make, no criticism of society, no suggestions and no visions. My only concern is the, if you like, 'inner space' between and around people."
Arena assembled an impressive multigenerational cast under Alan Schneider's direction—including Edward Herrman, James Woods, Jill Eikenberry, and Donegan Smith—and anchored by the veteran Robert Prosky. The play—which ran from October 29 until December 5, 1971—set off a firestorm of debate. Harry MacArthur, in the Washington Evening Star found the production to be amusing, though he warned his readers that "you should shun it if free and frequent use of Anglo-Saxon words make you grit your false teeth or if you think the younger generation has gone to hell." Mel Gussow told readers of the New York Times that the work was "seminal." Julius Novick—also writing in the Times—observed that "Mr. Weller has gotten a firm hold on some subtle and difficult truths; with a remarkable combination of perception and flair, he shows us some human meaning behind that fashionable term 'alienation' (a word which, if I am not mistaken, he—wisely—never uses in his play)." Meanwhile, Bill Marvel, writing in the National Observer, was more negative, finding the play to be a sad reflection of the younger generation's sordid lives.
The production ran to sold-out houses of younger audiences, who came to see the lives of their own generation affirmed on stage. Numerous inquiries came in from regional and university theaters around the country to produce the show. Several letter writers—often "long-term subscribers"—expressed outrage, finding that the characters "show a cynical disregard for each other's feelings and their conversation is a continual stream of four-letter words and blasphemy." Some predicted that Arena Stage would face financial problems resulting from "filth—nonsense," which "could very well stem from the cultivation of such idiotic nonsense as 'Moonchildren.'"
Broadway lay ahead, with Hermann, Eikenberry, Woods, and Prosky joining the New York cast in a show produced by David Merrick at the Royale Theater. The play's reception on Broadway was varied. Weller earned prizes as playwright, Cara Duff-MacCormick pocketed a Tony nomination for best featured actress, while Duff-MacCormick, Maureen Anderman, and James Woods garnered Theatre World Awards. Nonetheless, the play closed after twenty-eight performances.
The play's New York debacle led to much soul searching and hand wringing about the state of American theater. John Houseman, in interviews with Cleveland Amory, used the quick closing as an example of what was wrong with American theater. Cast member Kevin Conway cursed Weller in the arts pages of the New York Times months later. "Why did DC work so well and NY so horridly?" he asked. Why not guarantee four-week runs, Conway proposed, to see if a play can find its audiences?
Theater devotees wrote angry letters and wires from New York excoriating Fichandler for the play's all-too-brief Broadway run. Backstage magazine published an article about the saga, quoting Fichandler as having blamed producer Merrick for the fiasco—which prompted her to send an angry denial.  She preferred to think of the New York production, not as a "flop, just not a success." She later reported to her Arena colleagues that she "knew before anyone that it might not be a success because the head usher at the Royale said it wouldn't be a success." The tempest eventually subsided, with Weller and many in the cast going on to illustrious careers.
During the 1960s and 1970s, Washington theater engaged the growing generational culture-wars that were rocking the nation.  By doing so, they have repeatedly affirmed Washington theater's long-standing engagement with the meaning of community and identity.