To mark and honor the thirtieth anniversary of Czechoslovakia's Velvet Revolution, the Alliance for New Music-Theatre is presenting two one-act plays to honor the revolution's leader, the dissident playwright/author, political prisoner and eventual president Václav Havel; one he wrote, the other he inspired.
No venue in DC could be more appropriate for these plays than Dupont Underground, where ANMT is Theatre in Residence. The long-abandoned underground trolley station is reborn as a center for art and performance and is a breathtaking discovery for a first-time visitor like myself, particularly in terms of scale – it's longer than a Metro station and nearly as high, arcing gracefully underneath the bustling neighborhood. It's still a work in progress – street noise is an issue as are bathrooms and accessibility – but it's a fantastic space that I hope will grow and thrive.
[adsanity_rotating align="aligncenter" time="10″ group_id="1455″ /]
Acoustics are surprisingly good. The performance area is at the far end of the station with only a few curtains as a sound damper, yet echo is never an issue, even with the pre-recorded music in the first piece. Yet at every pause or loud noise, the sound reverberates along the length of the space and back again, and they utilize this to great effect throughout the evening.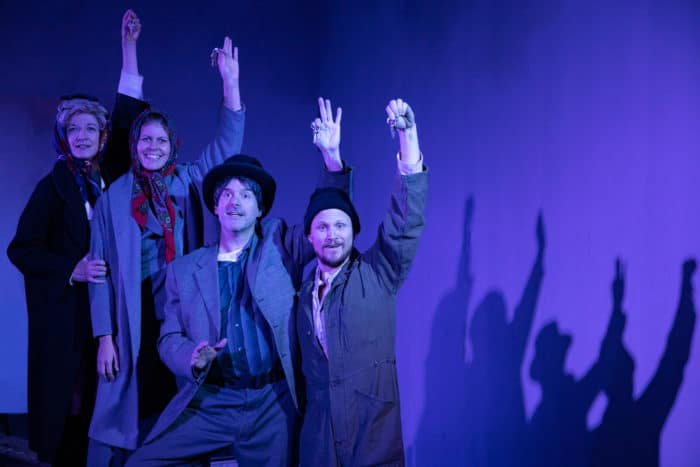 Vanêk Unleashed is inspired by Havel's numerous incarcerations by the repressive government in the 70's and 80's. From his prison cell, Havel's character Vanêk, a frequent stand-in for the author in a number of his plays, looks back on his life and his role as dissident, and the effect on his relationship with his wife Eva, friends, younger women, and the prison foreman. Susan Galbraith constructed the play from Havel's letters from prison to his own wife Olga as well as other writings from the time.
Appropriately subtitled "An Absurd Musical Fantasy," Vanêk Unleashed is similar in style and theme to Havel's most notable absurdist works, while also an impressively clever musical with some memorable lines such as "I met him on the balustrade of the Theatre of the Absurd." The music is pre-recorded but the actors manage to keep tempo, which isn't easy. 
The cast of four is uniformly strong. As Vanêk, Drew Valins has an understated, somewhat passive quality; far from a revolutionary hero, he comes across as an everyday person somewhat awkwardly donning the mantle of dissident. Michelle Eugene is his wife Eva. As with her real-life counterpart, Eugene's Eva is tough as nails, just as committed to revolution as he is, no university education but worldly wise.
Meghan McCall is especially impressive, with her operatic soprano and her flexibility in multiple characters. Peter Boyer has an amusing comic turn as an alcoholic actor and a prison foreman.
Despite the cleverness and wit in the book and lyrics and the spirited original music, there's very little narrative thrust to the piece, and at nearly ninety minutes it overstays its welcome.
---

The Havel Project must close November 17, 2019.  Details and tickets
---
The second piece in the program, Havel's Protest, is significantly more impactful and succinct. Vanêk (Drew Valins) is back again, out of prison and meeting an old friend and former colleague, Stanêk, (David Millstone) who now has a lucrative gig as a writer for state television. Comically obsessed with gardening and brandy, he is the epitome of bourgeois comfort, and his sharply pressed dark blue suit contrasts Vanek's rumpled earth tones.
Yet he is troubled by the arrest of his daughter's fiancé, a popular singer, and asks Vanêk if maybe a petition might be gathered for his release. Vanêk has already done so, much to his surprise, and asks Stanêk to sign. Cue an amusing and lengthy series of mental and ethical gymnastics as to why he should/shouldn't/will/won't sign.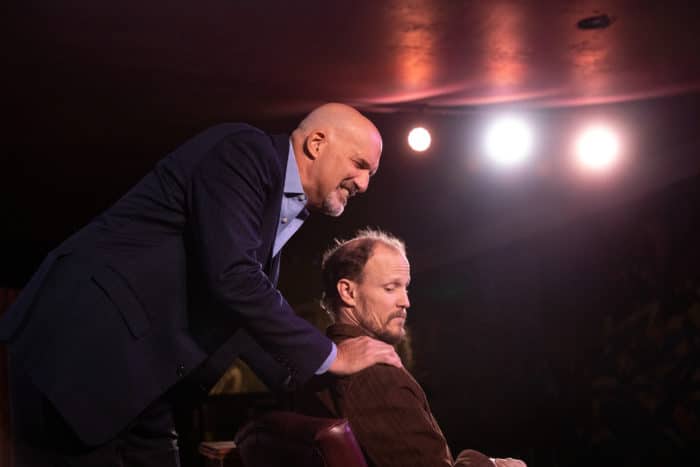 Valins and David Millstone work extremely well together; Millstone's agitation and need for approval from the comparatively milquetoast Vanêk is mined to its full comic potential, down to the paranoiac moment where he hands him a wad of cash quite literally under the table.
In addition to the production, the lengthy walk from the entrance (next to the Starbucks on the north side of Dupont) to the performance area also has many delights, from Czech graffiti artist Jan Kalab's salute to the Velvet Revolution to the World Press Photo Exhibition, which add further depth and relevance to an already politically charged evening of underground theatre in both the figurative and literal sense.
(also note: Havel's personal photographer and documentarian Petr Jan?árek will share a cutting of his film about Havel on November 10, and there will be a closing party on the 16th featuring Czech DJ Alyaz.)
---
The Havel Project:  Vanêk Unleashed: An Absurd Musical Fantasy, book by Susan Galbraith, music by Maurice Saylor, lyrics by Galbraith & Saylor, add'l material by Václav Havel, and Protest by Václav Havel. Cast: Drew Valins, Michelle Eugene, Meghan McCall, Peter Boyer, David Millstone. Directed by Susan Galbraith. Music Direction/Recording Conductor: N Thomas Pedersen. Movement: Emma Jaster. Lighting Design: Lynn Jocelyn. Sound/Projection Design: John Regan. Set Construction: Matty Griffiths. Props/Costume Design: George Thomas Wang. Musicians: Janghyo Hoo, Katie Ravenwood, Rogelio Garza, Todd Baldwin, Kim Parillo, Erika Johnson. Production Stage Manager: Michael Yeshion. Produced by Alliance for New Music-Theatre in coöperation with the Embassy of the Czech Republic. Review by John Geoffrion.
---
Editor's note:  Susan Galbraith, in addition to being Artistic Director of Alliance for New Music-Theatre, writes for DC Theatre Scene.  That fact did not affect this review.