The Jungle Book by Rudyard Kipling is the quintessential coming-of-age story: Mowgli, a human infant, is found alone in the jungle by the Wolf Pack- and adopted by the animals. As he matures, he begins to understand that though the wolves are family, humans are family, too. Torn between them, he must battle Sher Khan, the tiger who laid claim to him as prey when he was a baby. With Baloo, the bear, Ka, the serpent, Bagheera the panther, and his Wolf Pack, Mowgli overcomes his fears and becomes a leader to be reckoned with. It's a tale of adventure and growing up- and who better to tell the tale than kids themselves?
Creative Cauldron's original musical is produced by their Learning Theatre, a mix of young students relatively new to theater and some professional adults.
Exuberant would be the word to describe this cast: whether as howling wolves, slithering serpents, or raspy buzzing bees, the hard work's clearly been done: cast members make the characters dance with life with a variety of animal movements and sounds.
It helps enormously that the simple, multilevel stage is populated with such well done animal masks and costumes by Scenic, Prop and Costume Designer Margie Jervis. Designed by Jervis, they are extraordinary: stylized versions of wolves, jackals, a tiger, stork, antelopes- and a rather magnificent, huge rhinoceros head. It's not a stretch to say these pieces would be at home in any production, regardless of budget; they're that good. Often, masks can end up inhibiting an actor, with blind spots and limited visibility, they're often a hindrance in a show, particularly with children. But that's not the case here- made of fine mesh, with fur hoods and ears, they allow an unlimited field of vision while still largely hiding most of an actor's face. The fine masks let us know exactly who was who, from wolf packs to the irritating, chattering monkeys, they helped to differentiate a large and complex cast of characters.
[adsanity_rotating align="aligncenter" time="10″ group_id="1455″ /]
There are also a few puppets in the production: Mowgli himself (later played by Enola Danewitz) starts out as a wee toddler doll/puppet, and the poisonous little snakes that threaten to bite him are simple hand puppets with red faceted eyes. The little bee puppets, with whirring, falsetto voices, (Leopold Morris, Amanda Tarpley, Emma Howell ) are positively delightful.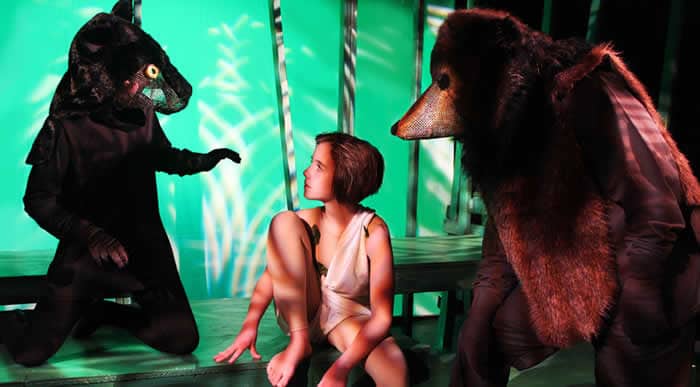 The script is hampered a bit by stilted language, much of it borrowed from Kipling's original book, and at times the action is alternately rushed and then too slow. Yet it's visual enough, and the story simplified enough, that attention rarely wanders, though with a start time of 7:30pm and a show that ends (with a question and answer period afterwards, very useful) at 9, it's quite a long evening for the littlest patrons. Matinees will undoubtedly be the best bet if you're bringing anyone under the age of 7 or 8.
Music by Matt Connor and lyrics by Stephen Gregory Smith are largely forgettable- lyrics are simple, tunes likewise – but it must be remembered that this is a show written not for the Broadway stage, but for a large group of learning thespians. There are a few songs that are quite a bit of fun, most notably "Monkey See, Monkey Do," wherein Mowgli and the Monkeys play an exaggerated game of Simon Says. As Mother Wolf, Eva Geisinger has a particularly pleasing voice, and as Mowgli, Enola Danewitz carries much of the show with grace and wit.
---

The Jungle Book closes November 24, 2019. Details and tickets
---
Laura Connors Hull's direction is surprisingly good. It's no small feat to corral such a large cast. Though it has to be said that the last third of the play gets a little screechy with heightened action masking as drama; seventy minutes is a long play for a young cast, and 'saving something for the end' isn't particularly well utilized here. Yet the two grownup actors in the show, particularly Will Stevenson as the bear Baloo, bring a bit of grounding to the performance while still matching the vim of the rest of the cast.
But humor makes up for a lot- and there's humor throughout this show, from Rhinoceros telling Mowgli how he went to school with a jungle version of 'I walked four miles in the snow to get to school', to the monkeys' antics and two-headed snake Ka undulating up and down while finishing a conga-line meal of aforementioned monkeys.
A slight word of warning for those with under-3s: though innocuous enough (especially with other kids playing the parts), there are a few slightly-scary bits, such as the tiger's unexpected roar and that huge two-headed snake. Those with tender sensibilities might want to sit near the aisles just in case.
This is a fine show to take kids to for a teaching moment: it's professional enough that grownups won't squirm through it, but a cast of largely under-12s makes for a subtle lesson: Hey, Maybe I Can Do This Too.
---
The Jungle Book . Based on Rudyard Kipling's Jungle Book . Adapted by Ellen Selby and Laura Connors Hull . Music by Matt Connor . Lyrics by Stephen Gregory Smith . Directed by Laura Connors Hull .
Cast: Father Wolf: Liam McKane, Mother Wolf: Eva Geisinger; Wolf Cubs: Leoplold Morris, Emma Howell, Amanda Tarplay; Tabaqui: Abby Fred; Jackals: Benji Burns, lily Kales; Shere Khan: Mai Gabra; Grey Brother: Ben Graham; Akela: Lorien Jackson; Elder Wolf: Ashna Kapur; Wolf Pack: Abigail Agin, Libby Brooke, Lindsay Casstevens, Corinne Levitt, Sofia Marcus, Amira Miller-Muro; Leo Morris, James Patmore, Elaina Rosenberger; Emerson Thiebet; Mowgli Enola Danewitz; Baloo: Will Stevenson; Bagheera: Gabriela Simmons-Robles: Haithi: Libby Brooke; Mang: Emerson Thiebert; Bees: Leopold Morris, Emma Howell, Amanda Tarpley; Rann: Carmen Ortiz: Deer: Lindsay Casstevens; Monkeys: Abigail Agin, Libby Brooke; Lindsay Casstevens, Ashna Kapur, Mail Gabra, Eva Geisinger, Emma Howell; Amanda Tarplay; Corinne Levitt; Sofia Marcus, Liam McKane, Amira Miller-Muro, Leopold Morris, James Patmore, Elaina Rosenberger, Emerson Thiebert; Ka: Owen Thiebert, Miri Brooke; Village Women: Abigail Agin, Libby Brooke, Sofia Marcus, Amira Miller-Muro; Village Girls: Lindsay Casstevens, Corinne Levitt, Elaina Rosenberger; Buldeo: Gus Knapp; Priest: James Patmore; Messua: Ashna Kapur; Cobras: Amanda Tarpley, Emma Howell
Choreography: Matt Connor . Scenic, Prop & Costume Designer: Margie Jervis . Lighting Design: James Morrison . Stage Manager: Nicholas Goodman . Scenic Volunteers: Donald Hesse, Maureen Budetti, Sandra Wilson, Jeri Hiria . Produced by Creative Cauldron, The Learning Theatre . Reviewed by Jill Kyle-Keith.