The deconstruction of a cultural touchstone by an acclaimed choreographer is an appealing notion, all the more so to live music. But although it was superbly performed Wednesday night, Mark Morris's 2017 Pepperland, riffing off the Beatles' Sgt. Pepper's Lonely Hearts Club Band, feels conceptually slapdash.
As brilliant and original as Morris is, that's not a complete shock given the origins of the piece. He and composer Ethan Iverson, a jazz pianist and longtime Morris collaborator who also directed the musicians Wednesday, had only a few months to put Pepperland together for a festival in Liverpool commemorating the 50th anniversary of the Fab Four's paradigm-shifting album. There were issues with rights as they battled an army of Beatle barristers, and they ended up with five Sgt. Pepper's songs to work with, plus "Penny Lane," which was not on that album but was initially intended for it.
---

Pepperland closes November 16, 2019. Details and tickets
---
That's less than a half-hour's source music for a 70-minute dance. The rest of the score consists of Iverson's riffs off themes and moods he takes from the album. Those are OK meldings of jazz and baroque. But when you're going up against tunes by the Beatles, as the AT&T commercials put it, "just OK is not OK." 
Iverson's arrangements of the Beatles songs themselves are also uneven. They are consciously and conspicuously unbound from the originals. You know how at some restaurants you'll get a deconstructed lasagna or napoleon, with the parts laid bare or reordered? These are the musical equivalent. That can be enlivening or disappointing, depending on the execution and the expectation.
Baritone Clinton Curtis's renditions began in an almost humorously serious concert-style manner and loosened up as the evening progressed. The ultimate effect was, for the most part, refreshing — he made us hear the songs in a new light, rediscovering their poetry. The use of theremin in the orchestration is also inspired and Rob Schwimmer is a virtuoso on the deceptively difficult instrument, the playing of which looks like a form of witchcraft.
Asked in an after-performance Q&A whether the music or the choreography came first, Morris said "yes." That's an apt answer for "A Day in the Life," a particularly lyrical and unnerving section where the dance and the music align nicely. Playful polyrhythms in a progressively buoyant-to-chaotic "When I'm Sixty-Four" are fun to hear and watch, and, if you're in a philosophical mood, can also be interpreted as multiple perspectives on the bittersweet transitions of aging.
The mimed action to the lyrics of "Penny Lane" is more sophisticated than it sounds, with fun touches like the embodied dangling of soapy automated car-wash ribbons keeping the fire engine clean. But "Within You, Without You," felt more superficial and parodic, with the company swirling around a blissed-out, cross-legged Noah Vinson.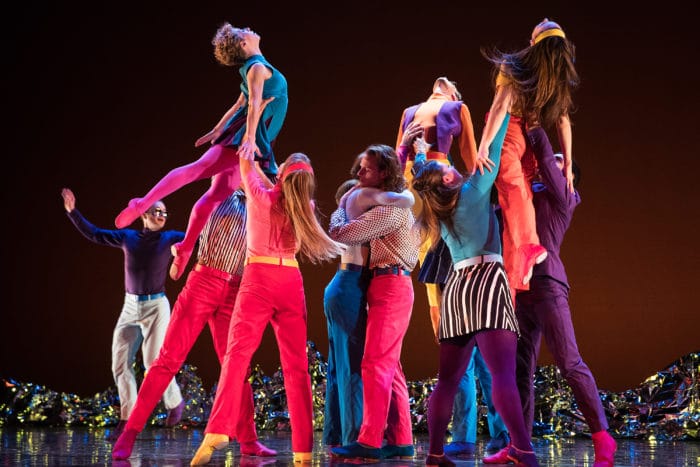 The dueling quartets in the fevered "Allegro" created invigorating visual tensions. And in the "Adagio," the women's duet felt soulful and graceful, while the men's, with a series of seemingly cardboard-cutout style lifts and fast turns, was wonderfully uncanny.
[adsanity_rotating align="aligncenter" time="10″ group_id="1455″ /]
The troupe is fabulously arrayed by Elizabeth Kurtzman in brightly colored early-60s London mod costumes and aviator sunglasses. Throughout, the dancers display precise ensembles, jaunty jumps, silly marches, hearty hip swirls, frugs, charlestons, and unconventional lifts. Those are fun, but also become repetitive.
Group huddles and isolated outsiders lend a melancholy note to the dances, but those motifs of acceptance and alienation aren't developed, and Pepperland lacks an emotional center. That absence is all the more glaring in relation to a rock album that tugs at the hearts and memories of millions of listeners. The dearth of a unifying concept is a dangerous weakness in a work commemorating the first concept album. 
One can imagine Matthew Bourne, say, pulling narrative strings from "She's Leaving Home" and creating an evening-length story ballet, with lush George Martin-type orchestrations, about a young woman venturing from the confining comforts of her provincial home into a psychedelic wonderland. There she might encounter the Sergeant, Mr. Kite, Diamond Lucy et al. 
Pepperland isn't bad. But it lacks the vision and ambition that the cultural moment might have summoned. The conceptual hole it doesn't fix stops our minds from wandering where they could go.
---
Mark Morris Dance Group presents Pepperland to music by the Beatles, arranged by Ethan Iverson. Additional music by Ethan Iverson. At the Kennedy Center's Eisenhower Theater through November 16. Choreography by Mark Morris. Set design by Johan Henckens. Costume design by Elizabeth Kurtzman. Lighting design by Nick Kolin. Musicians: Clinton Curtis, Sam Newsome, Jacob Garchik, Rob Schwimmer, Ethan Iverson, Colin Fowler, Vinnie Sperrazza. Dancers: Karlie Budge, Brandon Cournay, John Eirich, Domingo Estrada, Jr., Lesley Garrison, Lauren Grant, Deepa Liegel, Aaron Loux, Laurel Lynch, Dallas McMurray, Minga Prather, Brandon Randolph, Christina Sahaida, Billy Smith, Noah Vinson. Reviewed by Alexander C. Kafka.