Editor's note: The mix of cultures has always provided a rich stew for theater, showing us both the universality of human longing and the diverse ways in which it can be expressed. So, for example, the Classical Theatre of Harlem presented King Lear in an African setting with the great André DeShields in the title role at Folger twelve years ago. This month, Anacostia Playhouse will present Langston Hughes' seminal Black Nativity, in which the birth of Christ is viewed through distinctly African-American eyes. Here, as part of our Roots series, Blair A. Ruble describes the appearance in DC of another powerful story: The Gospel at Colonus.
The Gospel According to Sophocles
A century ago, Howard University Professor Thomas Montgomery Gregory argued that African American talent and perspectives could invigorate Western classical traditions in at least two ways. One was through the performance of Western theatrical characters by African American actors. The second was the presentation of European classical material through the lens of African American traditions. In 1984, Arena Stage presented Washington audiences with an astonishing example of such a wholesale reconfiguration of Western tradition through translation into African American convention: Lee Brauer and Bob Telson's The Gospel at Colonus.
Breuer founded the experimental Mabou Mines theater company in 1970 as a resident company at La MaMa Experimental Theatre Club in New York's East Village. He envisioned the group as an artist-driven experimental collective that would generate original work and reimagine adaptations of the classics. Named after mines in Nova Scotia, the company became a major conduit bringing trends from Europe's avant-garde scene to New York and North America.
During the early 1980s, he teamed up with Brooklyn-reared musician Telson. Telson had studied with Nadia Boulanger in France and graduated with a music degree from Harvard University before moving into the world of rock. Among his early ventures was the underground Revolutionary Music Collective, featuring the young Bonnie Raitt on vocals. His eclectic tastes led to work with the Philip Glass Ensemble, the salsa kings Tito Puente and Machito, and a turn as organist for the Gospel group Five Blind Boys of Alabama. Together, Breuer and Telson hit on the idea of presenting the Sophocles tragedy Oedipus at Colonus as a Gospel sermon at an African American church service.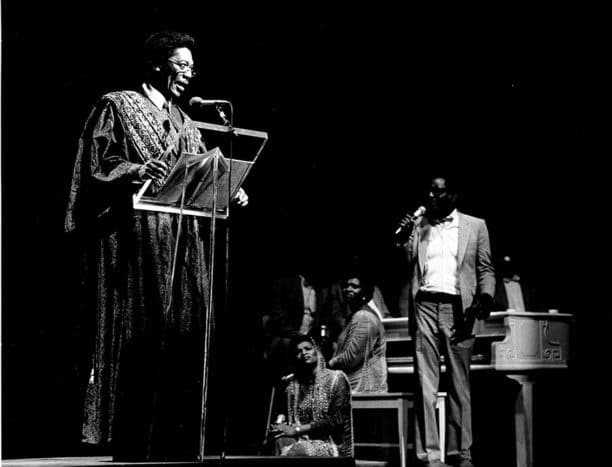 The resulting The Gospel at Colonus premiered at the Brooklyn Academy of Music's Next Wave Festival in late 1983 and was nominated as a finalist for a Pulitzer Prize in 1985. It traveled to Philadelphia, Washington, and on to such cities as Minneapolis, Houston, and Los Angeles before a brief Broadway run in 1988. Arena, for its part, was careful to present itself as a coproducer rather than as a stop on a national tour. The production hit Washington like a lightning bolt when it played in December 1984.
[adsanity_rotating align="aligncenter" time="10″ group_id="1455″ /]
The fifty-seven-member cast re-enacted the story of the blinded Oedipus in exile, as narrated by a Pentecostal preacher (Morgan Freeman), and performed by a brilliantly white-suited, six-person Oedipus (Clarence Fountain and the Five Blind Boys of Alabama), Antigone (Isabell Monk), Cleon (Robert Earl Jones), and Theseus, King (Carl Lumbly), to the accompaniment of a Chorus (J. J. Farley and the Original Soul Stirrers, J. D. Steele Singers, a nine-piece orchestra, and Wesley Boyd's Washington-based Gospel Working Choir). As David Richards noted in the Washington Post, seldom has the Arena Stage been so full. And rarely has an Arena production been so spirited.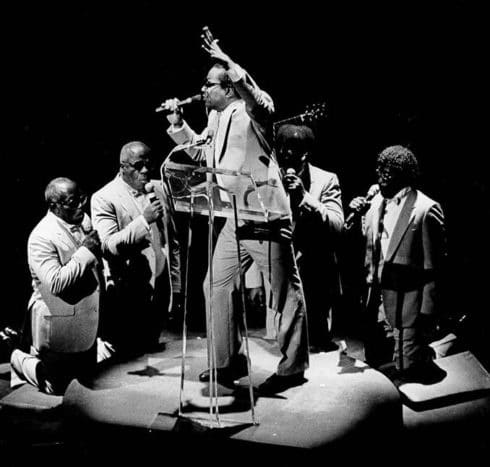 The experience of witnessing the production in the intimate arena setting proved awe-inspiring. Many recall the music above all else, with the cast album proving a major event in itself. Others were struck by how utterly appropriate the opening proclamation of a biblical reading from "the Book of Sophocles" seemed.
Even the stage manager could not contain a sense of excitement in the normally matter-of-fact performance reports for each show: "The Joint's Jumping!" (November 28, 1984); "Lots of Energy for the End of a Long Week" (December 2, 1984); "Great Show!!! Truly Outstanding!!" (December 22, 1984); "Spirited and Fine Closing Performance" (December 30, 1984).
The Gospel at Colonus destroyed racial lines and divisions, at least for one evening among those in its audience. The African American Washington Post columnist Courtland Milloy observed that, unlike those in other cities, Washington's theatergoers were a "mostly white, conservative audience," which "has been a restrained group that sits and ponders, occasionally clapping to the sounds of gospel songs. But that's okay. The play still affects the spirit in a manner that gives credence to the meaning of the word 'gospel': good news." Milloy added, "What we have here is a spiritual happening, a bold and daring theatrical production in a city accustomed to events like President Reagan joining black students in the Ellipse to light a Christmas tree."
A quarter of a century later, a Russian colleague confided to me that he understood for the first time that the Soviet Union would not survive on the evening I took him to see Arena's Gospel at Colonus. He kept trying to imagine Clarence Fountain and the Five Blind Boys entering down the stairs of a Moscow theater in their bright white suits singing the words of Sophocles in Gospel time. He could not. The Soviet Union had become too stultified to produce such a joyous and intelligent celebration of humanity across the ages.